---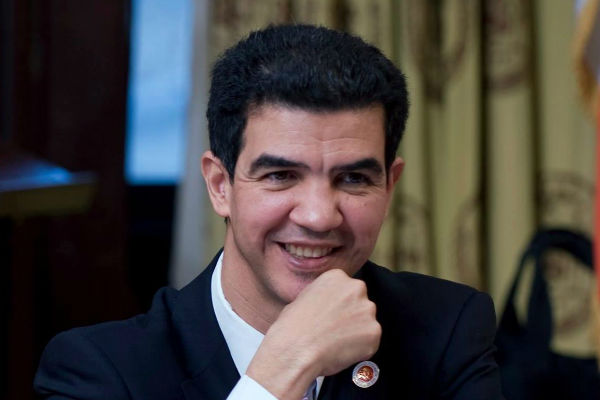 Council Member Ydanis Rodriguez joined by community leaders and District 10 residents kicked off the start of Participatory Budget Vote Week at the Inwood Greenmarket that will run through Sunday, April 15th.Residents as young as 11 years old or in the 6th grade can vote for the first time.
Each voter can select up to five projects. There are eleven items on the ballot this year:
District Libraries Technology Upgrades – $200,000
PS 173 Auditorium Technology Upgrade – $150,000
PS 48 Playground Renovation – $500,000
George Washington High School Weight Training – $80,000
Sound System for WHEELS Auditorium – $150,000
Dyckman Houses Building #4 Playground Renovation – $500,000
Dyckman Houses Building #3 Playground Renovation – $500,000
Dyckman Houses New Park Game Tables – $350,000
Dyckman Houses Community Center Outside Drainage – $500,000
Dyckman Houses Community Center ADA Ramp – $850,000
Northern Basketball court Wallenberg Playground – $535,000
There are three ways to vote: (1) in person at a pop up site or Monday through Friday at the Council District Office at 618 West 177th Street; (2) online at pbnyc.org/vote; or (3) visit a LinkNYC kiosk in District 10 along St. Nicholas Avenue or any of the five boroughs.
District 10 has taken part in this process since 2014. Last year the winning projects totaled over $1.1 million: laptops for low-income students at P.S. M293 Salome Urena Campus, science carts for P.S. 178, street trees and tree guards in Washington Heights and Inwood, air conditioner for Castle Bridge & P.S. 128, and bus countdown clocks with live timing of bus arrivals district-wide.
"Participatory Budgeting allows everyone as young as 11 years old or in 6th grade to take part in this democratic process. It empowers the community to determine how to best use capital resources available to us and teaches young people the importance of civic engagement," said Council Member Ydanis Rodriguez. "Voting has become much more accessible with the many options we now have. I invite everyone to vote between April 7th and April 15th, let their voice be heard, and their friends, family and neighbors to take part in this global initiative."
"Participatory budgeting is one if the best ways to get our community involved in our democratic process. What better way can there be than allowing the community decide the projects they would like to fund in their neighborhoods. Thank you Councilman Rodriguez for organizing this effort. I am sure wonderful community improvement projects will result from this process," said Senator Marisol Alcantara.
"Participatory budgeting serves the community with a great opportunity to vote on projects based on priority as considered by residents. For a whole week the community can select their preferred projects to be funded. I commend Council member Ydanis Rodriguez for encouraging residents of district 10 to be proactive in their vote so that the 1 million dollar in capital funds are allocated in projects where the need for upgrade and improvement is vital,"said Assemblywoman Carmen De La Rosa.
To learn more about Participatory Budgeting in New York City, visit pbnyc.org. Go to participatorybudgeting.org/pbps-story to learn about how it started in Porto Alegre, Brazil in 1989.
Related Articles
---