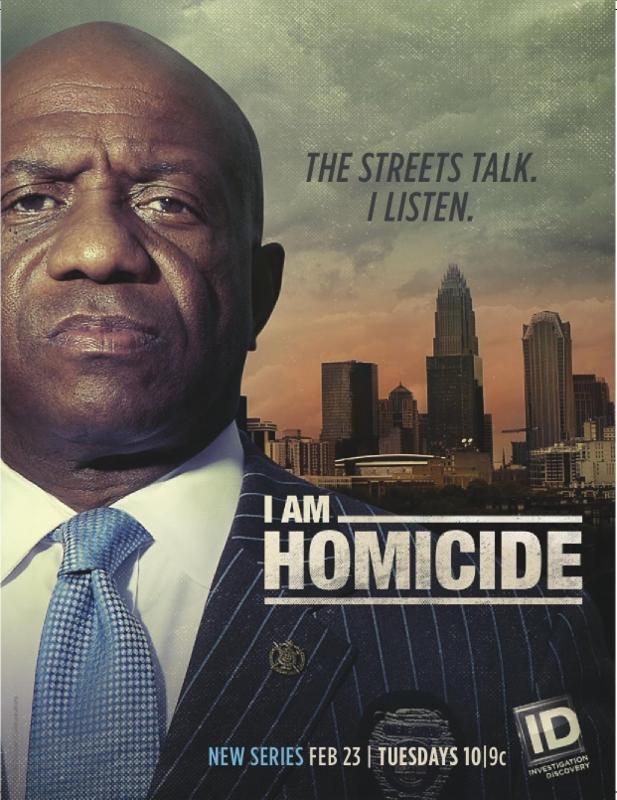 When the streets talk, he listens. Where a crime scene has already been picked over, he can see things everyone else missed. Meet homicide detective Garry McFadden, the focus of Investigation Discovery's all-new original series I AM HOMICIDE. After nearly three decades with the Charlotte Police Department, Det. McFadden has solved more than 700 homicide cases, resulting in a 90-percent success rate with the investigations he pursues. But his work doesn't stop at protecting and serving the community of Charlotte. Chances are that when a call comes in, he knows the victim, the family, or even the perpetrator, because he has made it his mission to be one with the people of Charlotte, operating his investigations out of a local diner instead of the police precinct so he can truly get to know residents across the city and gain their confidence. Det. McFadden uses his street smarts to work the neighborhood networks and gather critical information for leads, at times risking his life by trusting the streets he calls home. I AM HOMICIDE world premieres Tuesday, June 14 at 10/9c only on Investigation Discovery.
During each one-hour episode, Det. McFadden opens his case files to reveal how his unorthodox investigation methods helped solve one of the most precarious cases of his career.  Using recreations, archival footage and revisiting the scenes of his most renowned cases, McFadden will take you behind the curtain on the cases that not only defined his career but the community he lives in. He will go anywhere, talk to anyone, and follow any lead with or without backup assistance – all the while wearing the best suits in town. And, after thirty-five years on the force, retirement be damned, he shows no signs of slowing down.
Fans can also take a deeper dive each week when Investigation Discovery's top-rated podcast, DETECTIVE, returns on June 7 for an all-new season featuring Det. McFadden.  In each weekly installment of DETECTIVE, McFadden goes into detail about topics including his decorated career, cases that haunt him today, the legacy he wants to leave in Charlotte and his belief that community-based policing could diffuse contentious relations between law enforcement and the people they vow to protect.
I Am Homicide Episodes include:
Tuesday, June 14 at 10pm ET
From the Gridiron to the Grave
High School football star Travis Davis is gunned down in the Queen City, sending detective Garry McFadden on the hunt for justice. McFadden discovers a beef from the street might be the lead that sends him straight to his killer.
Tuesday, June 21 at 10pm ET
The Crossroads
When a warm-hearted waitress is gunned down in a carjacking gone wrong, Detective McFadden must work fast. But this manhunt will last many years.
Tuesday, June 28 at 10pm ET
Serial Shooter
When a beloved tennis star is shot in the back after attending a charity ball, Detective McFadden must determine who could have had it in for such a seemingly faultless golden boy.
Tuesday, July 5 at 10pm ET
Philadelphia Freedom
When a nursing student is pulled from her smoldering home, Detective McFadden must confront her lover, ex-boyfriend, and best friend – to uncover who lit the match.
Tuesday, July 12 at 10pm ET
Boiling Point
A wealthy power-couple's marriage is in shambles. When the husband reports killing his wife in self-defense, it's up to Detective McFadden to prove, against long odds and high-priced attorneys, that this influential citizen is a cold-blooded killer.
Tuesday, July 19 at 10pm ET
Home Improvement
When a female professional suddenly vanishes, her family and friends are baffled. Two weeks later, a body is discovered along a highway in another county. It carries subtle clues that could lead Detective Garry McFadden right to the killer's door.
After 27 years of catching killers with the Charlotte-Mecklenburg, North Carolina Police Department, Detective Garry McFadden tried to retire, but it didn't last a month.  Being a detective is in his DNA. During his tenure, Detective McFadden and his team worked over 800 homicide cases.
I AM HOMICIDE is produced for Investigation Discovery with Geno McDermott, Alexa Conway and Patrick Conway as executive producers. For Investigation Discovery, Diana Sperrazza is senior executive producer, Sara Kozak is senior vice president of production, Kevin Bennett is general manager, and Henry Schleiff is Group President.
DETECTIVE was created by Investigation Discovery with producer Tom Heijne and executive producer/narrator Garnsey Sloan.  Executives in charge of production are Kevin Bennett and Ami Angelowicz.
No related posts found...