---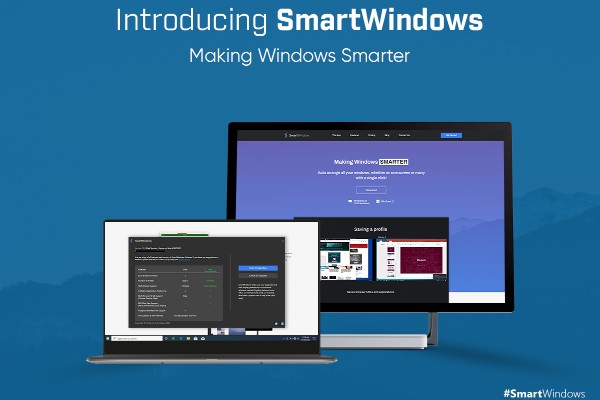 Whether you are a writer, a gamer, a project manager, or an accountant, it is equally important to work in an organized manner. Each role uses different types of desktop apps based on their work needs. The user opens the apps, arranges them on the desktop screen, re-sizes the window size, and opens previously closed tabs before getting started on work. This list of steps consumes a significant amount of time every day.
In this world of increased digitization, the need of the hour is to employ automated tools and apps that save time. SmartWindows is one feature-rich productivity app for Windows 10 and 11 to provide auto-arrangement and auto-restoration support.
Let's take a look at the capabilities of SmartWindows that empower your Windows and maximize your productivity at work.
SmartWindows
SmartWindows is a Windows productivity app that makes your Windows 10 and 11 smarter enough to auto-arrange your desktop apps on one or many screens with a single click.
All you need to do is open the apps, arrange them on the desktop screen, adjust their display position and window size according to your work preferences. Once done, save the screen configuration using SmartWindows. The next time when you switch on your PC, you can restore the screen arrangement from your SmartWindows profile in one click. All the apps and browsers will be restored on the screen at the exact same display position and with the same window size without the need to manually arrange them again and again.
SmartWindows does not only save the time of rearranging apps but also allows you to multitask and increase work productivity. Below are the features of SmartWindows.
Snap Layouts & Smart Layouts
Windows Smart Layouts is a new feature of SmartWindows introduced after the launch of Windows 11. Snap Layouts and Snap Groups in Windows 11 allow users to snap the desktop apps to enable multitasking. The user can select one option from available layouts based on the work needs. Once, the apps are arranged, the user can save the screen configuration and Snap Groups using Smart Layouts.
Smart Layouts has the capability to save and restore the Snap Layouts so that users do not need to go through the steps again to arrange a particular work zone. Smart Layouts restore the apps at the exactly same position and window size as the user saved previously.
Even if a user is not using Snap Layouts and arranging apps on the screen manually, save it using SmartWindows and restore it anytime.
Unlimited Profiles & Work Zones
SmartWindows allows you to create unlimited profiles. It means you can make separate zones for work, game, study, etc., and save their screen respectively in each profile. You can restore the zone you want anytime using SmartWindows.
Multiple Displays
Create up to 6 displays in each SmartWindows profile. You can manage your different tasks or projects in each display and restore the screen configuration on one or many screens with a single click. Save time and work efficiently using SmartWindows.
Browser & MS Office Files Support
SmartWindows gives multi-browser and multi-tab support. You can open unlimited tabs in each browser window and can restore them all with one click. SmartWindows supports Google Chrome, Microsoft Edge, and Firefox. You can open dozen of tabs in each and save the screen. SmartWindows remembers the URLs and maintains an active tab history. You can restore your multiple browser windows and tabs in the same order with one click.
Similarly, SmartWindows' support for MS Office files allows you to restore MS Word, PowerPoint, Excel, Project, etc. You do not need to manually open these files when SmartWindows does it for you.
Advantages of Using SmartWindows
SmartWindows helps Windows users can:
Organize the apps and files on one or many screens and always remember their arrangement.
Multitask in a more efficient manner.
Maximize work productivity by eliminating the overhead of arranging apps again and again.
Reduce the excessive switching between apps when you can arrange them all on screen for easy access.
Fire up Snap Layouts with auto-restoration capability.
Optimize the usability of one PC by creating separate work zones for different types of tasks.
SmartWindows makes the use of Windows smarter by giving more power to the hands of users. Work smart and not hard with SmartWindows!
---