---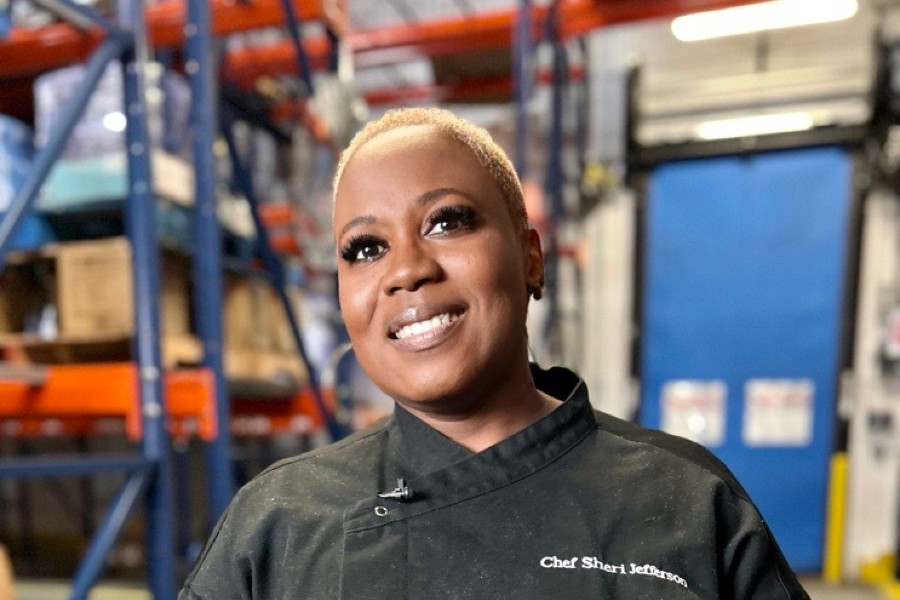 By HWM Staff Reports
As the need continues to increase meals from Harlem to Hollis continues to welcome migrants the need has become greater, than one would say…ever before.
On a constant mission to help her community, Chef Sheri Jefferson, who is no stranger to going without food herself, is what some might call a Harlem icon.
As a single mother of two and the head of Food Bank's Community Kitchen and Pantry located in Harlem, Chef Sheri cooks with love. The Chef and her team batch up more than 800 meals in a day for those in need. The meals are nutritious and delicious and truly bring a smile to those who receive them.
With the holidays right around the corner, deeds like this truly make an impact on the lives of many. While she underwent her own struggles, today she's able to give back to all. Click here to check out the video of the Chef to get more insight on her.
Here's the interview:
Harlem World Magazine: Who has been your number one inspiration in your career?
Chef Sheri: Both my father and my mother. My father would leave the house every morning at 5 am to provide for a family of 8 and my mother would stretch the dollars to prepare meals that all of us remember to this very day. Taking canned vegetables and somehow making them taste like fresh vegetables. Chicken backs stewed or she would fry them into something so amazing we still talk about it as adults. We were truly loved and really knew it when we gathered around the table.
"Love isn't measured by wealth but by the depth and connection between people."
Love isn't measured by wealth but by the depth and connection between people. Richness of the heart!
In addition to this, my daughters Shalyse and Erynn are my inspirations. As a single mother, I must continue to be a positive role model for them just as my parents were to me and my siblings. Leading by example to instill strong values and work ethic in them. Strength and resilience.
HWM: What do you mean when you say, "cook with love"?
Sheri: Warmth, Compassion, Empathy, a desire to make others happy. I want my food to be a source of comfort, joy, and support.
HWM: What does "give for good" mean?
Sheri: Making a difference. Helping to make a positive impact. Promoting social good.
HWM: What are some of the meals you cook?
Sheri: Community favorites such as turkey wings, rice, string beans (if time permits my mother's cornbread), meatloaf, mashed potatoes, creamed spinach, curry chicken, coconut rice with peas, and sauteed cabbage.
If we are really blessed by a special donation then, braised short ribs, mac & cheese, and collard greens.
HWM: What was the key to getting on your feet in your own struggles?
Sheri: Prayer and my daughters. I couldn't give up! I struggled at times but I knew I had to keep pushing through. Even in my darkest days of depression, I had to move forward. In my mind, I could not let them down. I truly know what it means to suffer in silence.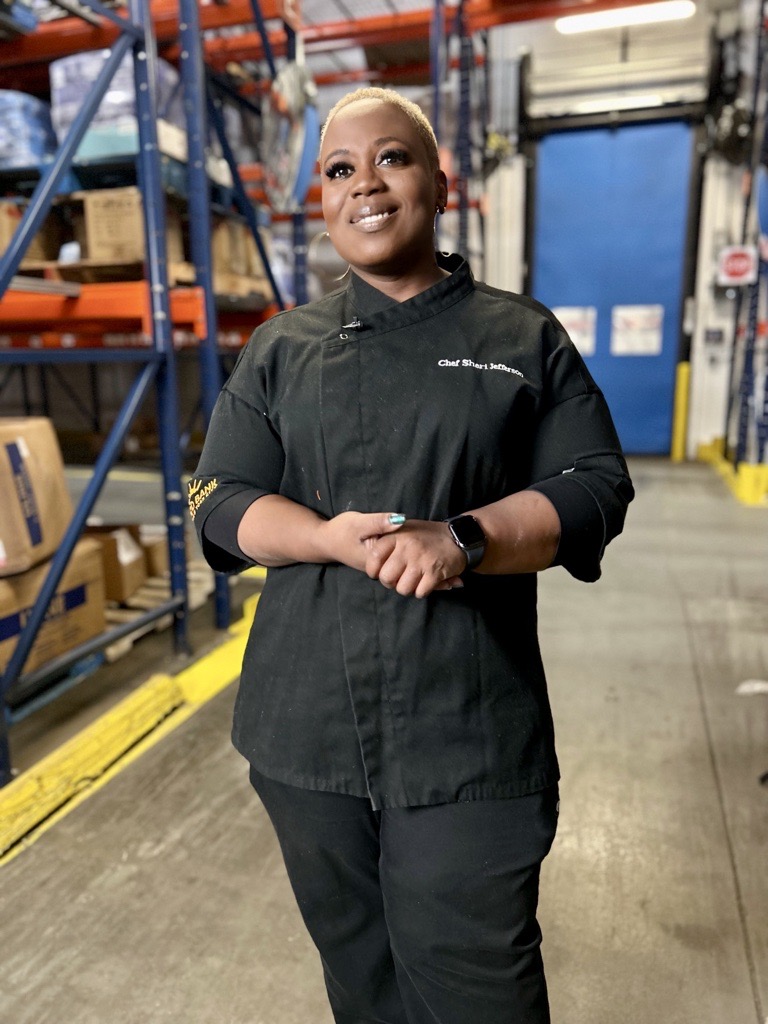 HWM: We all need to escape and clear our minds where do you go to do this in Harlem?
Sheri: Morningside Park and just walking around in the community. My favorite place, which may seem strange to most, is in Food Bank's Community Kitchen and Pantry! Crazy as it may sound anyone who knows me knows that is my safe space. When I really want to clear my head, I cook!
HWM: When did you realize you were in the right career for yourself?
Sheri: Almost 8 years ago in March I watched the clients eating a meal that was prepared for them. Seeing their enjoyment and knowing I had a part in that was all I needed to know that I was doing what I was meant to do.
HWM: How can we "break the cycle" of food insecurity?
Sheri: We must support food banks which help lead to empowerment and self-sufficiency. We must also reduce food waste, increase social services, and nutrition education, and improve and expand economic opportunities.
HWM: Where is the Food Bank's Community Kitchen and Pantry located in Harlem?
Sheri: Food Bank's Community Kitchen and Pantry is located at 252 West 116th Street, Harlem, NY 10026
HWM: Can HWM readers volunteer at the Food Bank?
Sheri: Absolutely! We are always looking for volunteers and people who want to give for good!
HWM: Thank you.
Sheri: Thank you.
Food Bank For New York City
To end hunger by organizing food, information, and support for community survival and dignity. Food Bank For New York City has been working to end food poverty in our five boroughs since 1983. As the city's largest hunger relief organization, we employ a multifaceted approach centered on helping low-income New Yorkers overcome their circumstances and achieve greater independence. www.foodbanknyc.org
Photo credit: 1-2) Chef Sheri. By Food Bank For New York City. 3) Video, Youtube.
---