---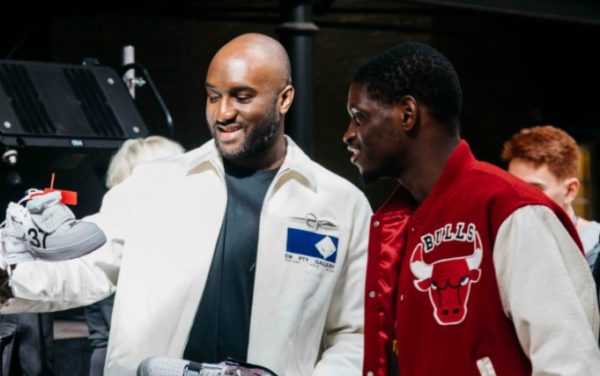 Clash Music's Grant Brydon and Rob Meyers reports that the Air Force 1 was never meant to last this long. Released in 1982, Nike's first "Air" basketball shoe, was discontinued two years later. But, thanks to the demand from those customizing and remixing the shoe, it would be reissued as Nike's first retro model two years later and is still going strong over 30 years on.
Today, in an East London warehouse that's been temporarily transformed into a hypebeast haven,  the topic of discussion is "REMIX & RECONSTRUCT", and the Air Force 1 sits firmly at the centre. The workshop is part of 'The Ten', a collaboration between designer Virgil Abloh and Nike, that sees him reimagining pioneering silhouettes from Nike and Converse that date back as far as 1923.
Across ten months, Abloh has created ten new trainers, making the project one of the fastest moving collaborations that Nike has ever been involved in. With the aim of re-introducing their human-made quality, the silhouettes have been broken down, hand cut and reconstructed, resulting in open source products that allow the wearer to interact. Virgil is not simply inviting people to wear sneakers with his name on them, but to get involved in the design process themselves, embodying Nike's "Just Do It" mentality.
At today's event in East London he's flanked by fellow creatives, including A$AP Nast (above right), visual artist Eddie Peake, and designers Grace Wales Bonner and Michelle Lamy, each leading workshops with the Air Force 1 as their canvas. For Nast, the silhouette is of particular personal resonance; as a Harlem native it's in his DNA. Nike might have named the shoe after the presidents plane, but the streets rebranded it the "Uptown". The Air Force 1 became an icon of Harlem culture and it's intrinsic flyness.
Clash took ten minutes with the A$AP Mob rapper and multifaceted artist, to discuss his involvement in 'The Tens' and what the Air Force 1 means to him…
Can you describe your involvement in 'The Ten'?
I would say my involvement is just adding my own personality and taste to it. I'm just giving these kids something to look forward to.
[I was attracted to] the fact that we get to be teachers. For the most part I'm a learner, and I like to be a learner. I look at this like open of those things where I get a chance to be able to teach and give my input on what I think is cool.
What does the Air Force 1 mean to you?
The Air Force 1 is a sentimental one because I'm from Harlem, Uptown New York City, so that's like wearing your heart on your sleeve.
I don't remember my first pair, but I remember having pairs all my life. I've grown up wearing them. I remember the nineties, everyone wearing them, flavors everywhere: that's a Harlem thing…
The full The Ten Collection will be available in November 2017 at NikeLab stores and select retailers worldwide: www.nike.com
Related Articles
---