---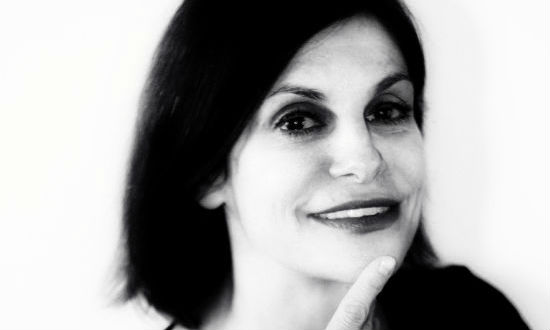 The latest installment of our Harlem Interview series, where we get to know the people in our neighborhood:
I am lying on my bed in my West Harlem apartment. It's mostly white in here, except for  my bookshelf which is overflowing. I can hear the muffled roar of the West Side Highway, which was only silent once recently due to that day we expected a lot of snow but just got a day off instead.Outside my windows, the sky is bright and hazy. It's midday and I'm just about to go out to Al Jazeera America, where I work as a teleprompter operator.  My apartment is my haven from the world. My bed is the most comfortable bed in the world. When I lie down on it I feel instantly relaxed. My favorite part of this apartment is my terrace with its view over the Hudson River. There is a different sunset every evening, and it's always beautiful. It's interesting that I grew up next to The River Thames, and here I am beside a very different river. There has always been something about how sunlight hits the surface of moving water that I find mesmerizing.
Harlem World: Do you have brothers and/or sisters? Where were you born? Are you married or single?
Yolande Brener: I have a brother and a stepsister. They both live in England. I grew up in England, and still go back whenever I can to visit. I am single, although I was married for 14 years. I have two children aged 19 and 17.
HW: What is your profession?
YB: I am a writer. One day I hope to make a living as a writer. Currently I work as a teleprompter operator for television. That means I scroll the script for television hosts and newsreaders. I've been fortunate to work for some great people including Martha Stewart, Wendy Williams, James Earl Jones, Charlie Rose, Denise Richardson, and many more.
HW: Who has been your greatest inspiration?
YB: My brother has been my greatest inspiration. In the past I tended to view the world rather darkly. But my brother taught me that no matter what happens, one has the choice to focus on what is beautiful in the world.
HW: What are you reading these days?
YB: I'm currently doing a Creative Writing MFA at City College. I love it, and it has introduced me to all kinds of work I haven't read before. I am reading from Akashic Books' Noir series, which is dark, but enlightening. And I just finished reading Samuel Selvon's "The Lonely Londoners," as part of a class about the 20th Century British Novel. "The Lonely Londoners" is about the first West Indian immigrants to London. I loved it. My favored genre is memoirs, particularly rock memoirs. One of my favorites is Viv Albertine's book, "Clothes, Clothes Clothes," and when I have time, I will read John Lydon's "Anger Is An Energy."
HW: What's your favorite music and why?
YB: Currently, I love Stromae, PJ Harvey, Ella Eyre and Bastille.
HW: What is your most treasured possession?
YB: Possessions? Life. Health. Love. I don't feel particularly fond of any possessions. But I do love my phone because it keeps me in touch with people.
HW: What is your favorite quote?
YB: "What you think you become. What you feel you attract. What you imagine you create." This quote has been falsely attributed to Buddha. I have no idea who actually said it, but I like it quite a lot.
HW: Who would you like to meet and why?
YB: Honestly, there are people I've already met, that I would like to meet a lot more often. But as to someone new, I would like to meet Esther Hicks because I think she is one of the most enlightened humans living on the earth at this moment.
HW: If you could, what would you give the world as a gift?
YB: I would give the world the ability to sense and follow its own heart again.
HW: What is your proudest accomplishment?
YB: Definitely having my two children. As Kahlil Gibran said, "They are the sons and daughters of Life's longing for itself." But the fact that I was involved in the existence of two such amazing human beings is wonderful beyond my wildest dreams. I couldn't be more delighted that they are in the world.  Nothing else in my life comes anywhere close to that. I hope one day to be proud of something I have written, or something I have done to improve the world in some way, and I am happy to be working towards that.
HW: What's your one favorite place in Harlem?
YB: I love  St. Nicholas Park,  behind City College. I walked there this morning and saw daffodils, narcissi, miniature violets and one parrot tulip. I also saw some squirrels, sparrows, and a pair of blue jays. St. Nicholas Park is also home to Hamilton Grange, and a big dog run.
HW: What's your favorite local restaurant?
YB: I like Geisha Sushi. The staff members are always ready with a smile, and the place has an upbeat, laid back atmosphere. They make a great potato roll, and I like their seaweed salad. You can bring your own sake. The presentation of the food is beautiful, which makes a big difference. Last time I was there, a ball of pink roses was hanging next to our table.
HW: Where do you like to have tea, coffee or…?
YB: There's a new coffee shop called Filtered on Amsterdam, just below 140th. It has a friendly vibe, nice light, and a great tangerine ginger tea.  They have succulents, pink painted animal figurines, and bookshelf wallpaper. My friend said their coffee is great, and I think I'll try it today.  I also like Cafe One, when I can get a seat.
HW: Do you a question you would like to ask yourself?
YB: I would like to ask myself if I'm having fun, and if not, when am I going to start doing so.
HW: What are your business links for readers?
YB: Readers can go to (Facebook, Twitter, website, etc.,): yolandebrener.com https://www.facebook.com/yolandelisebrener twitter: @yoyobee3
Check out more Interviews here.
Related Articles
---