---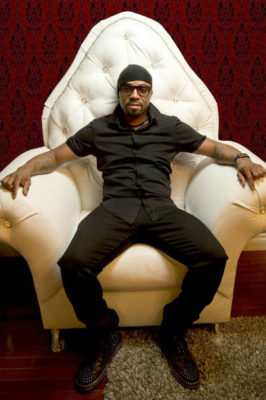 When Harlem man Teddy Riley looks across the pop landscape of 2017, he must feel like a proud father. Bruno Mars is currently No. 1 on the Billboard Hot 100, the Weeknd is an arena-filling megastar, and Pharrell Williams is a national treasure. All of them are Riley's musical heirs.
"I'm a big fan, and I commend them for keeping music alive and bringing it back," he tells source. What they're bringing back (or at least referring to heavily) is "new jack swing" — a funky fusion of R&B and hip-hop that was Riley's signature, and came to prominence throughout the late '80s and '90s via his groups Guy and Blackstreet, and through his production work with artists such as Bobby Brown and Michael Jackson.
The 49-year-old Riley grew up in Harlem (where his first job was as a paperboy delivering papers to the projects) and this Friday, he'll be discussing his huge influence at Red Bull Arts New York (as part of this month's Red Bull Music Academy Festival). Here, he talks about dealing with Bobby Brown, Michael Jackson's penchant for pranks, and the ongoing appeal of Blackstreet's 1996 smash "No Diggity."
How much did you have to deal with Bobby Brown's famous hardheadedness when he was young?
He didn't want to sing "My Prerogative" with any funk or aggression. He wanted to sing it more like [sappy earlier track] "Girl Next Door," but that wasn't the feel. It was more funky than sweet. I told him it wouldn't work, so he walked out. The record company told him that he was either gonna sing the song, or they would can his album! But he's grateful now. When he performs live, that's the one song he can't leave the stage without singing.
Did you experience any of Michael Jackson's eccentricities while working with him on "Dangerous"?
When I first met him in 1991, I went to his Neverland home and he came out of one of those hidden walls! I was in this room, just looking at all of his awards and stuff, and there was a chessboard with pieces that were gold and platinum. I went to touch it, and I didn't know he was in the room already. He put his hand on my shoulder and I fell to the ground. He scared the ish [s–t] out of me! That was the first prank — on the first day! There was no, "Let's wait, see how he is, and see if he can take a prank," he just did it.
Yes — he loved it. I don't know who gave him the ideas. He had his home set up so if you stepped on certain areas, this big, stupid-looking monster from the [1986] movie "F/X" would come out and scare you. I think he bought it specifically to scare people. It was like a booby-trap house!
Has the enduring appeal of "No Diggity" surprised you?
I can tell you this: The rest of the group didn't think that one would work. That's why they let me sing the first verse. It's like when there's a gang, they always send one person out to see if he takes a beating. That's what happened — it was my head on the chopping block if it failed! I just heard it's on a Mercedes commercial in the UK. It's still putting food on tables.
Via source
Related Articles
---