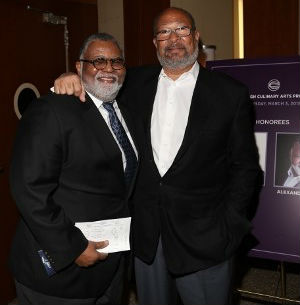 On Tuesday, March 3rd, Former Chairman and CEO of Time Warner Dick Parsons and Executive Chef & Harlem Restaurateur Alexander Smalls were honored, in front of 800 guests, at the 25th Anniversary Benefit celebration of the Careers through Culinary Arts Program (C-CAP).
The event was held at Chelsea Piers Pier Sixty and raised more than one million dollars in celebration of the organizations history of transforming lives through the culinary arts.  Parsons and Smalls are partners in the Harlem restaurant Minton's and the recently named Best New Restaurant in America by Esquire Magazine, The Cecil.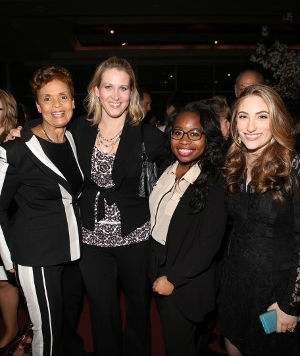 The festive evening welcomed guests who move from table to table sampling exquisite cuisine presented by New York City's hottest chefs.  The all star line-up included Daniel Boulud, Bryce Shuman, Michael White, Michael Tong, Chef JJ Johnson, Michael Poiarkoff, and Maria Loi, as well as C-CAP alumni Thiago Silver of Catch, Cesar Gutierrez of Lexington Brassand Mame Sow, Executive Pastry Chef at Minton's and The Cecil.  Curry crusted cod, short rib arepas, and sweet potato creme brulee are just some of the luxurious dishes served up by the incredible culinary talent of New York City.  More than 60 New York City C-CAP high school culinary students cooked alongside the city's hottest chefs.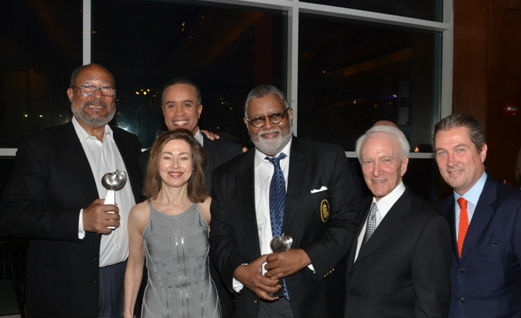 A live auction run by Jamie Ritchie, CEO & President of Sotheby's Wine included a fairytale for 4 at a villa and vineyard in Montalcino, Tuscany, a private party for 30 at world-renowned Minton's and an "In the Kitchen" experience for 6 with Marcus Samuelsson at Red Rooster.  A silent auction included luxury travel, food and wine, unique items, once in a lifetime experiences, and epicurean education.
As the evening continued, honorees Parsons and Smalls were recognized for their achievements and contributions to the culinary industry and their commitment to culinary innovation, "I never dreamed that my idea in 1990 to teach French cooking in twelve New York City public schools would become what it is today." said Richard Grausman, C-CAP's Founder and Chairman. "C-CAP is celebrating 25 years of transforming lives through the culinary arts and this benefit is critical in supporting our mission of providing scholarships, education, and career opportunities to at-risk youth interested in pursuing careers in the the restaurant and food service industry. We are so proud we have awarded over $43 million in scholarships and will continue to nurture the next generation of star chefs." said Susan Robbins, President of C-CAP.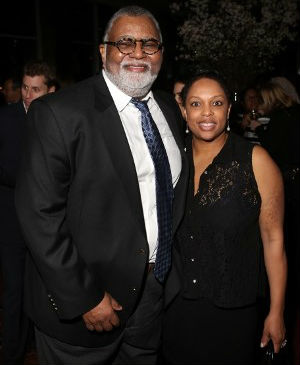 Prior to the event, I had the pleasure of sitting down with Alexander Smalls and learned about his early beginnings, his Grammy Award and Tony Award for the cast recording of Porgy and Bess, by Gershwin with the Houston Grand Opera to his legendary history of catering to the palates of the city's movers and shakers.
Here's the interview:
CC Minton: You're the author of the acclaimed memoir and cookbook, "Grace the Table", with a foreword by Wynton Marsalis.  I'd love to hear more about it.
Alexander Smalls:  Yes.  Grace the Table is a memoire and recipes.  It's chronological on how I became Alexander Smalls.  As a child, life revolved around the kitchen in my family.  We lived in a small town so there were not a lot of distractions.  There was no ballet or circus.  We created our own entertainment and brought family together and celebrations were generally around eating.
CC Minton: So was this respect for food and celebration a family business?
Alexander Smalls:  No.  This was my grandfather's organic way of taking care of the family.
CC Minton: With your family history, it sounds like food and celebration is a part of our DNA?
---
---
Alexander Smalls:  Totally.  My dad's sister and brother were chefs.  My mother's father was a chef as well as her step father and Uncle Bubba.  My grandfather was a city farmer and owned an acre lot in the city of Charleston, SC.  A third of that was dedicated to farming.  We were very involved with food and where it came from.  My father and my grandfather had night clubs.  So what I do is a part of my lineage.
CC Minton:  You're an opera singer.  You won a Grammy Award and Tony Award.  What an honor. What moved you to transition into your family tradition surrounding food and celebration?
Alexander Smalls:  If I wanted to get what I wanted in life, I knew I had to own my own stage.  I could not own an opera house but I could own my own restaurant.  Life is a recipe.  You may not get what you want in the form that you dream but if you want something you will get it in the form that life gives to you.  And it is a gift.
CC Minton: You've owned 3 restaurants critically acclaimed by the people.  What did it take for partners Dick and Laura Parsons, and you to revive Minton's and The Cecil?  I know others wanted to do what you've been able to accomplish but for whatever reason were unable to do so.
Alexander Smalls:  Well of course it took money.  But it really took passion and tenacity.  We decided it was ours.  It took over two and a half years for us to sign the lease.  Minton's is on the national register.  It's the birthplace of B-bop and the foundation of modern jazz.  The Cecil is a hallmark of many of the old guard jazz musicians.  As you can see, we had to have it.
CC Minton: You and Dick Parsons are being honored next week by C-CAP.  Congratulations!  What moves you to give so generously of your talent and time?
Alexander Smalls:  Anytime there is an opportunity to inspire young people, it's an opportunity and time to get busy.  We didn't build this business just to be a business to make money.  We wanted to be a part of the Harlem legacy.  We want to be a part of the service community that provided opportunity not only for community to grow but also the people of the community.  Dick and Laura Parsons, my partners, have a long history, as do I, for being involved with non-profits and organizations in Harlem.  Dick is the Chairman of the Board at the Apollo Theatre.  His influence and money have been pivotal and important in the Harlem community.  He loves it and that we share.  I moved to Harlem more than 16 years ago.  The idea was that I would come to the dream place of my father.  I would come here and somehow make a contribution.  So the idea that we occupy this corner at 118th & St. Nicholas is what we could aspire to.  To understand that in the context of this incredible profession, there is an African-American presence that we can support.  The community can build on and be a part of.
CC Minton: C-CAP is an incredible organization.  Tell me more.
Alexander Smalls: I love C-CAP and the people who run it.  Susan Robbins is an extraordinary advocate, warrior, and fundraiser.  She's relentless.  She's fighting for the kids.  She has recognized that her position is to not leave a dollar on the table.  Not to leave one person uninfluenced or untouched by the impact of the organization.
CC Minton: You have achieved so much.  You're a visionary so what do you see for Alexander Smalls in the future?
Alexander Smalls: Well I'd love to grow my own food just like my grandfather did.  And to continue to tell the story . . . . another book may be on the way.  We'll wait and see.
Photo credit: Photos 2,4 and 5 are by Annie Watts. and photos 1, 3, 6, 7 are by Udo Salters.
Related Articles
VIDEO
---
Harlem Cultural Archives is a donor and foundation-supported Historical Society, Its mission is to create, maintain and grow a remotely accessible, online, interactive repository of audio-visual materials documenting Harlem's remarkable and varied multicultural legacies, including its storied past as well as its continuing contributions to the City and State of New York, the nation, and the world.
Support Harlem Cultural Archives
and
click here to get more Harlem History
, Thank you.