---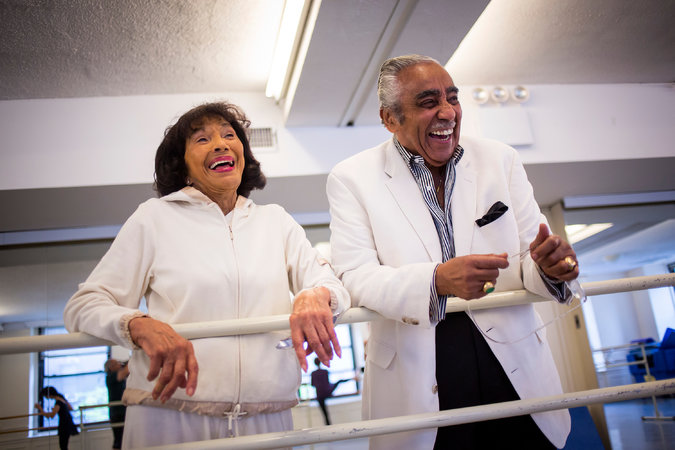 In 1950s Harlem on a Sunday afternoon, Alma Carter arrived at the Savoy Ballroom in a mauve-colored strapless ball gown. "I wore a tiara with diamonds," she said, quickly adding, "Not real diamonds."
Charles B. Rangel caught sight of her across the room, dancing with someone else. He wore a bit of jealousy.
On Wednesday, she was dancing again. Her husband of 50 years was not.
The couple, both 85, had been scheduled to plié, sauté and move from first to fifth position with a class of other older dancers at the 92nd Street Y South of Harlem in Manhattan. The occasion was National Senior Health and Fitness Day, an annual event to raise awareness for healthy living and exercise among older adults. More than 100,000 people were expected to participate in different activities across the country. About a dozen women took part in the class at the Y.
But Representative Rangel, a Harlem Democrat now in his 23rd term in Congress, sat down in one of the few chairs available in the mirrored studio and watched his wife dance. She wore a cream-colored velour sweatsuit and diamond earrings. They were real. "Of course," she said, adding that her husband had given them to her for their 25th anniversary. They will celebrate their 51st in July.
Mr. Rangel said he was not dancing because he did not have a leotard or ballet slippers. "He doesn't know anything about pointing toes," his wife said.
The Rangels said they have had their ups and downs over five decades. Mr. Rangel said they grew closer about three years ago when he fell ill with back trouble that left him debilitated. By last year, he was well and wanted to run for re-election. Ms. Rangel, who has described being a politician's spouse as a lonely life, accepted her husband's pledge that it would be his last campaign. He also promised her more quality time, which he has fulfilled so far with a trip to Paris and with moments like those on Wednesday.
"Have a seat, Al," Mr. Rangel said to his wife outside the studio where they sat for a brief joint interview.
Ms. Rangel said she had never taken ballet though she has admired it through the years (she just finished reading an autobiography of the ballerina Misty Copeland), but stays active with yoga and jazz-movement dancing.
"She does the Slide," Mr. Rangel interjected. "And what are the new ones now? The new dances they do now?"
"They're not so new; the Electric Slide?" Ms. Rangel said, laughing.
Mr. Rangel said he walks miles from the Capitol to office buildings while in Washington. Though he said that "everything good is bad for you," he described himself as an expert smoothie maker. This year, he introduced the "Rangel Resolution," an attempt to enlist others to join him in a commitment to healthier eating for 30 days to increase awareness that low-income communities need access to healthier food options.
When Ms. Rangel danced at the Y on Wednesday, instructed by Kate Stephan, a professional dancer who has appeared on Broadway, Mr. Rangel complained that his wife was behind all of the other ballerinas.
"Shh," Ms. Rangel said, waving her arms and rolling her eyes.
So her husband watched, but a 90-minute event was shortened to about 45 minutes. "I didn't have breakfast; it's time to go," she told a reporter. "He promised me lunch."
"Papaya? Two hot dogs?" Mr. Rangel asked.
"You can't have that," Ms. Rangel said, as if she had said it a thousand times (source).
---