---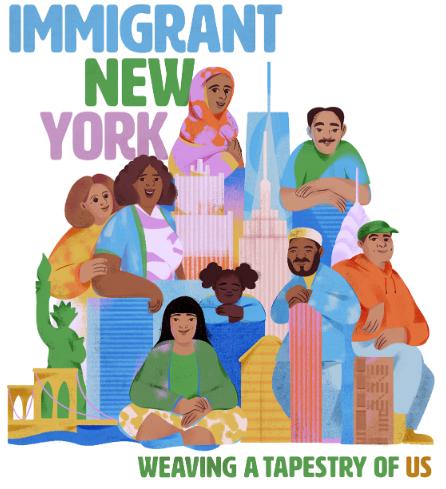 Today, Mayor Bill de Blasio and Immigrant Affairs Commissioner Bitta Mostofi kicked off Immigrant Heritage Week 2019, the City's annual celebration of immigrant New Yorkers, past and present. Every year since 2004, Immigrant Heritage Week (IHW) launches in mid-April, to honor the experiences and contributions of immigrants in New York City by marking the day in 1907 when over 11,000 immigrants were processed at Ellis Island, more than any other day in its history. From April 15 to April 21, 2019, the City and community partners will hold over 75 events and programs across every borough, giving New Yorkers more opportunities to cherish on their culture and learn about the diverse array of other cultures that make the city so unique.
"Immigrant Heritage Week is a great time of year to reflect on the contributions immigrants have made to our great city from generation to generation," said Mayor Bill de Blasio. "I look forward to continuing to work with Commissioner Mostofi and her team at the Mayor's Office of Immigrant Affairs to make our city the fairest big city in America, no matter where you're from."
"The resilience and beauty of our immigrant communities was a key reason that former Mayor David Dinkins coined the wonderful phrase 'gorgeous mosaic' to describe our diversity," said First Lady Chirlane McCray. "New York is one of the greatest cities in the world because our arms are open to people from everywhere, who bring their energy, their dreams, and their talents. I am proud to celebrate Immigrant Heritage Week 2019 in honor of those contributions. "
"New York City's diversity is our greatest strength, and that includes the diversity of our immigrant heritage," said Deputy Mayor for Strategic Policy Initiatives Phillip Thompson. "Communities from all corners of the globe have found a home here, and our immigrant support services and programs from language access to immigration legal assistance demonstrate our commitment to them. I encourage New Yorkers to attend some of the over 75 events that are part of Immigrant Heritage Week 2019."
"Our shared immigrant past, from two or 200 years ago, is part of what makes our city so strong," said Bitta Mostofi, Commissioner of the Mayor's Office of Immigrant Affairs. "With Immigrant Heritage Week, we celebrate our polyglot city, invite reflection on our history as a city of immigrants, and work to provide resources for our communities. From IDNYC, to workshops and cultural enrichment, the City is here to serve all of our residents, no matter your immigration status."
"Immigrant New Yorkers are an integral part of the fabric of our City and their many economic, cultural and social contributions have made New York a shining example of the value of diversity," said Department of Social Services Commissioner Steven Banks. "As we celebrate their history, today more than ever we renew our commitment to ensure that immigrants are given access to all the resources and services they need to succeed in this country."
"Diverse and thriving immigrant communities make irreplaceable contributions to NYC's creative and cultural life," said Cultural Affairs Commissioner Tom Finkelpearl. "The tapestry symbolizes the variety of voices, perspectives, and backgrounds that come together to give our city its singular combination of colors and textures. We're honoring immigrants this week, using this opportunity to reflect on and highlight not only the foundational role they have played in New York for generations, but also how they continue to make our City the vibrant place it is each and every day."
"As an immigrant New Yorker, I'm proud to be in a position to support foreign-born New Yorkers who own nearly half of the city's small businesses," said Gregg Bishop, Commissioner of the New York City Department of Small Business Services. "New York City is the greatest city in the world because of its diversity. Join us in celebrating Immigrant Heritage Week by attending an event or shopping local."
"This week and year-round, we celebrate the incredibly rich diversity of our NYC Health + Hospitals doctors, nurses, and healthcare staff who provide care to nearly 1 million patients that hail from more than 170 countries," said Dr. Mitchell Katz, President and CEO of NYC Health + Hospitals. "We provide language access and health care services to all New Yorkers, regardless of where they come from or what language they speak. It's our commitment to keeping New York City healthy for all."
"What makes a tapestry so rich is that by weaving its unique threads together, they become one—and they become stronger and more beautiful," said Department of Consumer and Worker Protection (DCWP) Commissioner Lorelei Salas. "This week in particular, but every day, we celebrate how New York City is stronger and more beautiful because of our rich immigrant heritage. As an immigrant myself, I'm proud to stand together with all my fellow New Yorkers and to work for an agency that is committed to protecting and serving all New Yorkers regardless of where they are from or what their immigration status is."
"New York City boasts has the most culturally diverse taxi and for-hire industry in the world, with over 90 percent of licensed drivers coming from other countries," said Acting TLC Commissioner Bill Heinzen. "Immigrants have been the driving engine of the taxi and for-hire industry for more than a century. It is the strength, tenacity, passion and work ethic that immigrants have brought to their work here that generate the continued vitality of these essential services."
"The New York City Commission on Human Rights is proud to stand shoulder to shoulder with the Mayor's Office of Immigrant Affairs to support and uplift immigrant New Yorkers every day, and especially during Immigrant Heritage Week," said Commissioner and Chair of the NYC Human Rights Commission Carmelyn P. Malalis. "New York City is, above all, a city of immigrants. Immigrants make this city what it is – a vibrant tapestry of cultures living and working side by side. We are steadfast in our work to protect New York City's immigrant communities, and we are thrilled to partner with MOIA during this exciting celebration of our city's diverse heritage."
"When I ask myself why I love this country so much, the first thing that comes to mind is New York City. As I prepare for the journey ahead with the uncertainty of not knowing if I'll be able to return home, I recall countless memories made with friends on the 2 train, at my local bodega, and at public libraries in Queens," said Jin Park, IHW 2019 Honoree. "This city has nurtured me and is the reason for my success. My commitment to public service is, in many ways, a core driving force in all immigrant communities – that we share in creating wealth with one another, and that we have a duty to ensure that each of us is getting a fair shot. It is an honor to be recognized during this Immigrant Heritage Week celebration."
"I am the daughter of proud Garifuna immigrants, who immigrated to the United States and settled in Harlem 50 years ago. My life is one of service to others because that is what I witnessed growing up in a trilingual and bicultural household—it is what gives me joy and fulfillment,"
"I am the daughter of proud Garifuna immigrants, who immigrated to the United States and settled in Harlem 50 years ago. My life is one of service to others because that is what I witnessed growing up in a trilingual and bicultural household—it is what gives me joy and fulfillment," said Luisa Maxine Sanchez, IHW 2019 Theme Contest Winner. "Being selected as the winner of this year's IHW contest is quite an honor and I am beaming with Garifuna pride. I am part of the rich tapestry that makes our city a great place to live!"
"Working on an image to celebrate the beauty and diversity of immigrant heritage in the city was truly a privilege. With color, textures and lively gestures as the tools I have at hand, it is my ongoing effort to try to create images that will promote our difference as strengths and encourage us all to feel included, portrayed and ultimately empowered," said Eugenia Mello, Graphic Artist and Illustrator. "This project was an extraordinary opportunity to express this, as we wanted to portray a sense of community, of the bigger family that is the combination of us all within this city—a family portrait —us and the city, together, full of life and texture. Colorful. Flavorful. Unique. It has been an honor to celebrate what I love the most about this city I call home: its infinite, beautiful diversity."
For the very first time, the City asked New Yorkers for help choosing the theme of IHW 2019. The winning submission and this year's theme is "Immigrant New York: Weaving a Tapestry of Us," which expresses how the immigrant experience and being a New Yorker are intertwined. This year's contest winner, Luisa Maxine Sanchez, is a proud Bronx resident and the daughter of Garifuna immigrants. IHW 2019's theme was jointly selected by First Lady Chirlane McCray, Deputy Mayor Phil Thompson, Cultural Affairs Commissioner Tom Finkelpearl, and Commissioner Mostofi.
With a theme selected, the Mayor's Office of Immigrant Affairs worked with Eugenia Mello, an immigrant New Yorker from Argentina and professional illustrator, to bring Luisa's theme to life:
A full list of Immigrant Heritage Week programs and events is available at NYC.gov/IHW2019. Immigrant Heritage Week 2019 includes over 75 community events across all five boroughs, ranging from cultural celebrations to events offering practical information to immigrant New Yorkers about their rights.
This year's hallmark events include:
Throughout the week – IDNYC "pop-ups" and IDNYC on the Go!: During IHW 2019, in partnership with Council Members I. Daneek Miller, Antonio Reynoso, and Mark Gjonaj, New Yorkers will be able to sign up for IDNYC at temporary "pop-up" sites and IDNYC mobile command center. New York City's municipal identification card, IDNYC offers a multitude of benefits, including free 1-year memberships to over 40 cultural institutions as well as entertainment discounts across the City.
IDNYC pop-up with Council Member Antonio Reynoso: Location: 244 Union Avenue, Brooklyn, NY 11211
Date and Time: Every day of IHW 2019, 9:00 AM to 5:00 PM (closed from 1:00 to 2:00 PM)
IDNYC on the Go! with Council Member I. Daneek Miller: Location: Grace Gospel Tabernacle, 96–09 Springfield Boulevard, Queens Village, NY 11429
Date and Time: Wednesday through Friday, 10:00 AM to 5:00 PM
IDNYC pop-up with Council Member Mark Gjonaj: Location: Pelham Parkway-Van Nest Library, 2147 Barnes Avenue, Bronx, NY 10462
Date and Time: Monday through Thursday, 10:00 AM to 6:00 PM (closed from 1:00 to 2:00 PM)
Note Russian and Albanian interpretation services available on site.
Throughout the week – Events featured as part of Migrations: The Making of America, Carnegie Hall's citywide festival that traces how large-scale movements of people—both to and within our country—have helped shape American arts, culture, and society. The Migrations festival celebrates the many contributions—cultural, social, economic, and political—of the people who helped to build America's culture, with musical programming at Carnegie Hall and public programming, performances, exhibitions, and events at many leading cultural and academic institutions across New York City, including events offered as part of the city's annual Immigrant Heritage Week 2019.
April 17, 2019 – In honor of Immigrant Heritage Week and International Day of Friendship, Brooklyn Borough President Eric Adams will host the Immigrant Day of Friendship at Brooklyn Borough Hall and Columbus Park. Brooklyn Borough Hall will display flags of the world and organize for immigrant rights. Visitors at the event will be able to learn the history of each nation and how to get involved in civic action.
Location: Brooklyn Borough Hall, Columbus Plaza – 209 Joralemon Street, near Court Street, Brooklyn, NY 11201
Time: 7:00 AM to 7:00 PM
April 18, 2019 – The acclaimed British artist Marc Quinn will introduce Our Blood, an upcoming not-for-profit public art installation at The New York Public Library, the project's premiere institutional partner, at a panel discussion during Immigrant Heritage Week 2019. Comprising two large-scale, identical cubes of blood contributed by over 10,000 resettled refugee and non-refugee volunteers, Our Blood embodies Quinn's belief in our shared humanity. The discussion will touch upon how the project raises awareness of and funds for the global refugee and migrant crises as well as the power of art to inspire social change. Immigrant Affairs Commissioner Mostofi will provide closing remarks at the event.
Location: NYPL, Stephen A. Schwarzman Building – Celeste Auditorium, 476 Fifth Avenue (at 42nd Street), New York, NY 10018
Time: 6:30 to 7:30 PM
In addition, to mark Immigrant Heritage Week 2019, the Mayor's Office of Immigrant Affairs and NYC Health + Hospitals will join together to reissue a message first published in December 2016, encouraging New Yorkers to seek care without fear of having their immigration status disclosed. Written in 14 languages, the reissued "open letter" reflects an ongoing commitment to serve all New Yorkers, without exception, and regardless of immigration status.
"The character of the great Borough of Queens has always been shaped by the tremendous economic, social, cultural and civic contributions of people hailing from all over the globe," said Queens Borough President Melinda Katz. "As the most diverse county in the nation and home to 2.4 million residents – half of whom are immigrants – Queens knows our greatest strength is our diversity, and we are living proof of it every single day."
"Immigrant Heritage Week is a week for all New Yorkers, and indeed for all Americans. All of us come from somewhere, and we have carried our histories and cultural experiences with us to help make this such a dynamic, diverse place to raise healthy children and families," said Brooklyn Borough President Eric Adams. "While every day is a day to embrace your hyphen at the People's House, our commemoration of an Immigrant Day of Friendship this week will truly be a chance to uplift our many cultural legacies and make a statement on the importance of immigrant rights."
"Like our country, if you subtract the history and contributions of immigrants, you don't merely cancel this legacy, you cancel New York City itself," said Council Member Carlos Menchaca, Chair of the Committee on Immigration. "This fact, once self-evident, is being questioned daily by a Federal administration that, despite claims to restoring American greatness, has no sense of the past. But in NYC we know the truth and have never forgotten who we are. I am proud to join my colleagues and the Mayor's Office of Immigrant Affairs in celebrating our immigrant heritage and safeguarding its future through the impressive lineup of events this week."
"New York City is one of the most electrifying places on earth thanks to our immigrant families," said Council Member Daniel Dromm. "I am delighted to join MOIA in celebrating Immigrant Heritage Week 2019. This series of film screenings, performances and other special events is a wonderful way to showcase our diverse immigrant communities. As a Council Member whose district is home to tens of thousands of immigrants, I will continue to advocate for the well-being of our newest New Yorkers who have given so much to our society."
"I am proud to support Immigration Heritage Week as it enters its 15th year," said Council Member Margaret S. Chin. "IHW celebrates one of New York's greatest strength—our diversity. As the representative of Lower Manhattan, which so many diverse immigrant communities call home, I know firsthand that our city is made better by their contributions. Congratulations to this year's winner of the Theme Contest, Luisa Maxine Sanchez, and thank you to the Mayor's Office of Immigrant Affairs for honoring every New Yorker's heritage."
"For decades, New York City has been home to immigrant families from across the globe, including mine," said Council Member Antonio Reynoso. "Immigrant communities have shaped the cultural fabric of New York City, and continuously make immeasurable contributions through their diverse cuisines, customs, and traditions. Immigrant Heritage Week (IHW) is a wonderful opportunity for New Yorkers to celebrate, preserve, and pay homage to the immigrant communities that help make this the greatest city in the world. I am proud to take part in IHW by hosting a pop-up IDNYC enrollment office in my district office now through April 24th and look forward to supporting IHW in the future."
"Immigrants are what makes New York City so great," said Ellen Kodadek, Executive and Artistic Director at Flushing Town Hall. "At Flushing Town Hall, we consistently celebrate their contributions to the city's arts and cultural landscape by providing global arts for a global audience. It's through experiencing different cultures that we grow as human beings and understand that our differences are not what separate us, but what bring us together. We applaud the Mayor's Office of Immigrant Affairs for paying homage to the many diverse nationalities and ethnicities that illustrate why New York City will always remain a beacon of hope, inspiration, and achievement to people across the globe."
"The Public Theater is proud to be one part of the 'tapestry of us' that will enfold New York City for this year's Immigrant Heritage Week and we're excited to join with our neighbors around the city in lifting our voices together on behalf of all of those who have ever yearned to breathe free," said Drew Broussard, Producer of Public Forum.
"The Studio Museum in Harlem is honored to be a part of Immigrant Heritage Week. Immigrant culture is an essential part of Harlem, and the Studio Museum is proud to embrace immigrant communities in both the artists we present and the audiences we serve,"
"The Studio Museum in Harlem is honored to be a part of Immigrant Heritage Week. Immigrant culture is an essential part of Harlem, and the Studio Museum is proud to embrace immigrant communities in both the artists we present and the audiences we serve," said Thelma Golden, Director and Chief Curator, The Studio Museum in Harlem. "We congratulate the Mayor's Office of Immigrant Affairs and our fellow collaborators on an outstanding seven days of programming."
"In the world refugee crisis, we are currently facing one of the biggest humanitarian tragedies in history. This makes it even more urgent that we come together to acknowledge and celebrate our shared heritage, origins, and our unity in diversity," said Marc Quinn, Founder of Human Love. "That's why I'm proud to introduce Our Blood, a social sculpture that celebrates our common humanity and diversity, during Immigrant Heritage Week in New York, a city that is defined by its tapestry of immigrant and refugee cultures."
"It is wonderful that the Mayor's Office of Immigrant Affairs has partnered with us for Carnegie Hall's citywide Migrations: The Making of America festival this spring. Throughout the festival, events presented by close to 80 organizations have invited audiences to explore how the migrations of people to and within this country have had a powerful impact on the development of American arts and culture," said Clive Gillinson, Executive and Artistic Director at Carnegie Hall. "Both Migrations and the City's Immigrant Heritage Week provide opportunities to celebrate how our cultural landscape has been enriched by the many diverse and vibrant traditions represented in our community."
"We're excited to celebrate our diverse Staten Island community during Immigrant Heritage Week. Inclusivity is one of Snug Harbor's core values, and we are proud to honor the many contributions that immigrants have made to our city's and nation's melting pot," said Aileen Fuchs, President & CEO of Snug Harbor Cultural Center. "We hope to see lots of new faces at the "Balancing Yin and Yang" presentation in partnership with CSI's East Asian Studies program, held in our beloved New York Chinese Scholar's Garden—the perfect place to explore cultural heritage."
"Immigrants bring with them unique stories that expand our understanding of the human experience," said Anita Durst, Founder and Artistic Director of Chashama."We are proud to feature two New York City-based immigrant artists whose work embodies resilience, resolve, and hope—values shared by immigrant and New Yorker alike. Immigrant Heritage Week's focus on inclusivity and cultural cross-pollination aligns with Chashama's commitment to make art accessible to all. It is an honor to be a part of this beautiful tradition."
"We are delighted to be part of the Immigrant Heritage Week, it gives us the opportunity to meet and learn about other communities, get involved and embrace our diversity," said Tomris Azeri, President of the Azerbaijan Society of America. "We are grateful to the NYC Mayor's Office of Immigrant Affairs for always understanding the contributions the immigrant population has brought to our communities. Americans with Azerbaijani heritage are proud to be part of this nation and proud to be part of New York!"
"That perpetual flight has produced 400 years of migration that have generated moments of agitation, acceleration, acclimation, and aspiration. By viewing history through the lens of those four As, we remember the resilience of the human spirit and the 'power that is within us,' as Dr. Barbara Ann Teer would say."
"This event is allowing us to acknowledge the consistent flight, movement, and navigation Black people have been engaged in within this country ever since the Black body was ripped from the shores of Africa—human bodies stripped from home and forced into slavery," said Jonathan McCrory, Artistic Director of National Black Theatre in Harlem. "That perpetual flight has produced 400 years of migration that have generated moments of agitation, acceleration, acclimation, and aspiration. By viewing history through the lens of those four As, we remember the resilience of the human spirit and the 'power that is within us,' as Dr. Barbara Ann Teer would say."
"I applaud Mayor de Blasio and his administration for all that they can do to protect our immigrant communities," said Porez Luxama, Executive Director of the Life of Hope Center. "I am proud NYC is taking this wise step under his leadership to support our most vulnerable New Yorkers—immigrant rights are a must in our plan."
"Our communities are made stronger when the contributions of their members include diverse perspectives," said Geoff Bartakovics, COO of The Harlem Collective. "That's why The Harlem Collective is proud to celebrate New York City's Immigrant Heritage Week this year by exhibiting work from local artists whose immigrant experience has strongly influenced their art. And we're especially eager to hear from them at our public panel discussion on April 15."
"Our communities are made stronger when the contributions of their members include diverse perspectives," said Geoff Bartakovics, COO of The Harlem Collective. "That's why The Harlem Collective is proud to celebrate New York City's Immigrant Heritage Week this year by exhibiting work from local artists whose immigrant experience has strongly influenced their art. And we're especially eager to hear from them at our public panel discussion on April 15."
"New York City, with all its diverse array of cultures, is a great example of what can be achieved if people all over the world could do away with ethnic and racial hatred and just realize that there is only one race: the human race," said Joyce Adewumi, Founding President of the New York African Chorus Ensemble. "In New York City, all cultural expressions are beautiful and valid."
"We chose to be a part of IHW this year because we want to get more involved in the advancement of our community," said Assetou Askia, Executive Director of the Malian Cultural Center. "Our event is a celebration of the countries of origin of our children and their families. It will include dance, music, and food of different types."
---