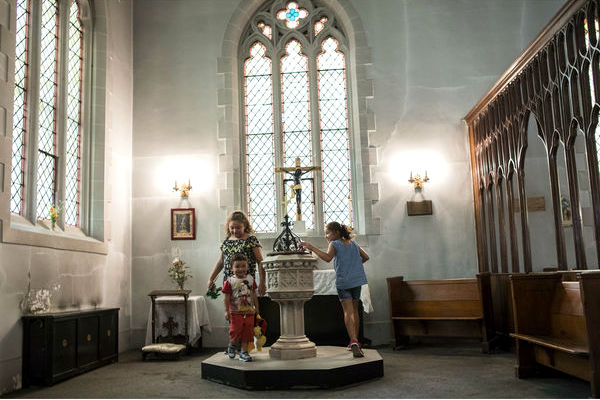 A Guatemalan immigrant with no authorization to live in the U.S. has entered a Washington Heights church with her three children seeking refuge from immigration authorities.
Immigrant Family Seeks Sanctuary In Uptown ChurchA Guatemalan immigrant with no authorization to live in the U.S. has entered a Washington Heights ch…Aug 19 2017harlemworldmag.com
Amanda Morales, who has lived illegally in the U.S. since 2004, said she decided to seek sanctuary instead of showing up to her appointment with Immigration and Customs Enforcement. Morales said ICE told her during her last appointment this month that she would be deported and needed to buy a one-way plane ticket to Guatemala.
"I am scared, but at the same time I feel safe here," she said during a press conference at Holyrood Church on West 179th Street.
Her children, Dulce Carvajal, 9, Daniela Carvajal, 8, and David Carvajal, 2, all U.S. citizens, stood by her side as city and federal officials spoke to reporters. They said they plan to formally request a stay of her deportation so the children are not separated from their mother. They also said that Morales would not leave the church until her situation is solved.
Harlem Congressman Espaillat Statement On DREAMER Arrest And ICE RaidsToday, U.S. Congressman Adriano Espaillat released the following statement regarding last night's DR…Feb 15 2017harlemworldmag.com
"ICE should not come here. They will not come here," said Rep. Adriano Espaillat (D-NY). "They want to send people back to get hurt. We say no".
Under President Donald Trump's crackdown on illegal immigration, detentions of non-authorized immigrants rose 37 percent over the first six months of the year compared with the same period in 2016. The administration says it is focused on those with criminal records, but the number of detainees who do not have a criminal history has more than doubled.
The 33-year-old immigrant said she left Guatemala fleeing violence. Since then she has worked and regularly showed up to her ICE appointments, except on Thursday, she said.
"What I want is to stay in this country with my children so they are not left alone, helpless", she said to reporters.
Harlem Rep. Adriano Espaillat Introduces ICE And CBP Body Camera LegislationYesterday, Harlem Congressman Adriano Espaillat issued the following statement in support of his leg…Mar 22 2017harlemworldmag.com
ICE considers schools or churches "sensitive locations" in which enforcement action is generally avoided although may occur "in limited circumstances," like under special orders from supervisors, ICE's website says.
---
---
An ICE spokeswoman in New York said she could not provide information about someone who is not in ICE custody.
Father Luis Barrios, of Holyrood Church, said that any immigrant who needs sanctuary will be taken in.
Lead images: Mary Altaffer/Associated Press
Related Articles
---