---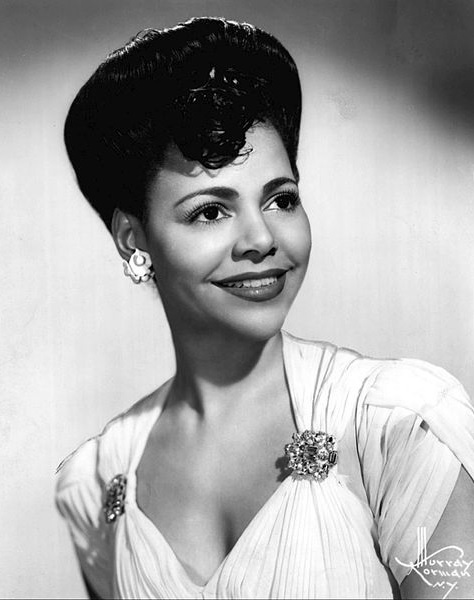 Ida Mae James was born in 1921, in Providence, Rhode Island. Ida's mother taught her how to sing, she travel the country doing amateur night shows until she was discovered on the Radio Kiddie Hour in Philadelphia, PA.
Changing her name to Ida James, she was a singer, actress, and bartender at Harlem's Sugar Hill Cafe. Her sugary sweet voice was a great contrast when singing with Nat King Cole and his band.
Ms. James was a sweet-honey voiced singer who's singing could rival the birds, she gained popularity in the 1940s for her beauty, high, bird-like voice, grace, and glamour. She was the definition of daintiness and winsomeness. In everything she did, she always had charm and grace in appearance and style.
She gained stardom by singing her trademark song, "Shoo Shoo Baby," and from that she was always known as and billed as "The Shoo Shoo Baby" and "The Shoo Shoo Girl." Her recognition came by singing with Nat King Cole, they both popularized the song "Is You Is, Or Is Not My Baby," they sung the duet in a musical short together and others like "Who's Been Eating My Porridge?" . She sung with various popular venues like Cafe Society where she sung with Sarah Vaughan, Billie Holliday and performed as a soloist with Earl "Fatha" Hines, Erskine Hawkins, .
Here's Earl "Fatha" Hines "Please Be Kind" from 1938:
She also performed with trios and bands in which she recorded with also. In 1945, she was voted by music fans as one of the top 20 popular vocalists in America.
Click the play button hear (and watch) her sing "His Rocking Horse Ran Away" in a soundie of the same name:
As an actress, she was very convincing, her first screen appearance was in "The Devil's Daughter," where she gave a watchable and commendable performance showing she could very much be an actress given the chance.
Several years later, she appeared in "Hi-De-Ho" with Cab Calloway, where she gave another favorable performance. In between she did quite a few musical shorts.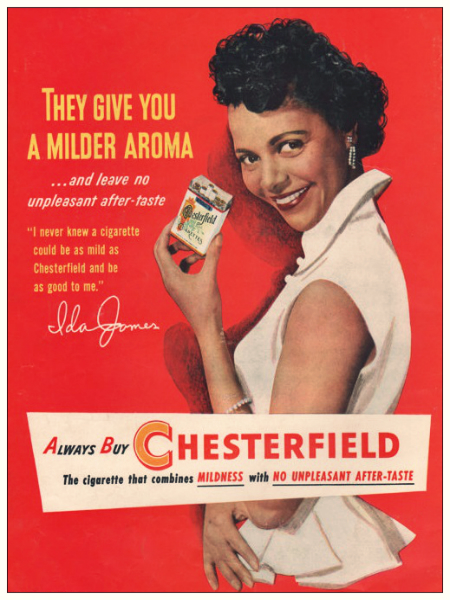 She appeared in leading Black magazines and print ads of the time as well. Ida James was always a likable presence on stage and screen. Not too many women possessed such charm, soft, sweet beauty, class and lady-like qualities as Ida James did. She was always a class act, irresistibly pleasing to the eyes and to the ears.
Here's Nat King Cole and Ida James:
Photo credit: 1) Ida James at Cafe Society in 1944 by Roman Vishniac. 2) an ad for Chesterfield cigarettes with Ida James. 3)
---