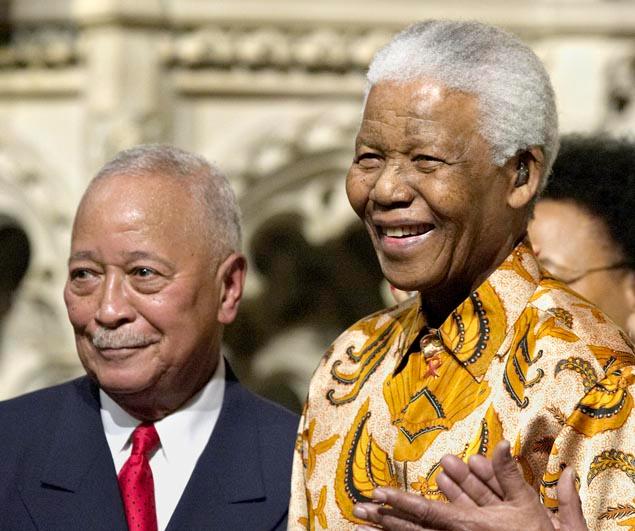 Harlem World Magazine network (writers, board members, contributors, partners, friends, etc.,) respond to the passing of South Africa's first black president and anti-apartheid icon Nelson Mandela:
"Finally rest Mr. Mandela.  What an incredible,  special,  challenging,  and impacting life that you humbly shared with the human race."– Amilcar Cabral, Board Member

"It seems it was just yesterday that he was in prison, then released and now he is with the saints – so much lived in one life, the march of time." – Danny Tisdale, Publisher
"As a Sports writer, I would be remissed not to bring up how President Mandela, a former boxer, used sports to unite a divided country. First, he used rugby, a sport mainly played by the South African Whites, to unite the country and then he fought vehemently to bring the Soccer World Cup to his native land. This gave South Africa a chance to show the world how far they had come since he was imprisoned. I know that this was a small blip on his resume but it had a huge impact on his country's rejoining the world's good graces!" – Marc Rasbury, Senior sports writer
"Mandela was a brave man, an unselfish man, and my hero. My prayers and sincerest condolences go out to the entire family." – Kass, Fashion Writer
"We have witnessed the "end of an Era" with his passing. Let's hope that his great, strong spirit lives on in all of us to love one another." – Rudy Collins, Photographer

"It always seems impossible until it is done." Nelson Mandela". – Walter Rutledge, Senior Arts & Culture writer

"We, at UnityFirst.com, pay tribute to a great man who broke barriers of hate through his transformational love of humanity. In tribute to Mandela, please visit www.UnityFirst.com and enjoy the front page article about Nelson Mandela as shared in the book, "Mandela: The Authorized Portrait" which as been recognized for bringing a new depth to our understanding about this great man.This review was first published on February 11, 2007 in honor of the day (February 11, 1990) Nelson Mandela was freed from prison after 27 years of confinement. From that day on, Nelson Mandela, with immense courage and personal moral authority, moved out of the shadows of his prison cell to stand as a beacon of hope, first to a bitterly divided nation and then to the world. We salute Nelson Mandela and all those around him who made sacrifices in the spirit of freedom and justice for all, in South Africa and beyond." – Janine Fondin, UnityFirst.com
"In addition to his numerous accomplishments as a political activist and humanitarian, Mandela was a visual artist too. His work and activism has inspired the art of many visual artists. Therefore he is one of the few politicians who is truly beloved across all spectrums of life, politics and culture." – Souleo, writer
Nelson Mandela was a gift to our times. I speak for myself when I say I have mixed emotions: the obvious sadness at his passing coupled with gratitude for having in my lifetime been graced with his example of faith, strength, and dedication." – Eartha Watts Hicks, Harlem Writers Guild member

"True freedom is the absence of fear. Nelson Mandela feared nothing. And what he did fear he overcame. I can't thank you enough Nelson Mandela." – Hosea Johnson


"They got what they wanted from Mandela. They locked him up for 27 years and created a puppet. Are the people of South Africa better off than they were under apartheid? They built affordable housing for the poor but nobody could afford running water because foreign companies bought the water delivery system. The IMF saddled the country with debt that the apartheid system created. Mandela is no different from you or I. They crushed him just as they are crushing us, but they turn him into a poster boy of revolution and success and as we celebrate his heroic efforts to make a change they are laughing at us. We do not have to visit these townships with no sewage systems to find out, we know the poverty that exists there, in a country with the biggest gold and diamond deposits. But hey, we have Camden New Jersey and Detroit and Pine Ridge, so please do not delude yourself, slavery did not end, the invention of the light bulb just extended the hours!" – Jeremy, Sugar Hill Harlem Inn
Related articles
Related Articles
---
VIDEO
---
"Dr. Harry Delany is a renowned Harlem born and raised surgeon, the son of the great jurist and civil rights leader, Hubert Delany...." This monthly post is made in partnership with Harlem Cultural Archives.