---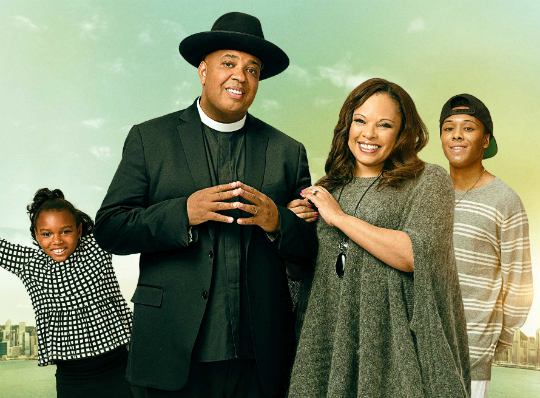 International hip-hop artist and Run-DMC front man Joseph "Rev Run" Simmons has traveled the world with bandmates and friends. Now, he is ready to take on the world in a new way – with his family.Rev, along with his wife, Justine, and their kids, 18-year-old Russy and 7-year-old Miley, will embark on an unforgettable escapade in Travel Channel's all-new 16-part series Rev Runs Around the World," premiering with back-to-back episodes on Wednesday, December 2 at 10:00 p.m. and 10:30 p.m. ET/PT. Equipped with four around-the-world airline tickets and no itineraries, Rev intends to order room service and lie by the pool everyday. Justine and the kids have different plans! In each half-hour episode, the family will be stretched to their limits as they brave new territories, fascinating cultures and authentic food – with Rev in tow.
Related: Danny Simmons and Danny Tisdale talks art on The Danny Tisdale Show on Harlem World Radio
"Shooting 'Rev Runs Around the World' with my family was one of the best experiences of my life," said Rev Run. "Justine, Russy and Miley dragged me along on their adventures – and I wouldn't trade those experiences with my family for anything. Whether we were riding elephants in Thailand or learning how to be ninjas in Tokyo, I'll cherish those moments forever."
In the premiere episode of "Rev Runs Around the World" (10:00 p.m. ET/PT), Rev and family's first stop is the home of reggae – Jamaica. Rich in history and music, this Caribbean island is the perfect place for Rev to get in some much-needed relaxation. With the hotel's pool and palm trees on the brain, he can't wait to bask in that Jamaican irie vibe. But, Justine and the kids have other plans in mind. The family meets up with Tami, a local Rev has met through mutual friends in the music industry. She welcomes the Simmons to Jamaica with a special fried fish lunch – eyes and all – on Hellshire Beach, followed by an impromptu jam session at Tuff Gong, Bob Marley's famous recording studio. Justine manages to bring a begrudging Rev along on a trip in the rain to the Jamaican Blue Mountains for some of the world's richest coffee. But to Rev's delight, the next few days also include a visit to Jamaica's biggest soccer facility, Boardwalk Beach and a homemade Sunday supper with friends.
In the second episode (10:30 p.m. ET/PT), Rev and the family take on the next leg of their journey in Mexico City. The Mexican capital is a colorful urban sprawl bursting with culture, history and culinary delicacies galore. Alex, a local foodie guide, introduces the family to one of the best street food markets where Justine is eager to try crickets, a delicacy in Mexico. Not so keen on the Mexican snack, Rev is set on finding a more traditional taco while in this incredible capital city. Also, while exploring south of the border, Russy and Miley mask up, taking their turn at Lucha Libre wrestling, a popular Mexican sport that is not for the faint of heart. The family explores Plaza Garibaldi, heads toward El Huequito for the best tacos al pastor in town and Rev breaks out his bargaining skills at the famous Mercado de Ciudadela. Finally, the family's excursion wraps up with a mariachi-filled cruise.
Rev, Justine, Russy and Miley start their journey from their home base in New Jersey and hit 16 unbelievable cities along the way, including Tokyo, Bali, Hong Kong, Dubai, Istanbul, Geneva, Reykjavik, Copenhagen and Rio de Janeiro to name a few. Despite their differences in travel style, the family is in for great fun, major laughs – and maybe a little frustration – as they learn what it takes to travel together and explore the amazing cultures each country has to offer.
"Rev Runs Around the World" is produced by Departure Films and Simmons Lehman Productions. For Departure Films, the executive producers are Max Weissman, Matt Levine and Timothy Robbins. For Simmons Lehman Productions, the executive producers are Joseph "Rev Run" Simmons and Michael Lehman. For Travel Channel, the executive producer is Dale Roy Robinson.
Go to the "Rev Runs Around the World" show page on 
TravelChannel.com
 for additional show-related content, including video, on-location slide show, photos and more. Check out Travel Channel on 
Facebook
 and follow @TravelChannel and #RevRunsAroundtheWorld on 
Twitter
 for more exclusive content and updates.
Related Articles
---