---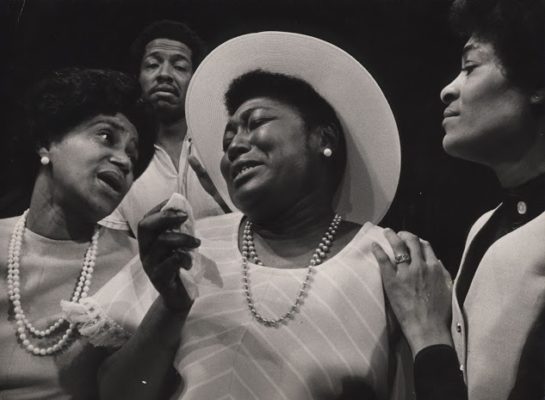 The Negro Ensemble Company continues the celebration of its 50th Anniversary season in which it is remounting NEC Classic Plays. The company will present two companion pieces, "Rosalie Pritchett" by Barbara and Carlton Molette and "The Perry's Mission" by Clarence Young III. Both plays were produced originally in 1971 at St. Marks Playhouse, a half block from Theatre 80 St. Marks where this production will be staged.
"Rosalee Pritchett" portrays the women of an upper-class black wives' bridge club, one of whom is raped by lower-class white National Guard troops, in a devastating indictment of the black bourgeoisie. In "The Perry's Mission," a male black militant challenges various people in a bar about their black identities and their conversation grows into fatal conflict.
The language and mood of both plays reflect the tautness and alienation of the period in which they debuted.
Clcik the Negro Ensemble Company necinc.org/ for show details.
Photo credit: Left: Arthur French (rear), L-R front: Clarice Taylor, Esther Rolle, Francis Foster in debut production of "Rosalee Pritchett."
---