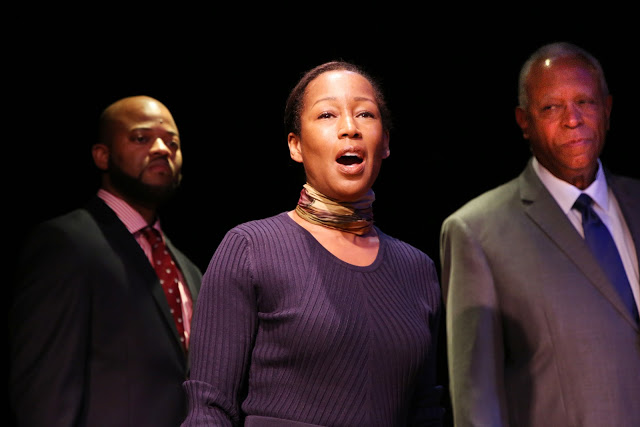 Woodie King Jr's New Federal Theatre  rare presentation of historian Martin Duberman's acclaimed 1963 drama In White America, a documentary play about the history of Blacks in America from slavery through the Civil Rights Movement starring Art McFarland, at the Castillo Theater, 543 West 42nd Street, until November 15.

"I am producing the 50th anniversary production of Martin Duberman's In White America because it is so timely. It's like watching history repeat itself.  The play actually shows that American history and African American history are really one story," said Woodie King, Jr., the founder and director of the New Federal Theatre. "In White America is a historical journey from colonial America up to the landmark Brown Vs. The Board of Education in 1954. The play is drawn from historical records; original recorded stories by former slaves. The play's major theme is the quest for freedom and equality – a theme that is deeply integrated in the 46-year history of New Federal Theatre."
In White America, which received the 1963 Drama Desk Award for Outstanding Play, utilizes letters, speeches, journals, songs and personal accounts to create a 400 year old tapestry of race relations in America. This is the play's first New York City performance in 50 years. The original Off-Broadway production starred the late great actors Gloria Foster and Moses Gunn, who also appeared in many notable New Federal Theatre plays.  Charles Maryan, the director of this production, stage managed the original Off-Broadway show. In White America has scenic design by Chris Cumberbatch, costume design by Gail Cooper-Hecht, lighting design by Shirley Prendergast and musical arrangements by Bill Toles.  In addition to McFarland, the cast includes: Blair Baker, Ezra Barnes, Joanna Rhinehart, Bill Tatum, Shane Taylor and Bill Toles.
"I think of the play as a theatrical documentary," explained McFarland, who was a reporter for WABC-TV Eyewitness News for over 30 years.  He is also a Julliard trained actor who has been featured in House of Cards and Political Animals and recently portrayed W.E.B. DuBois in the New Federal Theatre's production of Amiri Baraka's The Most Dangerous Man in America.  "Its themes are brilliantly compiled and written by Martin Duberman.  It depicts that America was largely built on the institution of slavery, and the plight of Black people is woven into every chapter of its history."
Duberman grew up in White America. While he was an American history professor at Yale and Princeton during the 1950s and 1960s, he got involved in the budding counterculture movement and became an advocate and activist for left wing causes. A noted  historian, playwright, biographer and gay rights activist, Duberman earned a B.A. from Yale in 1952 and a Ph.D. from Harvard in 1957. He is the author or editor of twenty books and has been a finalist for the Pulitzer Prize and National Book Award. In the 1990s, he became the founder and executive director of CLAGS at CUNY's Graduate Center, the first university­-based research center in the United States dedicat­ed to LGBT studies. Today, he is a pro­fessor emeritus of history at Lehman College and CUNY's Graduate Center.
"In White America – which opened some 50 years ago–should be a relic, but unfortunately isn't. I wrote the play to provide historical background for the civil rights struggle then in progress. Given the state of race relations in this country today, that history remains all-too-relevant," explained Duberman.  "Yes, there's been progress, but as recent events have made all too clear, black lives still matter much less than white ones. It isn't only police shootings and harassment, or prejudice in job applications and promotions, or jail sentences for minor infractions. It's also the continuing high level of residential segregation that in turn continues to make our schools just about as segregated as they were in the past."
Veteran journalist McFarland strongly believes that In White America is even more relevant today.  "From the Charleston, South Carolina massacre to the Baltimore riots, the Ferguson riots and beyond, it is clear that stains of slavery and the consequences of racism are, unfortunately, alive and well," he stressed.  "The play reveals a poignant template for these national ills."
For more information, please visit www.newfederaltheatre.com.
Photo credit: IN WHITE AMERICA — The 50th Annniversary production of Martin Duberman's "In White America" is mounted October 15 to November 15, 2015 by Woodie King Jr.'s New Federal Theatre at Castillo Theater, 543 West 42nd Street.  L-R:  Shane Taylor, JoAnna Rhinehart, Art McFarland.  Photo by Gerry Goodstein.
No related posts found...
---