---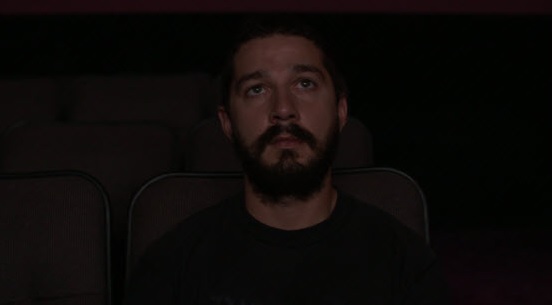 This week, Shia LaBeouf has brought his latest piece of performance art marketing to New York City's Angelika Film Center, where he is watching all of his movies consecutively over the next three days.
The campaign project, in collaboration with artists Nastja Säde Rönkkö​ and Luke Turner​, is titled #ALLMYMOVIES.
On Location Vacations reports that According to the project's website,
"From noon on 10th November 2015, #ALLMYMOVIES by LaBeouf, Rönkkö & Turner will commence at the Angelika Film Center, 18 West Houston Street, NYC. Visitors are invited to join Shia LaBeouf in person as he watches all his movies consecutively in reverse chronological order over the next three days, 24 hours a day (admission free). At the same time, a live stream will continuously broadcast the performance."
Based on the live stream, it doesn't look like you'll have to wait long to get a seat in theater, and you probably even score the one right next to LaBeouf himself.
If you can't make it to the Watch Party, you can watch Shia watch his movies live at http://newhive.com/allmymovies.
Related Articles
---