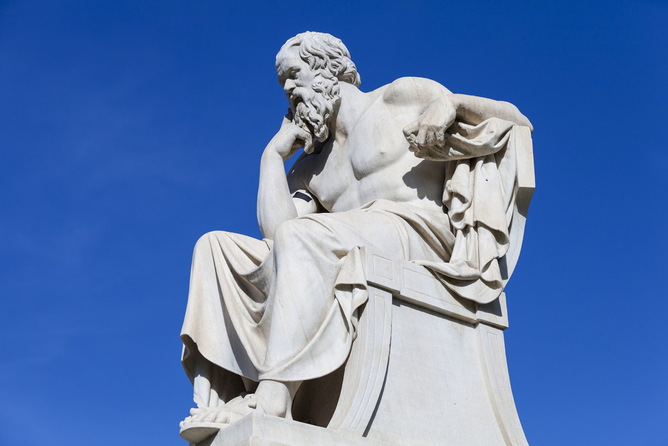 Ever since Socrates declared "the unexamined life is not worth living," philosophers from Harlem to Harare have been engaged in a passionate debate: What is the good life? What is the nature of happiness, and how can it be attained? Is the development of virtue a prerequisite to the good life? What is the path toward human flourishing?
While philosophers have been grappling with these questions for millennia, modern science has only recently begun to broach the problem of what constitutes the good life. Various scientific disciplines such as sociology, economics, neuroscience, and psychology have devised innovative and empirical methods for assessing subjective states of happiness and well-being, providing us with intriguing new clues about our complex nature as humans and what actually fosters a happy and meaningful life.
The New York Academy of Sciences, in collaboration with the Nour Foundation and Wisconsin Public Radio's To the Best of Our Knowledge, is proud to present From Knowledge to Wisdom: Science and the Good Life, moderated by journalist and TTBOOK Executive Director Steve Paulson. "For centuries, the quest for happiness and the good life was one of the great concerns for philosophers, but in the last few decades, a new science of happiness has emerged. Psychologists no longer study only dysfunction; now, they're also looking for the keys to equanimity, resilience and well-being," says Paulson.
This three-part series at the New York Academy of Sciences brings together an array of leading scientists, philosophers, and scholars for an interdisciplinary investigation into the evolving nature of the human condition and the ultimate quest to discover how to lead the good life. "In my experience, sustained happiness comes from knowing your own power and being able to use it for a larger purpose — that is, to use your strengths to make a contribution to something greater than yourself," says attorney and author Kim Azzarelli, who will speak on the new science of happiness and the paradox of pleasure.
This year's series includes:
Thursday, October 8, 2015 | 7:00 PM – 8:30 PM
A New Science of Happiness: The Paradox of Pleasure
Featuring: Kim Azzarelli (Cornell Law School; Seneca Women), Darrin McMahon (Dartmouth College), and Barry Schwartz (Swarthmore College)
Moderator: Steve Paulson (Wisconsin Public Radio)
How does the relationship between happiness and pleasure shape our quest to lead the good life? Attorney Kim Azzarelli, historian Darrin McMahon, and psychologist Barry Schwartz discuss their research on happiness, pleasure, and the coveted good life.
Wednesday, December 9, 2015 | 7:00 PM – 8:30 PM
The Moral Animal: Virtue, Vice & Human Nature
Featuring: Christian Miller (Wake Forest University), Susan Neiman (Einstein Forum), Michael Shermer (Chapman University), and Simone Schnall (University of Cambridge)
Moderator: Steve Paulson (Wisconsin Public Radio)
---
---
Is a basic model of human nature necessary to navigate the good life? Philosophers Susan Neiman and Christian Miller, social psychologist Simone Schnall, and science writer Michael Shermer examine our moral ecology and its influence on assumptions about human nature.
Wednesday, February 3, 2016 | 7:00 PM – 8:30 PM
Cultivating Character: The Art of Living
Featuring: Philip Kitcher (Columbia University), Lisa Feldman Barrett (Northeastern University), Valerie Tiberius (University of Minnesota)
Moderator: Steve Paulson (Wisconsin Public Radio)
Philosopher of science Philip Kitcher joins Humean philosopher Valerie Tiberius and distinguished psychologist Lisa Feldman Barrett to explore the role of wisdom in the interplay between positive emotions, virtues, and character.
Explore the entire series at www.nyas.org/TheGoodLife.
Please visit us online at www.nourfoundation.com.
Please visit us online atwww.TTBOOK.org
Related Articles
---