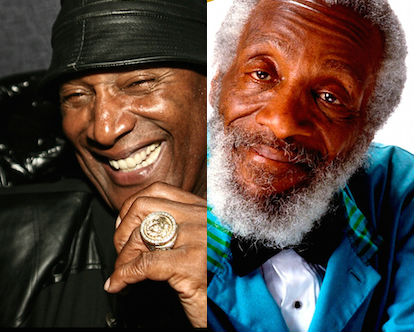 A once in lifetime one night only performance with two legendary comedians Paul Mooney and Dick Gregory at B. B. Kings in New York City.
Paul Mooney
Mr. Paul Mooney was born in Louisiana and grew up in Oakland, California. As a youth, he literally ran away from home and joined the Charles Gody Circus, going down in history as the first African-American ringmaster. He was always writing comedy. He says "When I was Ringmaster, I was doing jokes I thought were funny." Mooney's first professional gig in comedy was with Richard Pryor. He wrote most of the hilarious routines for Pryor's Saturday Night Live appearance, co-wrote material on the groundbreaking Live On Sunset, Bicentennial Nigger, and Is It Something I Said albums, as well as Pryor's film Jo Jo Dancer. As head writer for the Richard Pryor show, he was responsible for the national television debuts of Robin Williams, Sandra Bernhard, Marsha Warfield, John Witherspoon, and Tim Reid. As head writer during the first year of FOX's In Living Color, also debuting the young Jim Carey, he also created the characters Homey the Clown, and the brothers Tom and Tom, to name a few. He co-starred with Damon Wayans and Jada Pinkett-Smith in the Spike Lee film Bamboozled. Paul Mooney came into his own with his controversial debut album Race & Masterpiece continues to stir anger, laughter, and thought. His latest DVD's, Analyzing White America, Know Your History, It's the End of the World and his latest release currently on Showtime, The Godfather of Comedy, Mr. Paul Mooney. "I always drop history" he explains "It's knowledge; There's always a message in my comedy and you may not get it that night – it's like time bombs. It'll get you a week later. You'll understand.
Artist Websites
Paul Mooney IMDB | Facebook
---
Become a Harlem insider - Sign-Up for our Newsletter!
---
Dick Gregory
An activist, philosopher, anti-drug cruasder, comedian, author, actor, recording artist, and nutritionist, Dick Gregory was on the frontline in the '60s during the Civil Rights era. Today he continues to be a "drum major for justice and equality." Born in 1932 in St. Louis, MO, his social satire has drastically changed the way white Americans perceive African Americans. After beginning to perform comedy in the mid-'50s while serving in the army, Gregory first entered the national comedy scene in 1961, when Chicago's Playboy Club (as a direct request from publisher Hugh Hefner) booked him as a replacement for white comedian, "Professor" Irwin Corey. His tenure as a replacement for Corey was so successful – at one performance he won over an audience that included Southern white convention goers – that the Playboy Club offered him a contract extension from several weeks to three years. By 1962 Gregory had become a nationally known headline performer, selling out nightclubs, making numerous national television appearances, and recording popular comedy albums.
Through the '60s, Gregory spent more time on social issues and less time on performing. He protested on numerous occasions and participated in marches and parades to support a range of causes, including opposition to the Vietnam War, world hunger, and drug abuse. He demonstrated his commitment to confronting the entrenched political powers by opposing Richard J. Daley in Chicago's 1966 mayoral election. He also ran for president in 1968 as a write-in candidate for the Freedom and Peace Party, a splinter group of the Peace and Freedom Party, and received 1.5 million votes. His activism continued through the next several decades, into the '90s. In response to published allegations that the C.I.A. had supplied cocaine to predominantly African American areas in Los Angeles, thus spurring the crack epidemic, Gregory protested at C.I.A. headquarters and was arrested. In 1992 he also began a program called Campaign for Human Dignity to fight crime in St. Louis neighborhoods.
Although Gregory's steadfast commitment has limited his opportunities to perform, he's still found ways to share his powerful and often comedic message with audiences across the country. In 1996, he took the stage stage with his critically acclaimed one-man show, Dick Gregory Live! The reviews of the show compared him to the greatest stand-ups in the history of Broadway. In 1998, he also spoke at the celebration of the birthday of Dr. Martin Luther King Jr., prompting President Clinton to declare: "I love Dick Gregory, he is one of the funniest people on the planet." Although Gregory announced in 2001 that he had been diagnosed with lymphoma, he was able to battle the cancer into remission with a regimen of diet, vitamins, and exercise, spreading awareness of the fact that cancer is indeed curable. The new millennium has found Gregory continuing to write, perform, and shape public opinion. "I've lived long enough to need two autobiographies, which is fine with me," he laughs. "I'm looking forward to writing the third and fourth volumes as well."
Artist Websites
Dick Gregory Website
One Night Only! Sunday, November 1, 2015
Show Details | Doors: 6pm | Show: 7:30pm
Buy Advance Tickets $49.50 – Day Of Show $60
B.B. King Blue Club & Grill | 237 W 42nd St. NYC | bbkingblues.com
Presented By Jill Newman Productions
Related Articles
---
VIDEO
---
"Dr. Harry Delany is a renowned Harlem born and raised surgeon, the son of the great jurist and civil rights leader, Hubert Delany...." This monthly post is made in partnership with Harlem Cultural Archives.