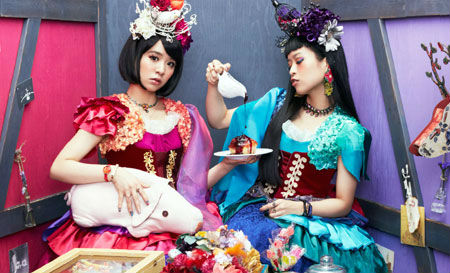 On Thursday, October 29 (8:15 pm), the twenty-something sister duo Charan-Po-Rantan makes its New York debut at Japan Society, serving up the heady blend of original "circus music" and kinetic theatricality that has created a sensation in their native Japan – something we think our global audience will love.
Melding pop, klezmer, gypsy music, and chanson, accordionist Koharu Matsunaga and her singing sister Momo (seldom seen without her stuffed pig) present an evening of sheer delight…and for those who listen closely, deeper meanings. For this show, they will be joined by drummer Fu-chin of Cancan Balkan, the sisters' backing band.
In anticipation of Halloween, there will be a pre-show party with music by all-woman jazz combo The Red Birds in Japan Society's lobby at 7 pm, with free draft beer courtesy of Sapporo. A colorful Charan-Po-Rantan cocktail will also be available (cash bar). Audiences are encouraged to come in colorful costume. The event is part of Japan Society's Women on the Rise series, devoted to those who are pushing boundaries and expanding horizons within their field. 
"the nation's best—and possibly only—accordion-toting vaudeville gypsy-pop sisters"
Charan-Po-Rantan's name comes from the Japanese expression "charanporan," meaning a sloppy, "half-assed," ill-conceived, half-hearted, irresponsible effort. Koharu, 26, is a prize-winning accordionist who took up the instrument as a child after hearing it at a circus. She formed her first band at fifteen, and began collaborating with her sister Momo, 22, in 2009. Initially, Momo had little interest in performing; to combat stage fright, she took to the stage with a stuffed pig ("my lucky charm") which has become an endearing part of her persona. The family involvement extends to the duo's trademark flamboyant costumes, which are made by their mother. Their surreal videos garner hundreds of thousands of views on YouTube. (Small wonder, Charan-Po-Rantan made Vice's Noisey blog list of "The Top 10 Most Insanely Awesome-Looking Japanese Artists.")
Thanks to widespread touring, including appearances at the 2013 SxSW festival in Austin, Texas, their renown has begun to spread internationally: Jack Dorsey, co-founder of Twitter, invited the duo to play at a party he threw in Tokyo. Their discography includes six albums, DVDs, and EPs. Says Time Out Japan, "The word 'bonkers' tends to get bandied about a lot in relation to Charan-Po-Rantan, the nation's best – and possibly only – accordion-toting vaudeville gypsy-pop sisters."
Yet there is more to Charan-Po-Rantan than their admittedly striking presentation, with its echoes of Anime culture. In a Japan Times interview, Koharu observed, "Maybe people imagine us to be more pop-sounding, but the conflict isn't intentional." Koharu cites klezmer as "the foundation for most of my songs," along with French chanson and traditional Russian styles. Says Momo, "we want our shows to look like a picture book. When we combined the music we liked and the visual world we liked, this is what happened." There is a feminist charge to their image as well, toying with stereotypes of delicacy and perfection while heartily undermining them.
Their lyrics tend to be witty, whimsical, and satirical, though some of their songs delve into decidedly serious matters: their 2013 album Futae no Rasen (Double Spiral) touches on themes of heartbreak, divorce, and death. But the main keynote of their shows is high-spirited fun, with songs like Oppai Boogie (Boob Boogie) and France Kabure (French Xenomania), and more than a touch of vaudeville. They must be heard – and seen – to be believed.
Check them out:
In addition to the concert on October 29, Charan-Po-Rantan will also appear at Japan Society's Obake Family Day: Experience Japan's Ghosts & Goblins on Sunday November 1, 11 am – 4 pm.
Tickets are $25, $20 for Japan Society members, available through the organization's website.
For more information, call 212-832-1155 or visit http://www.japansociety.org
---
---
No related posts found...
---