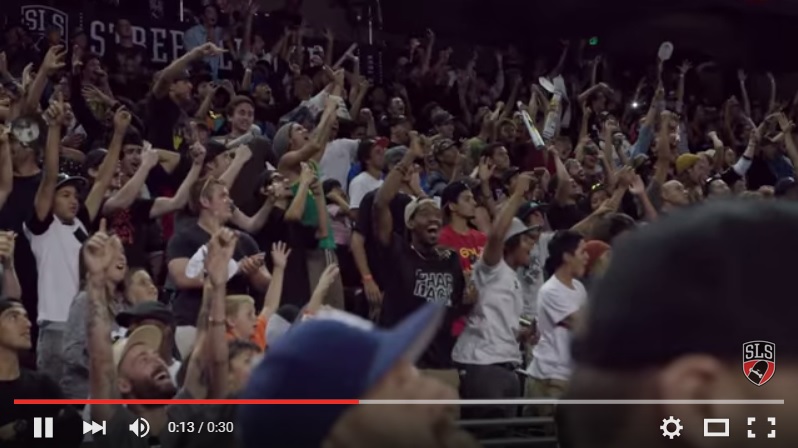 Don't get it twisted, Harlem loves skateboarding, Harlem World has posted a number of stories about skateboard in Harlem, Justin Alexander on Lenox Avenue, Rob Gonyon kick flipping his way around Adam Clayton Powell Blvd.. in Harlem.
So when we got an e-mail about the 2015 Street League Skateboarding (SLS) Nike SB World Tour that is returning to the East Coast on August 23rd, 2015, and in Newark – we were gased.
Its at the Prudential Center on the doorstep of New York City for the fifth consecutive year, this event will present all 25 SLS Pros to local fans for Stop Two of the tour, where previously only the Top Eight have been present for the season finale in New Jersey.
Adding to the competitive tension of a full roster, this next Stop in Newark offers the last-remaining express Golden Ticket and shortlists the Final Eight athletes that will move ahead to the SLS Nike SB Super Crown World Championship, being held on October 4 in Chicago, IL. Heading the Season leaderboard as top ten coming into Stop Two are Nyjah Huston, Chaz Ortiz, Luan Oliveira, Kelvin Hoefler, Cody McEntire, Chris Cole, Evan Smith, Tom Asta, Shane O'Neill and Ryan Decenzo. As Stop Two is make or break for SLS Pros to continue thru to the official ISF street skateboarding world championship, the second stop of the 2015 SLS season promises to produce some of the most exciting action in the history of the sport.
You can catch Stop Two of the SLS Nike SB World Tour in Newark unfold live on FOX Sports 1 on August 23 at 4:30 PM ET while international fans can catch the official live webcast exclusively on StreetLeague.com.
SCHEDULE OF EVENTS
SATURDAY, AUGUST 22 – PRACTICE DAY
11:00AM-8:00PM Arena Box Office Open
12:00PM-7:00PM Media Check-in
1:00PM-7:00PM Pro Practice
9:00PM Kickoff Drinks hosted by SLS Foundation @ Dream Downtown Hotel in NYC
SUNDAY, AUGUST 23 – COMPETITION DAY
---
---
10:00AM Arena Box Office Open
10:00AM-4:30PM Media Check-in
10:00AM-5:00PM Athlete/Partner/Industry Check-in & Venue Access
10:00AM-1:00PM Pro Practice (closed to public until arena doors open)
10:00AM Outdoor Expo Open to Public
12:00PM Arena Doors Open
1:10PM-3:50PM Prelims (live webcast starts @ 1:00PM / Heat #1 Intros before comp start time of 1:10PM)
3:50PM-4:30PM Intermission / Fan Entertainment / Pro Practice
4:30PM-6:30PM Final (live on: FOX Sports 1, FOX Sports GO mobile app, international webcast)
6:35PM-6:50PM #DIAMONDBESTTRICK presented by Diamond Supply Co. (live webcast)
SLS NIKE SB WORLD TOUR DATES AND VENUES
August 23 2015 SLS Nike SB World Tour: Stop Two | Prudential Center | Newark, NJ
October 4 2015 SLS Nike SB Super Crown World Championship | UIC Pavilion | Chicago, IL
Let us know if you go and send us some images to the Harlem World network.
Related Articles