---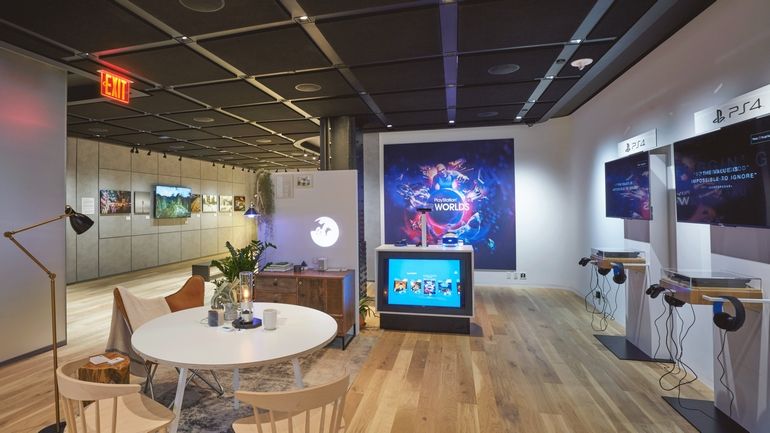 Sony is rebooting its retail presence in the city on the ground floor of the office building across from Madison Square Park where it relocated its U.S. headquarters earlier this year.
The electronics and entertainment giant will open Thursday Sony Square NYC, a space where it will showcase new products and prototype technologies, host consumer events and present film screenings and music performances. The 25 Madison Ave. store will also feature a limited collection of top-selling products found in the company's catalogue that customers can purchase.
The space puts Sony among a growing list of retail brands with concept stores in Manhattan that focused on providing customers with an experience rather than pushing consumers to buy gadgets.
Inside the Sony Square NYC
Samsung and Microsoft have opened Manhattan outposts to highlight their products and bolster their bands. Even companies like luxury car makers Cadillac and Lexus have eschewed sales altogether at its new meatpacking district boutique.
"We want to be able to tell our story and drive an emotional connection to our products,"
"We want to be able to tell our story and drive an emotional connection to our products," said Steven Fuld, a senior vice president of corporate marketing at Sony, who was involved in creating the new store. "This is not just a commercial enterprise. This space is all about being able to touch and see our products and content in action and all that Sony can do."
Fuld said the space will feature revolving installations, the first featuring the company's line of digital cameras. Pictures of the Flatiron district taken by professional photographers using Sony camera equipment will be displayed in the store with tutorials that offer advice to consumers how they can capture similar shots. Sony plans to enlist some of its pro photographers to also host photo classes.
"If there's a shot of the Flatiron Building in the afternoon with the sun just perfect we're going to show consumers how they can make that shot come alive for them, too," Fuld said, noting that Sony will lend out its camera equipment at the location to offer consumers the chance to give it a test run.
Sony Square NYC is an evolution from the company's previous retail store that was at the base of its former headquarters at 550 Madison Ave. Sony shuttered that location when it relocated to 25 Madison Ave. earlier this year. Its new retail space, with an entrance at the corner of East 25th Street and Madison Avenue across the street from Madison Square Park, will be far smaller at about 2,400 square feet and aims to attract more than just retail customers.
After the photography exhibit in August, Fuld said the space will be used to help launch Sony's upcoming PlayStation gaming consoles, including a virtual reality model. The store will also tie in with the company's entertainment divisions, hosting Sony film screenings and performances by musicians signed to its music label.
Via source
Related Articles
---