---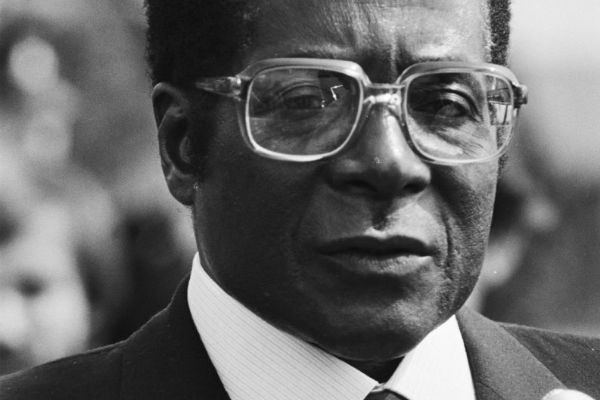 We can only imagine how Harare will be effected, but do we a have idea how Harlem will be effected by Zimbabwe president Robert Mugabe's resignation. The Guardian reports that:Mugabe has resigned as president of Zimbabwe with immediate effect after 37 years in power, ushering in a new era for a country as uncertain as it is hopeful.
The man who ruled with an autocrat's grip for so many years finally caved to popular and political pressure hours after parliament launched proceedings to impeach him.
He had refused to leave office during an eight-day crisis that began when the military took over last week. Clinging to the formal vestiges of power, he was unable or unwilling to recognise that after so many years of political mastery, he had lost control of both his party and the country.
Mugabe, who outwitted and outlasted so many opponents during his career, had appeared determined to fight on, turning a televised address to the nation on Sunday, when he was expected to announce his own retirement, into a defiant description of future plans.
So when the parliament speaker, Jacob Mudenda, announced that Mugabe had submitted his resignation in a letter, there was wild jubilation in parliament, replicated within minutes by large crowds on the streets of Harare and in other major cities.
"I'm excited for myself, my baby, the whole nation," said Mildred Tadiwa, who was out with her five-month old daughter. "My daughter will grow up in a better Zimbabwe."
Zimbabweans raced up and down the wide boulevards of the capital as the sun set, honking car horns, waving flags, singing, dancing and cheering.
"We are elated! It's time for new blood. I'm 36 and I've been waiting for this all my life, I've only known one leader," said William Makombore, who works in finance. He was waving a flag he had kept in his car since the weekend's protests. "It's is going to be an all-nighter."
There were no immediate details from generals, allies or party officials about whatwould happen to Mugabe and his family after his resignation. Always a ruthless operator, Mugabe is certain to have negotiated hard over the conditions for his relinquishing of power.
The letter allowed him to leave office with some remaining dignity, but it also allowed the group behind his downfall to present it as a constitutional transfer of power, rather than a change of government effected at gunpoint.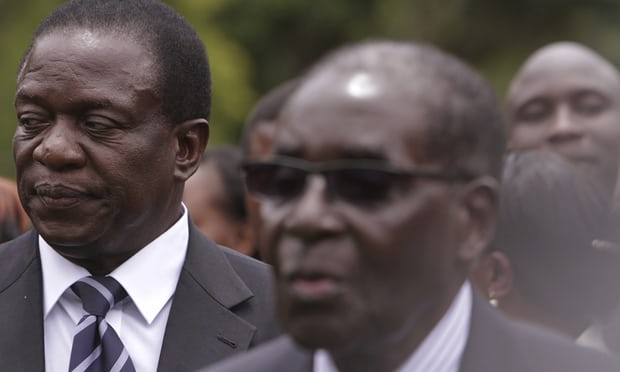 The military generals moved against Mugabe due to factional struggles within the ruling Zanu-PF party, and with the support of his presumed successor Emmerson Mnangagwa (photo above), a party stalwart and liberation war veteran known as "the Crocodile".
Mnangagwa's firing as vice-president at the start of the month triggered the takeover and the subsequent unravelling of Mugabe's control. The party that had bent to Mugabe's every will for so many years was quick to turn on the 93-year-old, first evicting him from his position as party chief and then leading the impeachment drive.
However, what began as a palace coup developed into a popular revolt. Mugabe's downfall unleashed extraordinary hopes as hundreds of thousands of Zimbabweans poured on to the streets at the weekend to call on him to leave.
Crowds also turned up to cheer MPs when they began impeachment proceedings on Tuesday afternoon, and began singing, dancing and chanting in Africa Unity square. Though many Zimbabweans respect Mugabe's role as a guerrilla hero of the liberation struggle, fewer and fewer were willing to defend his recent record.
He has ruled as an autocrat, prepared to sacrifice the economic wellbeing of 16 million people in order to remain in power. Industry and farming have collapsed throughout the country, while inflation has spiralled and only 10% of young Zimbabweans can find jobs at home.
He has ruled as an autocrat, prepared to sacrifice the economic wellbeing of 16 million people in order to remain in power. Industry and farming have collapsed throughout the country, while inflation has spiralled and only 10% of young Zimbabweans can find jobs at home.
By the end, Mugabe had few options left as he controlled the country through a mixture of coercion and bribery papered over with the rhetoric of revolutionary movements. Support in some branches of the security establishment had evaporated and he increasingly alienated some of his former allies by openly supporting the political ambitions of his wife, Grace.
Even Zimbabweans reluctant to criticise the man who led the country to freedom from the British bridled at the prospect of a Mugabe dynasty. Much of the anger evident in recent demonstrations focused on Grace – and the faction that had formed around her.
Mugabe's fall will reverberate across a continent where hundreds of millions of people still suffer the excesses of authoritarian rulers, are denied justice by corrupt or incompetent officials, and struggle to hold even elected governments to account.
The deal Mugabe has struck to leave power might tempt other rulers to leave before they are pushed, if he is able to protect his family and some of the assets he is thought to have accumulated while in power.
Coups have been extremely rare in southern Africa. Zimbabwe's new rulers will aim to protect a reputation for civilian rule and so avoid sanctions and diplomatic penalties usually triggered by forced transition.
The generals insisted from the moment they put Mugabe under house arrest that they were acting in his interests and in service of the state. Zimbabweans have largely praised the military for acting in the national interest.
Mnangagwa, 75, the war veteran, Zanu-PF stalwart and former spy chief, is expected to be sworn in to replace Mugabe as president later this week. However, he is not the obvious face of change.




He was Mugabe's right-hand man for years, falling out of favour only as Grace's political influence increased. Mnangagwa is dogged by many of the accusations of corruption and human rights abuses that tarnished Mugabe's own record.
Members of the ruling Zanu-PF have anointed Mnangagwa president in waiting, although his succession will not be automatic because he is no longer vice-president.
Mnangagwa was conciliatory in his only public comment since the coup, a statement issued hours before Mugabe announced his resignation.
"My desire is to join all Zimbabweans in a new era," he wrote. "In that new Zimbabwe it is important for everyone to join hands so that we rebuild this nation to its full glory, this is not a job for Zanu-PF alone but for all the people of Zimbabwe."
The fragmented opposition movement will be hoping for a commitment from any new ruler that they will be included in any transition government, and that national elections due to be held by next August will go ahead as planned.
Zimbabweans know that the change was driven as much by competition for power within Zanu-PF as by popular anger at a dictatorial and corrupt regime. For one evening, however, they wanted to focus on celebrating the change they had almost given up hoping would come, the end of a rule which has defined generations.
"I'm 35 and I have children. I was born under Mugabe, and they were born under him," said Munyaradzi Chisango, an engineer. "This is going to put Zimbabweback on the map."
Photo credit: 1) Robert Mugabe in a 1982. 2) Emmerson Mnangagwa stands behind Robert Mugabe in a 2014 swearing-in ceremony. Photograph: Tsvangirayi Mukwazhi/AP
Related Articles
---