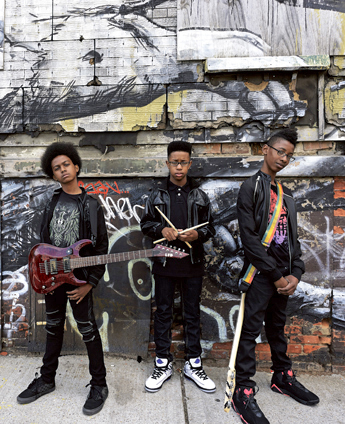 Unlocking the Truth
Unlocking the Truth is a young metal band from Brooklyn, New York, who write and create their own lyrics and music. The band members are Malcolm Brickhouse (guitar), Jarad Dawkins (drums) and Alec Atkins (bass).In March 2012, Unlocking the Truth competed on Amateur Night at the Apollo Theater and made it to the Show-Off Round. Afterward, they began performing at festivals around New York City and in Times Square. One of the band's biggest breaks came in August 2014, when they were invited to perform at the AfroPunk Festival in New York, followed by the Fun, Fun, Fun Festival in Austin, Texas. This year, Unlocking the Truth will return to Austin to play SXSW, and they will be the youngest band ever to play at the Coachella Music & Arts Festival in California. The band recently appeared in a Beats by Dr. Dre commercial and were featured in the December issue of New York Magazine as the 15th Reason To Love New York. Unlocking the Truth has created enough music to complete at least three albums; in fact, they're scheduled to record their first album in 2015. Unlocking the Truth's goal is to become one of the world's best metal bands, and with their music, they want people to know that they can do what they want, no matter who they are, or what people say. Just be free as you want to be! Website
Willie Mae Rock Camp for Girls
NY-based quartet Harsh Crowd – Willow, Rihana, Dea, and Lena met at Willie Mae Rock Camp for Girls in the summer of 2013 and have been playing together ever since. These four multi-instrumentalists (clean & distorted guitars, keyboards, bass, and drums) are collectively drawn to pop hooks, punk delivery, and classic rock with smidges of r&b but no slow jams; they craft original arena anthems and are sonically curious about everything. Making waves straight out of the gate, Harsh Crowd has charmed audiences at venues such as Joe's Pub, the Frieze Art Fair, Le Poisson Rouge and Madison Square Garden. Willie Mae Rock Camp for Girls: Website
BLACK GIRLS ROCK!
---
Become a Harlem insider - Sign-Up for our Newsletter!
---
The mission of BLACK GIRLS ROCK! is to change the world by empowering Black girls to lead, innovate, and serve. BLACK GIRLS ROCK!™ Inc., is a 501(c)(3) nonprofit organization, that has been committed to enriching girls through leadership, education, and positive identity development since 2006. BLACK GIRLS ROCK! builds the self-esteem and self-worth of young women of color by changing their outlook on life, broadening their horizons and providing tools for self-empowerment and efficacy. Founded by celebrity DJ and philanthropist, Beverly Bond, BLACK GIRLS ROCK! is also a multifaceted movement dedicated to shifting the cultural paradigms of media/music messaging that often negatively impact women and girls.
DJ Diamond Kuts
Transforming her childhood affinity for music into a mainstream career, DJ Diamond Kuts (aka Tina Dunham) is pioneering her way through the music industry. As a DJ for Philadelphia's Power 99 FM, she is the first and only female mixer to have a slot on Philadelphia radio. She DJs 7 days a week, and her mix show ratings have been and remain higher than those of any DJ on any format on Philadelphia radio since 2009. Diamond has worked with BET as host of their show The Deal and has guest hosted 106 and Park numerous times. She has also recently stepped into the production realm, signing a deal with Sony ATV, and is currently working on a Nicki Minaj track. Website
In association with ImageNation and Okayafrica
Red Hook Park, BK – SummerStage
Sunday, June 7 at 4pm
FREE
Related Articles
---
VIDEO
---
"Dr. Harry Delany is a renowned Harlem born and raised surgeon, the son of the great jurist and civil rights leader, Hubert Delany...." This monthly post is made in partnership with Harlem Cultural Archives.