---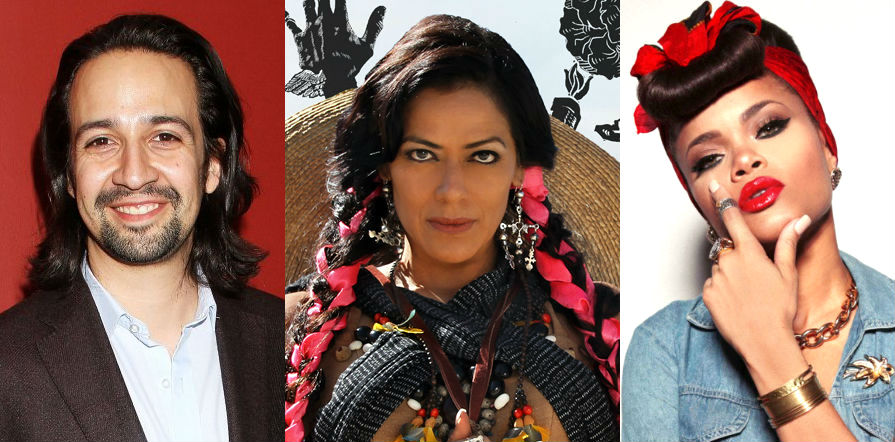 Univision Communications Inc. (UCI), the leading media company serving Hispanic America, and the Fusion Media Group (FMG), a division of UCI serving the rising American mainstream, announced today that its October 15, 2016, 'RiseUp AS ONE' concert .
'RiseUp AS ONE' concert– is a celebration of music, diversity and unity – will be staged along the U.S.-Mexico border in San Diego, California and feature a talented lineup of artists, musicians and performers. Sprint will serve as the presenting sponsor.
This unparalleled, bi-lingual live-music event will take place at the Cross Border Xpress (CBX) in San Diego with artists who represent the best of our diverse and inclusive society, including Miguel Bosé, Luis Coronel, Andra Day, Lila Downs, Jorge Drexler, Fonseca, Jesse & Joy, Juanes, Natalia Lafourcade, Los Tigres del Norte, Lupillo Rivera, Alejandro Sanz, Julieta Venegas and Carlos Vives.
The event will be hosted by La Banda's Alejandra Espinoza and award-winning journalist Jorge Ramos along with FUSION's Nando Vila and Natasha del Toro. They will be joined by special guests including Gael García Bernal and Jonás Cuarón of "Desierto," Mía Maestro, Wilmer Valderrama, and more.
The concert will be broadcast live coast-to-coast in Spanish on Univision Network and English on FUSION from 7:00-10:00pm, ET (4:00-7:00pm, PT). UCI will cover and promote the concert across its suite of platforms including its 17 broadcast, cable and digital networks and partnership, 126 local television and radio stations and an array of digital brands. For those who wish to attend this free concert, RiseUpAsOne.com will have more information about tickets in the coming days.
"The U.S.-Mexico border provides the perfect stage for this amazing event and is a way to highlight diversity and inclusion, despite borders," said Camila Jimenez Villa, Co-President and Chief Content Officer, Fusion Media Group. "This location and our incredible lineup of award-winning artists will celebrate, through the power of music, the connectedness of our world and the positivity that occurs when we show empathy, respect and openness to one another."
Supporting partners include The California Endowment's #SchoolsNotPrisons and #Health4All campaigns, Cross Border Xpress (CBX), City of San Diego, San Diego Regional Chamber of Commerce, City of Imperial Beach, HBO, Revolve Impact, Dots, Variety, Square, PVBLIC, UNICEF, United Nations and BET.
Watch the recently released RiseUp AS ONE launch film narrated by award-winning composer, lyricist, and performer Lin-Manuel Miranda here.
Univision and Fusion Media Group recently announced the event's co-chairs, who come from diverse backgrounds and communities. The list of co-chairs include: José Andrés, Nicolas Berggruen, T Bone Burnett, Ximena Caminos, Kenneth Cole, Jason Collins, Junot Díaz, Ava DuVernay, Emilio & Gloria Estefan, America Ferrera, Dr. Henry Louis Gates Jr, Don Graham, Salma Hayek, Samuel L. Jackson, Dr. Henry Jenkins, Quincy Jones, Lin-Manuel Miranda, Mía Maestro, Jonathan Olinger, Eduardo Padrón, Shonda Rhimes, Robert Rodriguez, Dr. Robert K. Ross, Sree Sreenivasan, Forest Whitaker, and Ethan Zuckerman.
For more information about the event and to sign up for event updates, please visit RiseUpAsOne.com (#RiseUpAsOne).
For more information, please visit univision.com.
Photo credit: 1) Lin-Manuel Miranda 2) Lila Downs. 3). Andra Day.
Related Articles
---