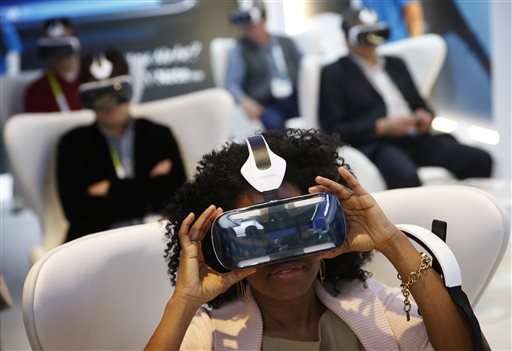 New York City Economic Development Corporation (NYCEDC) and Emerald Expositions, the largest trade show organizer in the U.S., today announced plans for the first large-scale Virtual Reality/Augmented Reality (VR/AR) conference in New York City: NYVR Expo.
Harlem CEO Creates Technology To Bring Renewable Energy Around The World"Boxing is very much like business," Jessica Matthews said. "You not only think about what your next…May 5 2017harlemworldmag.com
Emerald Expositions has been working with industry leaders in VR/AR to bring the three-day conference and expo to the Jacob Javits Center this fall from October 26-28. The NYVR Expo will be the largest VR/AR conference on the East Coast.
During NYVR Expo, VR developers and manufacturers will have the opportunity to share their advancements in hardware and software technology and applications for gaming, healthcare, cinema, photography, real estate, tourism, hospitality, training, advertising, education and aerospace markets. In addition, developers will have the opportunity to demonstrate their innovations by participating in the Incubator Zone, a special area of the Expo dedicated to new ideas, applications, and technology in Virtual/Augmented Reality.
NYVR Expo will be the premiere event for VR/AR professionals, enthusiasts, and developers on the East Coast. The Expo will take place alongside PhotoPlus Expo + Conference (PPE), the largest conference and expo for photography and videography in North America. Together, PPE and NYVR Expo will provide a comprehensive series of educational seminars and collection of innovative products and services for visual creatives in photography, videography, and VR. Combined, both Expos are expected to attract over 20,000 industry professionals.
ACS Commissioner's Latest Agency Tech Upgrades For Increased Family Safety And MoreOn Monday, May 15th, 2017, the Administration for Children's Services (ACS) Commissioner David Hanse…May 27 2017harlemworldmag.com
"There's real momentum around New York City's VR/AR ecosystem, and we're looking to support it in every way possible," said NYCEDC President and CEO James Patchett. "As a hub for so many sectors being disrupted by VR/AR – tech, media, real estate, and healthcare – New York City is the perfect place to convene the industry's most innovative minds and products. Along with a City-backed Lab to support startups, research, and talent development, we're welcoming NYVR as a signal of New York City's growing VR/AR industry."
"With VR and AR impacting so many industries in the NYC region, we feel now is the time to create a centralized and concentrated expo and conference where individuals from a variety of industries can come together for 3 days of collaboration, education, and hands-on experiences," said Mike Gangel, show director for the Photo + Group at Emerald.
In June, the City announced plans to develop and operate a hub for virtual reality and augmented reality. Fueled by a $6 million investment by the New York City Economic Development Corporation (NYCEDC) and the Mayor's Office of Media and Entertainment (MOME) the new hub will leverage the leadership of NYC Media Lab and its founding university partners, NYU and Columbia University, and include partnerships with CUNY and other New York City universities, civic organizations and corporate partners. Administered by NYU Tandon School of Engineering, the lab will support startups, talent development, and research and innovation. The lab will serve as an anchor for New York City's emerging VR/AR sector and is expected to create over 500 good jobs over the next ten years, as part of Mayor de Blasio's New York Works plan to create 100,000 good jobs.
Urban Tech 22nd Annual 2017 Gala Benefit At Guastavino's In NYCThe Urban Technology Center, a non-profit organization that has, for more than two decades, transfor…Jun 7 2017harlemworldmag.com
In anticipation of the hub, which will launch in late 2017, NYC Media Lab will coordinate the Expo's Incubator Zone, featuring startups from across the City that are developing VR/AR technologies and business models.
The NYVR Expo will feature the very latest in VR/AR technology from numerous manufacturers, suppliers, and VR/AR applications at the forefront of this emerging technology including Facebook 360, Blend Media, VIU.Space, Vuze Camera (Human Eyes Technology), Ricoh Theta, VR Simulators, VR Speaking, Cognitive VR, Kodak PIX Pro, GRAVR, ASA Digital and Visbit, to name a few.
---
---
A variety of educational seminars, demonstrations, and presentations will be scheduled throughout the conference to provide attendees with a level of networking and learning not available on the East Coast, until now.
"Virtual Reality technology is moving incredibly fast and creating workshops and seminars with the top names in VR tech will ensure that East Coast developers and companies have exposure to the latest innovations and education," explains Hugh Seaton, CEO of Aquinas Training, and co-producer of the event. DJ Smith, Organizer of the NYVR Meetup and Chief Creative Officer at The Glimpse Group, a company created to cultivate entrepreneurs in the AR/VR industry agrees that the timing is perfect and the appropriate partners are now in place.
Job: Teacher For Foster-Care/At-Risk Youth Computer-Technology Summer ProgramTechie Youth is seeking an instructor for daily computer-technology classes starting immediately, te…Jul 16 2017harlemworldmag.com
More information about NYVR Expo can be found on the website, www.nyvrexpo.com.
For exhibit and sponsorship inquiries, contact Jon McLoughlin at 646-668-3746 or email jon.mcloughlin@emeraldexpo.com.
New York City Economic Development Corporation is the City's primary vehicle for promoting economic growth in each of the five boroughs. NYCEDC's mission is to stimulate growth through expansion and redevelopment programs that encourage investment, generate prosperity and strengthen the City's competitive position. NYCEDC serves as an advocate to the business community by building relationships with companies that allow them to take advantage of New York City's many opportunities. Find us on Facebook or follow us on Twitter and Instagram or visit our blog to learn more about NYCEDC projects and initiatives.
Related Articles
---