---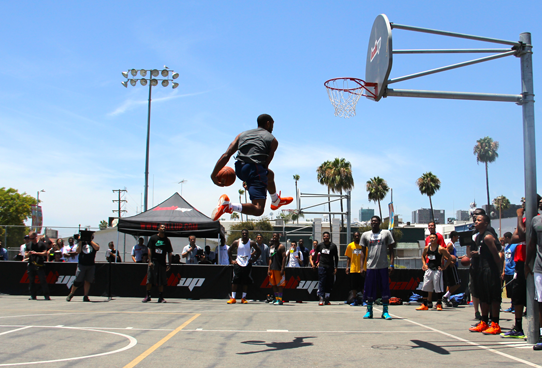 Ball Up (www.ballupmdsc.com), the leading streetball brand in the world and home to some of the most talented athletes to play the game, has reached an agreement with ESPN to televise their first-ever "Million Dollar Summer Challenge," …… a summer long basketball competition that gives six U.S. cities the opportunity to compete for $1M and bragging rights as the preeminent summer basketball team in the nation (airing on ESPN2 beginning in September).On Saturday, June 6th the Million Dollar Summer Challenge will be headed to New York to showcase the best basketball talent the city has to offer with their launch event at John Jay College (524 West 59th Street, New York, NY 10019) starting at 5:00pm.From there, the top six teams will go on to the local playoffs beginning on July 10th, where they will enter single elimination pool play. The crowned champion from New York will then head out to Los Angeles to compete in the national championship playoffs starting on Thursday, July 30th.
The New York launch event will be attended by Ball Up CEO Demetrius Spencer, Ball Up All-Star players along with celebrity guest appearances. From there, it's straight to the courts. New York native and well known DJ Webstar will be spinning on the 1's and 2's at each game and a few of the teams you can look forward to playing head to head every weekend at John Jay College include:
The regular season will feature six weekends of regular play, where the top local basketball talent will go head to head at John Jay College. Games are free of charge and open to the public of all ages.
Skull Gang – Coached by Twin brother of Hip-Hop star Juelz Santana of The Diplomats.
Bingo All-Stars/Def Jam – Owned by Def Jam and coached by MaxwellBingo Cole. This team is not to be reckoned with led by key players including smooth small forward Al Shep who has solidified his name in streetball over the years.
Sean Bell All-Stars – This team is in honor of late Queens resident, Sean Bell and coached by NY streetball fixture, Rahim Wiggins aka "The Black Bobby Knight." Key players on the team include professional overseas ballers Tu Holloway & Zamal Nixon, and former NBA D-League hooper Marvin Roberts.
Ave-Life / Team Chinx – This team is in honor of NY rapper Chinx (of Bad Boy recording artist French Montana's crew), who was a recent victim of violence in NYC. The team will be coached by Casey Williams and features playground legend and overseas professional Corey Fisher and former Brooklyn Nets player, Tyshawn Taylor.
The competition director running the show in New York is Bernard Bowen, a man with very deep roots in the city. Along with serving as the head competition director for the Million Dollar Summer Challenge, Bernard has coached a number of Division I collegiate athletes into the professional ranks. Bernard is a staple in the New York basketball community and is sure to showcase some of NYC's greatest talent during the Million Dollar Summer Challenge.

New York Regular Season Game Schedule:
Saturday June 6, 5pm-11pm
Saturday June 13, 6pm-9pm
Sunday June 14, 6pm-9pm
Saturday June 20, 6pm-9pm
Sunday June 21, 6pm-9pm
Friday June 26, 6pm-9pm
Saturday  June 27, 6pm-9pm
Wednesday July 8, 6pm-9pm
Friday July 10, 6pm-9pm
Saturday July 11, 6pm-9pm
Sunday July 12, 6pm-9pm
New York  Playoff Schedule:
Friday July 17, 6pm-9pm
Saturday July 18, 6pm-9pm
Sunday July 19, 6pm-9pm
All games are free and open to the public for all ages! For further information on the New York Ball Up Million Dollar Summer Challenge and full tournament schedule visit
www.ballupmdsc.com
or follow us on Twitter (
@BallUp
)
and Instagram
(
@BallUpstreetball
)
with hashtags #BallUpMDSC , #NewYork and #NY.
---