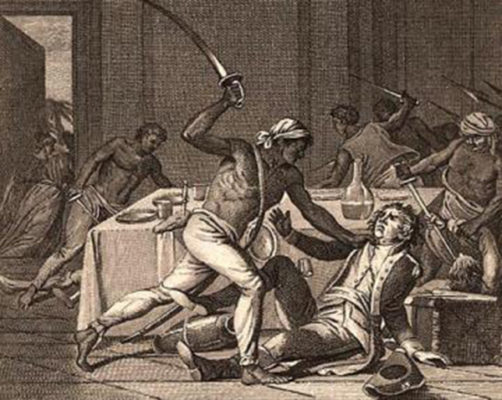 By Miguel Hernandez
New York History Blog reports that one of the earliest documented riots in New York State that had a racial component or undertone was the so-called Negro Riot of 1712. It began in the area of a section of the New York City that later became be known as "Five Points" due to the convergence of three streets, Anthony, Cross, and Orange.
At that time the northern limits of British New York were present day Canal St. The population was about ten thousand, of which roughly one-fifth were African slaves.
It seems that on the night of April 12, 1712, between one and two o'clock in the morning, the outhouse of a Dutchman named Peter Van Tilburgh was set on fire by slaves he owned. The fire was evidently taken by other slaves as a general signal for revolt since trouble had been simmering for years between masters and slaves and severe punishments were doled out for even the slight offenses.
When the City's night watchmen spotted the fire they sent out an alarm and group of white men hurried to put out the fire. They were met by a mob of a couple of dozen slaves armed with farm implements, knives and guns. The slaves fired into the crowd of whites, causing panic. Some ran to the Battery (a fortification on the lower tip of Manhattan) and informed Governor, Robert Hunter, who quickly dispatched British soldiers and the militia to deal with the rioters. Upon seeing the armed soldiers, the rioting slaves ran north toward a wooded swamp.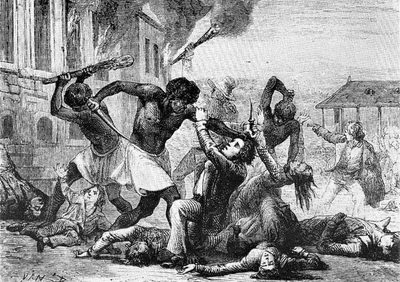 Soldiers, along with armed bystanders, swept the city for the rioters, capturing many of them near present-day Canal Street. Nine whites were killed in the riot, and six were wounded. Rather than await trial and certain execution six slaves committed suicide.
Of the approximately 40 slaves brought to trial, 18 were acquitted and a few others were pardoned. The rest were brutally executed: four were burned alive; one was crushed by a wheel; one was kept in chains until he starved to death; a pregnant woman was kept alive until she gave birth and was then executed; and the others were hanged.
In response to that slave rebellion, strict codes were enacted, which included—but were not limited to — harsher punishments as the slaveholders saw fit, decreased contact among slaves, and the prohibition of slave-owned firearms.
This is a part of a series about 18th and 19th century racial and ethnic riots in the city of New York. The terms Negro and Black are used here in their historical context.
Photo from Wandering Eyes 
Related Articles
---