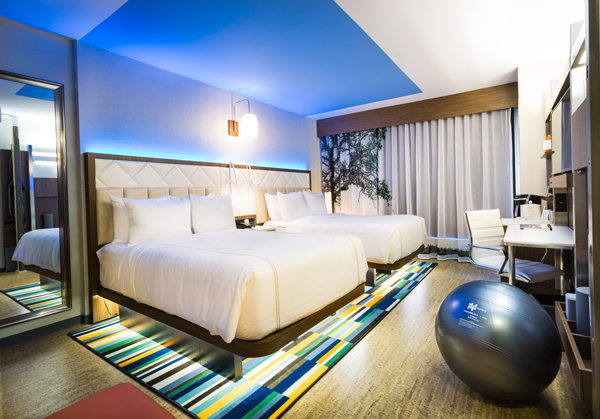 Brandchannel reports that EVEN Hotels—InterContinental Hotels Group's (IHG's) newest hotel brand—is opening its doors on West 35th Street in the heart of Manhattan's Times Square.
The 150-room flagship hotel offers a healthy lifestyle for today's travelers from Harlem to Harare.
The third EVEN-branded property in New York City, it's designed to help travelers Eat Well, Rest Easy, Keep Active and Accomplish More and its promise matches its wellness-focused website: wellwellwell.com
The brand's vision is to become the go-to source for healthier, happier travel and find new ways to help wellness-minded travelers "Keep Active, Rest Easy, Eat Well and Accomplish More." according to a press release. "Fueled by EVEN Hotels, we're partnering with health and wellness leaders, lifestyle experts and with people like you, our subscribers, to curate the best content for both wellness and travel."
Jason Moskal, VP Lifestyle Brands, The Americas, IHG, calls EVEN: "the only holistic wellness brand in the hotel industry."
As it says on the EVEN website: "Keep active in our best-in-class, 24-hour Athletic Studio, or in the comfort of your room with our in-room fitness zones. Eat well when you choose from our selection of healthy food and beverage options, including made-to-order smoothies and Grab 'n' Go meals in our restaurant, Cork & Kale, or indulge in our signature cocktails and desserts."
Guests are greeted with a natural environment made of wood, sand, rock and plants as well as technology and a "personalized service culture where team members champion wellness and inspire guests to stay on track while on the road," according to the release.
Ergonomically designed movable work spaces are available in guest rooms with moveable/stand-up desk options. A public Wellness Den offers table games, music and a reading corner.
The EVEN brand was born in 2012 and opened its first two properties in June 2014 in Norwalk, Connecticut, and Rockville, Maryland. IHG franchises, leases, manages or owns more than 4,900 hotels with 727,000 guest rooms in nearly 100 countries. More than 350,000 people work across IHG's hotels and corporate offices globally.
EVEN's newest location is opening its doors to the 300,000-plus pedestrians who come to Times Square daily, rising on the busiest days and holidays to as high as 480,000. IHG's launch of a wellness flagship hotel there is testament to the healthy lifestyle conversation that has come fully mainstream.
---
---
Related Articles