---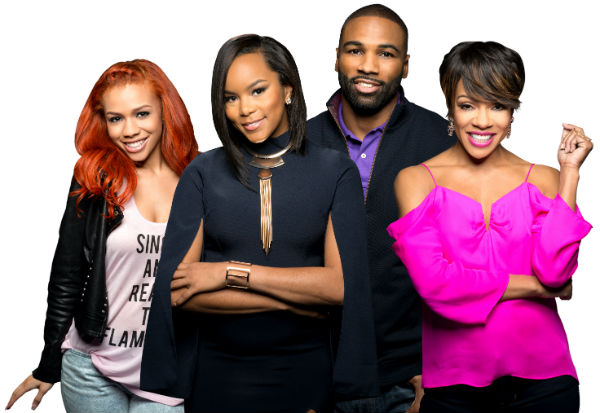 TV One announced today the premiere of a new multi-generational comedy series Here We Go Again premiering Tuesday, February 9 at 8:30PM ET from Harlem to Harare. Starring LeToya Luckett (Single Ladies) as Maddy Walker, Wendy Raquel Robinson (The Game) as Loretta and Kyndall Ferguson playing Shante, Here We Go Again, showcases three generations of Walker women whose lives are upended after a series of events sends them along an unexpected journey. The half-hour series follows Maddy (Luckett), a single mother who is convinced there is a "Walker Women's Curse," after being born to her mother, Loretta (Robinson), at age 16, and having a child herself at age 16. Maddy refuses to let her daughter, Shante (Ferguson), now approaching her dreaded 16th birthday, become the next in line. Though on a professional high and having fun dating Cedric (Travis Winfrey, Single Ladies), on the night of Shante's sweet 16 birthday, old feelings resurface for her high school sweetheart Victor (Andra Fuller, Black Jesus) – Shante's dad and in a moment of weakness, they have one more steamy night. Maddy becomes shocked when at the age of 32, she discovers she is pregnant by Victor – again. As they navigate the trials and triumphs encountered along the way, they discover that starting over just might be where the fun actually begins.
"From feisty glam-ma to a mother experiencing a quarter-life crisis to a precocious teenager, the Walker women of Here We Go Again are sure to both pull at heartstrings and deliver big laughs," said D'Angela Proctor, SVP Original Programming and Production. "Audience members across generations will find their experiences humorous, poignant and reflective of the village it takes to keep today's modern family strong."
The series is produced by Swirl Films. Eric Tomosunas serves as Executive Producer. Karen Peterkin is Executive-in-Charge of Production for TV One and D'Angela Proctor is Head of Original Programming.
TV One www.tvone.tv
Radio One www.radio-one.com
Related Articles
---