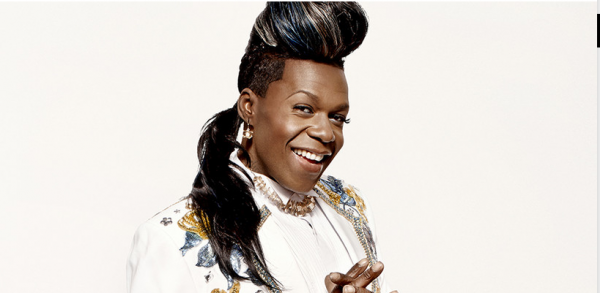 Today our friends at Fuse, today announced the renewal of three original series: BIG FREEDIA: QUEEN OF BOUNCE, FLUFFY BREAKS EVEN and TRANSCENDENT.
 These renewals follow a successful September 30 re-launch of the network which saw ratings and audience growth in its core demos driven by the performance of original programming.  
BIG FREEDIA, which recently concluded its fourth season with a special one-hour finale on November 11, continues to be the network's top original program among its core Adults 18-34 audience.  Meanwhile, new series TRANSCENDENT and FLUFFY BREAKS EVEN proved strong additions to the line-up, as Fuse expanded its programming beyond music.
"By partnering with some of the most talented, creative people in television – both in front of and behind the camera – we have developed a line-up that is forming connections with an audience that has proven incredibly hard to reach: multicultural Millennials," said Lynnette Ramirez, SVP, Original Content for Fuse Media.  "Gabriel Iglesias is an extraordinary talent, and one of the most in-demand comic voices in the business; Big Freedia is larger than life and remains the star of the network's most popular show; and thanks to our partners at World of Wonder, we not only get to keep bringing Freedia to our viewers, but also introduce the world to the stunning cast of our best new series ever among Millennials, Transcendent.  We can't wait to see the newest seasons of these series, and to announce our new programs in development in the coming weeks." 
Show Descriptions
BIG FREEDIA: QUEEN OF BOUNCE – Winner of the 2014 GLAAD Media Award and nominated for 2015 GLAAD Media Award, this series gives an unfiltered, all access look into the professional and personal journey of the New Orleans native known as Big Freedia.  The critically-acclaimed, docu-style series is executive-produced by Fenton Bailey, Randy Barbato and Tom Campbell of World of Wonder (RuPaul's Drag Race, Transcendent).
TRANSCENDENT – The beautiful girls who perform at the world-famous AsiaSF Cabaret & Restaurant in San Francisco have two things in common: they're all talented, and they are all trans women. This docu-series documents the struggles and triumphs of these diverse young trans women as they navigate their professional, personal and romantic lives.  It is produced by World of Wonder Productions (RuPaul's Drag Race, Big Freedia: Queen of Bounce).
FLUFFY BREAKS EVEN – An unscripted series from the mind of comedian Gabriel Iglesias (also known as Fluffy to his millions of fans around the world), Fluffy Breaks Even features Iglesias along with his eccentric tour mates and fellow comedians Martin Moreno (Stuck, The Fluffy Movie: Unity Through Laughter) and Rick Gutierrez (I'm Not Mad, I'm Just a Parent, Gabriel Iglesias' Stand-up Revolution) as they travel to new cities, meet fans and attempt the impossible – balancing big meals with big workouts! The series explores the comedy of consequences in each city on the world comedy tour when members of Fluffy's crew want to eat a high calorie meal, they're going to have to work to "break even" the next day by burning those calories learning that fun comes with a price … exercise. Produced by Iglesias (EP) and co-produced with B-17 Entertainment and Arsonhouse Entertainment.
Fuse (www.fuse.tv) is a national television network for the wide-ranging tastes and attitudes of the fast-growing, multicultural and Latino 18-34 audience. 
No related posts found...