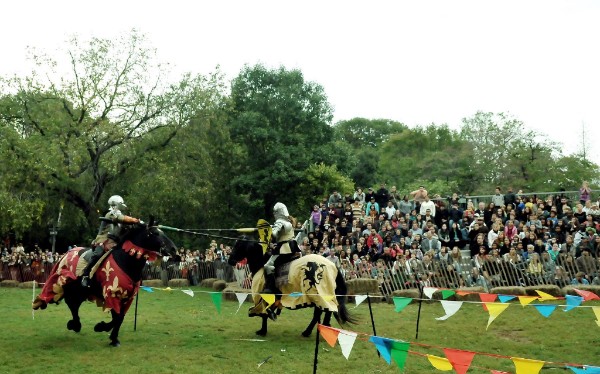 The Medieval Festival in Fort Tryon Park was voted Best Festival of 2015 in the Village Voice's Best Of annual awards. The Village Voice writes that it's a wonder there aren't more old-timey festivals like the Fort Tryon Medieval Festival, given New Yorkers' penchant for elaborate costumes, pageantry, and smoked meats.
This is the kind of event where you procure a turkey leg and some mead and submit to the disbelief-suspending notion that There Be Dragons. The verdant, up-uptown park setting is perfect for this annual autumn gathering — you can't go wrong when you've got the Cloisters, an actual medieval relic, as backdrop. The festival itself is an institution, around for more than 30 years, free to the public, and hosted by the Washington Heights and Inwood Development Corporation. You've got your horseback jousts, your human chess matches, your folk music, your bawdy vaudeville, and of course your period-dressed peeps peeping their iPhones just north of Harlem. Word to the wise: It's all the more fun if you join in, either by putting together your own wardrobe or outfitting yourself at one of the many vendors. 799 Fort Washington Avenue, Manhattan 10040, 212-795-1600, whidc.org/festival/home.html
Photo courtesy of Malcolm Pinckney
No related posts found...
---