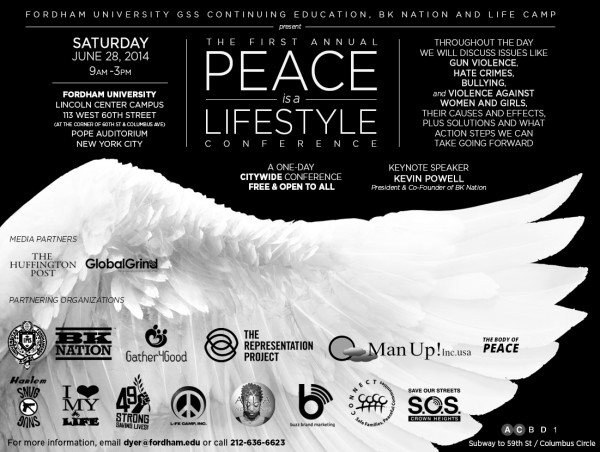 On Saturday June 28th from 9am-3pm, BK Nation, a new national organization, and Fordham University, in conjunction with Erica Ford's Life Camp, a leading force in the anti-violence movement, will host the First Annual "Peace Is A Lifestyle" Conference at Fordham University's Lincoln Center Campus in Manhattan. The day-long gathering will feature speakers representing diverse sections of the population, as well as activists, advocates, academics, elected officials, and concerned community members of all ages. The conference will tackle serious issues plaguing our society including gun violence, hate crimes, bullying, and violence against women and girls. Not only will the conference identify problems but guests and speakers will explore possible solutions and what action steps our communities can take going forward as a city-wide movement for nonviolence and peace.
Kevin Powell, acclaimed writer and activist, and president and co-founder of BK Nation, will be the keynote speaker and feels very strongly about the plague of violence in our society:
"With talk of yet another hot and violent summer in America's urban centers, BK Nation and I are very determined to help find solutions and alternatives in all forms. Bringing together youth, elders, community members, and the area's leading anti-violence leaders is a critical step in the movement for peace. We are humbled and honored to partner with Fordham University and Life Camp on this effort."
On hosting the event, "Here at Fordham University Graduate School of Social Service (GSS) it is our mission to promote human rights and social justice. It is in the spirit of this mission that we hope to be a catalyst for social change. In the wake of the violent acts that are taking place, both here and around the world, people in our communities are feeling hopeless. We are increasingly aware of the violence, but unaware of the groundbreaking work that's being done by leaders in the anti-violence movement. With this conference we endeavor to go beyond talking about the problems, to formulating viable solutions moving forward, and providing opportunities to join existing initiatives towards peace. Our amazing partnership with Kevin Powell, Founder of BK Nation, and the other community leaders involved with this event is a testament to what can be accomplished when we work together. " –Priscilla Dyer, GSS Special Projects Administrator & Jade de Saussure, Program Coordinator for GSS Continuing Education Department (Conference Planning Committee Chairs).
The conference has already attracted a few dozen organizations that will be there tabling with useful information as well as the Huffington Post and Global Grind as media partners. Attendees will also be treated to the talented spoken word artists from Urban Word NYC, an arts education and youth development organization; as they share pieces on stopping violence and how violence itself has affected them. Urban Word NYC is located at 242 W 27th St in Manhattan.
The event is free and open to all and will take place in the Pope Auditorium at Fordham University's Lincoln Center Campus located at 113 west 60th Street. For more information email dyer@fordham.edu or call 212-636-6623.
Related Articles