---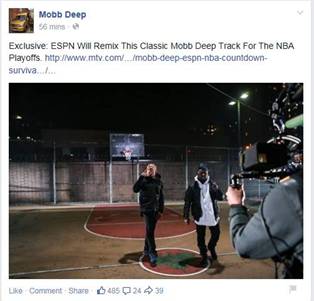 Havoc and Prodigy have teamed up with ESPN to remix their 1995 The Infamous single to become the opening for "NBA Countdown" during the Western Conference Finals.
"NBA Countdown" is hosted by Sage Steele, former NBA coach Doug Collins, and former NBA Star Jalen Rose; the show regularly spotlights classic 1990s hip-hop tracks, so recruiting Havoc and Prodigy for this special remix seems like a no-brainer.
"It is absolutely incredible that, on the 20th Anniversary of the recording of 'Survival Of The Fittest,' the meaning of the song is as relevant as ever," P said in a press release that ESPN sent exclusively to MTV News on Wednesday (May 13).
"We would like to thank ESPN for choosing our record and for making it the anthem of one of the most important U.S. sports events of the year," Havoc added. "We were absolutely excited to deliver a remix version of this classic and a visual to accompany the opening of 'NBA Countdown.'"
Related Articles
---