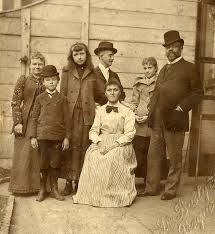 Czechoslovak-American Marionette Theatre (czechmarionettes.org/) CAMT has created "The New World Symphony: Dvorak in America," a play chronicling the American years (1892-1895) of Czech composer Antonin Dvorak (pictured with his family), during which he produced a flurry of "American" works.  This puppet theater work is rich in classical and original music (played live!) and dramatizes one of the most significant cultural exchanges in American history.  GOH Productions and Dvorak-American Heritage Association (DAHA) will present the piece as a work in progress January 30 and 31, 2016 at Bohemian National Hall, 321 East 73rd Street (Upper East Side).  This production is preparatory to the play's upcoming world premiere run, which will be presented by La Mama Experimental Theatre, 66 East 4th Street (East Village), six weeks later: from March 10 to 27, 2016 (see more info below).  The play is conceived and directed by Vit Horejs.  Composer and Musical Director is saxophonist James Brandon Lewis (below).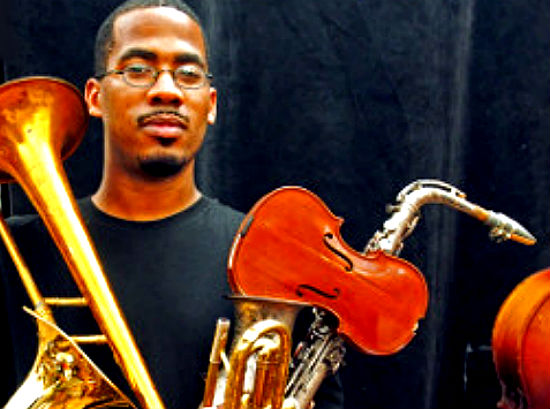 The piece depicts Dvorak's creative and family life during his tenure as the first Director of the National Conservatory of Music of America in NYC, and his three-year stay in the US (1892-1895) in NY and in the "little Bohemia" of Spillville, Iowa where he spent the summer of 1893.
While in America, Dvorak declared that African-American and Native American music would be the foundation on which new American music would rise up. As we all know, this happened, although the contemporary musical idioms (not only in America but throughout the world) based on African-American music are very different from what the Czech composer envisioned. While in New York, Dvorak composed his landmark "The New World Symphony," a work inspired by Spirituals and the Hiawatha story.  His creation of the symphony is an important topic of the playscript.
The characters of the play include Dvorak and his family (including his wife's sister, Josefína Cermáková, his first love, for whom he composed the song-cycle "Cypresses"), the founder of the American Conservatory of Music, Janet Thurber, who was his patron; his Czech-American secretary Joseph Kovarik; his African-American students Harry Burleigh and Will Marion Cook, and various New York musicians–his students and protégés.  African-American poet Paul Laurence Dunbar also makes an appearance.
Music ranges from spirituals and work songs to Dvorak's original compositions, to jazz and rock.  Composer and Musical Director is African-American saxophonist James Brandon Lewis.  Steeped in spirituals, gospel and free jazz, Lewis was hailed by Ebony Magazine as one of "7 Young Players to Watch."  Playing with Lewis will be Luke Stewart on bass and Warren Trae Crudup III on drums. Two Dvorak experts, Michael Beckerman (Chair of NYU's Music Department) and conductor Maurice Peress, have provided dramaturgical assistance.
The play's prologue will be performed by ten inch marionettes in a "family" puppet theater stage that is familiar to most Czech children to this day.  This particular antique theatre and marionettes belonged to the mother of Madeleine Albright when she was a child in 1920s Czechoslovakia.  As a little girl, the future U.S. Secretary of State used it to put on puppet shows for her family and friends.  She donated this marionette theater to the Czech community in New York City three years ago and it currently resides in Bohemian Hall.
For this production, the company has created new puppets from musical instrument parts, found objects and traditional elements to act alongside its collection of antique Czech marionettes.  Costume designer is Theresa Linnihan, set designer is Tom Lee and lighting designer is Federico Restrepo.  The actor/puppeteers are Deborah Beshaw, Michelle Beshaw, Vít Horejš, Harlem-Lafayette, Theresa Linnihan, Valois Mickens, Jan-Peter Pedross, John Scott Richardson and Ben Watts (as Dvorak).
While living in the USA, Dvorak and learned much from his African-American students, including Will Marion Cook and Harry Burleigh, who in turn influenced the Duke Ellington, Gerschwins, Aaron Copeland and others. In a famous recording, Art Tatum plays a jazz rendition of Dvorak's "Humoresque."  Theirs is a collective tradition that reflects the vision of Jeanette Thurber, Dvorak's American patron, who aimed to foster an "American Sound." Her National Conservatory of Music of America offered free musical education to people of color, women and talented persons who could not pay the tuition. Dvorak believed that a musician could express the true sentiment of his people by getting into touch with the common humanity of his country.  Once here, he also gathered inspiration for the "American Sound" from such non-musical sources as steam locomotives.  The play contains a scene in which Burleigh fears to accompany the maestro to savor passing trains in a tunnel at 155th Street in Manhattan, insisting it was no place for a Black man.
The production's score contains verbatim sections from "The New World Symphony" rearranged and re-contextualized for the piece.  It also includes spirituals like "Swing Low Sweet Chariot," "Going Home" (this song is based on the famous Largo from Dvorak's 9th symphony, although earlier sources are sometimes erroneously cited), "Steal Away," "Go Down Moses" and others.  The famous moonlight aria from "Rusalka" and selections from String Quartet #12 "American" will also be played so that the audience will be able to perceive the influences of the social milieu which inspired them.  The score also includes some original music focusing on simple, bluesy melodies.  Composer James Brandon Lewis says, "I have been trying to paint a picture which still gives respect to the classics but moves things forward."  There will also be Gospel songs that begin being sung by a stodgy Temperance choir and morph into the familiar, rollicking "urban gospel" sound which has been developed by African-American artists into a more interesting form.  In bringing both the New World Symphony and various classic songs up to date, it is intended that the audience will more easily savor their affinity.
January 30 at 7:00 PM and January 31 at 2:00 PM, 2016
---
Presented by GOH Productions and Dvorak-American Heritage Association (DAHA).
$19 general admission, $10 seniors and students.
Bohemian National Hall,  321 East 73rd St., NYC
WORLD PREMIERE MARCH 10 – 27, 2016
La Mama Theatre, in association with GOH Productions and Dvorak-American Heritage Association (DAHA), will present this play's world premiere.
Ellen Stewart Theatre, 66 East 4th Street, NYC
Performances will be Thursdays through Saturdays at 8:00 PM; Sundays at 4:00 PM.  Tickets are $25 general admission, $20 seniors and students and ten $10 tickets will be available to every performance on a first-come, first-served basis.
There will be a benefit performance:
Friday, March 18 with all tickets $50.
The La Mama box office is (646) 430-5374. www.lamama.org.  The production is recommended for audiences aged 7 to 107.  The running time is 95 minutes and critics will be welcome at all performances.
Photo credit: antoine Divborak.
No related posts found...