---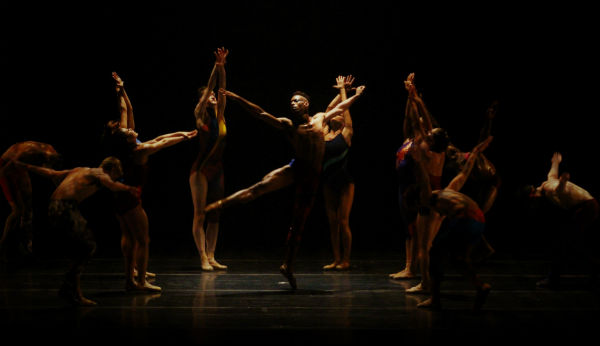 Complexions Contemporary Ballet (Complexions) celebrates the kick off of the company's 23rd season at The Joyce Theater in New York City from January 24 – February 5 with two distinctive new programs over a two week span.
Under the artistic direction of Dwight Rhoden and Desmond Richardson, the season will feature two premieres in addition to audience favorites as the company continues to lead the way with its unparalleled approach to contemporary ballet. Filled with a roster of some of the most diverse and exciting young stars, Complexions explodes onto the Joyce Theater stage with their signature style of athleticism, virtuosity and passion. The programs feature a range of techniques and musical styles, moving from classical virtuosos such as Bach and Handel to electronica and the catalogue of rock legend, David Bowie.
This season, Complexions will launch "The Collage Series," an ongoing initiative created by resident choreographer Dwight Rhoden. In "The Collage Series," Rhoden will present new dance works in a visual collage format that seeks to find the line of commonality within diverse elements. These works will juxtapose seemingly unrelated fragments to weave together an interrelated story that conveys the beauty found in contrasting depth and dimension. Rhoden considers much of the work he has created over the years to have qualities of the collage format and this series will further explore his passion for finding the interconnection among disparate elements through dance. The first work presented as part of "The Collage Series" is "Gutter Glitter," a work that is simultaneously edgy and soft, set to electronica that finds the spark of rare beauty and inspiration in unexpected places. "Gutter Glitter" is symbolic of a dynamic rise from the bottom, illuminating the struggle of rediscovering the light after being in darkness.
The Joyce Theater program will also include the New York City premiere of "Star Dust," the first installment of a full evening length ballet tribute to the genre-bending innovation of one of the most prolific rock stars of all time, David Bowie.  
This ballet takes an array of Bowie's hits and lays a visual imprint inspired by his unique persona and restless artistic invention, resulting in a rock opera production in his honor.
Complexions will also present its repertory piece, "Ballad Unto…" a work about unrequited love set to Johann Sebastian Bach's "Chromatic Fantasy and Fugue" and "Partita #2 – Chaconne."
During the run, Thursday, January 26 will be dedicated to Complexions' annual fundraising gala. Proceeds from this gala benefit performance will continue to help build Complexions' educational initiatives through scholarships, mentorship programs and the continued development of Rhoden's and Richardson's methodology of dance training.  The evening's performances will be hosted by film, stage and television star Vanessa Williams. In addition to the company work, "Star Dust," there will be a performance by the students of Complexions' pre-professional program, and guest performances by Complexions Co-Founder Desmond Richardson, Complexions alumni Clifford Williams, Israeli dancer and choreographer Ido Tadmore, Natiya Kezevadze, among others.
"We are thrilled to start our 2017 season at The Joyce Theater. My hope remains to shed light, provoke thought and entertain through dance and there is nowhere better to do that than in New York City," said Dwight Rhoden, Co-Founder, Co-Artistic Director and Choreographer of Complexions Contemporary Ballet.
"We have gone to great lengths to share with the Joyce audience a passionate, soul stirring and thought provoking program that we hope will touch them and transport them into our world," said Desmond Richardson, Co-Founder and Co-Artistic Director of Complexions Contemporary Ballet.
Tickets range from $10 to $66 and can be purchased online at 
JOYCE Ticketing
. Tickets can be purchased by phone at 212-242-0800. The Joyce Theater is located at 175 Eighth Avenue (at the corner of 19th Street), New York, NY 10011.
For the most up-to-date schedule for all Complexions Contemporary Ballet programming, follow Complexions via the below links and visit http://www.complexionsdance.org.
GALA PROGRAM: GIVING BACK TO PAY IT FORWARD  
Thursday, January 26th, 2017, 7:00PM
The evening's performance will be hosted by stage, film and television star, Vanessa Williams.
Performances by Complexions' full company and students of Complexions' pre-professional program. Performances by Desmond Richardson, Complexions alumni Clifford Williams, Ido Tadmore, Natiya Kezevadze, and special guests.
Tickets to the gala reception are $200 each and include an orchestra level seat with invitation to the post-show champagne reception (location to be determined). For more information on the Complexions Contemporary Ballet Gala, please visit: http://www.complexionsdance.org/gala2017  or contact: Muadi Dibinga at 917-604-6030.
Regular tickets to the evening's show are available at the Joyce website, JOYCE Ticketing. Tickets can also be purchased by phone at 212-242-0800.
Photo credit: Breeann Birr.
---