---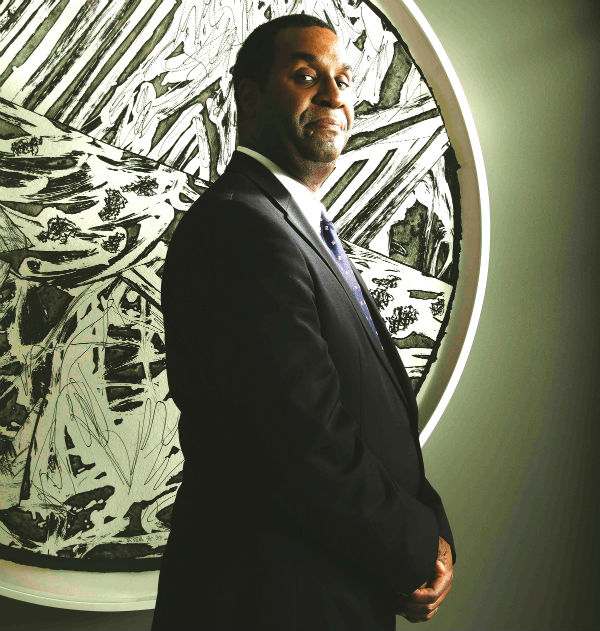 David Burton was at Madison Square Garden watching Axl Rose belt out "Back in Black" as the fill-in lead singer for AC/DC when he got an unexpected reminder of what his life is like as an African-American in the city's commercial real estate business.
"I was with my daughter," the 52-year-old recalled, "and she turned to me and said, 'There are no black people at this concert.'
"She was having a moment of feeling like an outsider, and it made her kind of uncomfortable. And what struck me was that I hadn't even noticed it because I'm so used to it in my professional life."
Burton has been a commercial leasing broker for 17 years, most recently at Handler Real Estate Services. Over that time, even as other industries like law, finance and medicine have become more diverse, the bulk of high-earning, senior-level executives in the city's multibillion-dollar commercial real estate business remain middle-aged, male and, above all, white. And while homogeneousness in other sectors such as advertising has recently come under scrutiny by major clients insisting on more diversity, few forces threaten to spur changes in real estate.
"It's like in physics, things keep going as they have been until there is a force to change it," said Richard Eaddy, an African-American broker at Savills Studley. "In law firms and in finance there has been pressure to see change, but it really hasn't happened in real estate. Until something nudges things, they will continue along the same path."
At the city's major commercial brokerage firms, only a handful of African-Americans and Hispanics have broken into the lucrative world of arranging leases for large office tenants. Joseph Hudson, a human resources executive at the city's largest commercial real estate services firm, CBRE, estimated that less than 10% of its 3,500-person New York-area workforce are minorities.
"We're not where we want to be," Hudson, who is based in CBRE's Dallas office, said. "Like every one of our competitors, we struggle. We look across the industries that we work with and we want to look more like the people we're representing."
No black or Hispanic brokers were involved in arranging any of the 25 largest office leases last year, according to data from CoStar.
Given that the firm has been regarded as one of the more proactive in recruiting minorities, its low percentage of people of color—including Asians and other groups—offers a bleak picture of diversity in the city's brokerage industry. Rival companies like JLL, Cushman & Wakefield, NGKF and others also appear to have few minorities in high-earning or executive positions, although they declined to specify the statistical makeup of their workforce. No black or Hispanic brokers were involved in arranging any of the 25 largest office leases last year, according to data from CoStar.
Uncomfortable questions
Real estate development and ownership firms have a similar track record. A list of the city's 25 largest landlords compiled by CoStar has not one senior-level African-American or Latino executive. And the Real Estate Board of New York, the city's largest real estate association and lobbying group, doesn't have a single minority and has only five women on its 48-member executive committee—a who's who of power figures that guide the industry's agenda.
"I was almost always the darkest person in the room," said Chantay McBride-D'Ambrosio, a half-black, half-Irish former retail leasing executive at Vornado Realty Trust, one of the city's largest commercial landlords.
McBride-D'Ambrosio praised Vornado for having what she said was an inclusive culture. She was promoted several times during her nearly six-year tenure there. Last year, she struck out on her own, opening a commercial real estate brokerage and consultancy firm that focuses on Westchester, New Jersey and Long Island.
The stark statistics prompt uncomfortable questions for the industry as lingering racial divides in American society have been exposed by a contentious presidential election and videos of violent police encounters with African-Americans. Minority real estate executives attribute the lack of diversity not to overt bias but to a host of more subtle and complex factors—which is part of the reason diversity has been such a difficult issue for the industry.
One common refrain is that because minorities don't have a long legacy in the city's real estate business, young aspirants lack the connections to help them crack the industry's notorious insularity.
Several minority executives said the business will change only when large tenants—whose leases are the wellspring of cash for landlords and brokerage firms—demand it. Companies such as HP, General Mills and Verizon have recently asked their advertising firms to better equip themselves to communicate to a wider audience by diversifying their ranks, but similar mandates have been largely absent from real estate decision-making.
"At the Nabiscos and Motorolas and Googles of the world, I don't see a big imperative to hire people of color when it comes to real estate," Burton said. "You're talking about multimillion-dollar transactions and you're asking operations people at these companies, who have always dealt with a white real estate counterpart, to take a chance and hire someone new for diversity's sake when, if the deal falls through, they're going to have to answer to the CEO or the board. It's not happening."
Photo credit: Eric S. Yarbro, one of the city's few black commercial real estate brokers, says change "has to start from the top."
---