---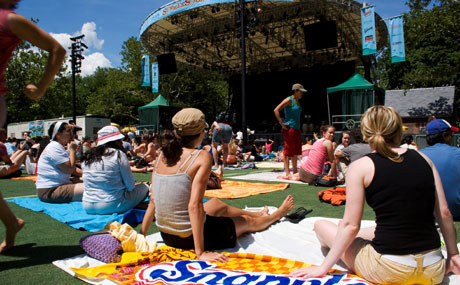 City Parks Foundation is thrilled to announce the 2018 season of SummerStage, New York City's largest free outdoor performing arts festival, bringing more than 100 performances to Central Park and 17 neighborhood parks throughout the five boroughs. This year's festival, presented by Capital One, will showcase over 200 unique artists hailing from New York City and around the globe, performing shows across a diversity of genres and disciplines, including indie-rock, hip-hop, Latin, jazz, R&B, salsa, opera, contemporary dance, and spoken word.
The festival's season of free shows will kick off at SummerStage in Central Park on Saturday, June 2 with jazz great Gregory Porter and rising star Victory Boyd, serving as a full circle moment for the young soul-folk singer who first garnered acclaim busking in the park, before being signed by Roc Nation in 2016. Other highlights in Central Parkinclude 2017 MacArthur Genius grant recipient and Carolina Chocolate Drops co-founder Rhiannon Giddens performing on June 16 with blues musician Son Little, two kings of salsa Eddie Palmieri and Tony Vega joining forces on August 26, up-and-coming electronic musicians Mura Masa and Jessy Lanza lighting up the stage on August 18, and renowned contemporary ballet company Alonzo King LINES Ballet on July 25. Citywide, Brooklyn based indie rock group San Fermin will kick off SummerStage's four-day run in Red Hook's Coffey Park on June 21, legendary Hip Hop group Jungle Brothersand friends will take over Queensbridge Park on July 15, and beloved dancehall singer Sister Nancy will perform with reggae hitmaker Shinehead in Crotona Park on August 4.
This season, SummerStage will continue its decades-long tradition of bringing stellar artists and important voices from around the world to perform in New York City, some for the very first time. In Central Park, Portugal's biggest fado superstar Mariza will perform with support from countrymen Noiserv and Renato Diz on June 23, and on July 7, Soft Lipa, Sheng Xiang & Band, and Elephant Gym will showcase the best of Taiwanese tunes ranging from hip-hop to rock. Grammy Award-winning Beninese singer-songwriter, actress and activist, Angelique Kidjo, will perform on September 27, with the New York City based Resistance Revival Chorus, and Nigerian musician and activist Femi Kuti will deliver his iconic Afrobeat rhythms on July 29 with the exciting rising stars and Congolese band Jupiter & Okwess. On July 1, Canadian indie-rock collective Broken Social Scene will show off their "Northern Beats" and on August 11, Korean-American musical forces ToKiMONSTA and Kero One will perform an eclectic mix of lyrical jazz hip-hop and atmospheric electronic hits.
This year, SummerStage has also given special focus to bringing international artists beyond Central Park, presenting them directly in the neighborhoods where immigrant communities from the artists' home countries live and gather. For the first time, SummerStage will present a full lineup of Colombian musicians in Queens' Queensbridge Park, featuring Systema Solar and Very Be Careful on July 12. In Springfield Park, also in Queens, SummerStage will celebrate Haitian music and culture with a stacked bill featuring legendary Haitian rasin band RAM and up-and-coming singer-guitarist Paul Beaubrun, on July 5. And in Harlem, Senegalese mbalax star Pape Diouf and his band la Generation Consciente will bring their singular sound to Marcus Garvey Park on August 18.
As always, New York's own finest musicians and performers will also be well represented at SummerStage, with acclaimed Brooklyn rappers Talib Kweli, Big Daddy Kane, and Young M.A putting on hometown shows in Brownsville's Betsy Head Park on June 30 and the Ford Amphitheater at Coney Island on June 20 and July 29, respectively. In Crotona Park in the Bronx, the local Bodoma & Garifuna Culture Band will perform with salsa star Tito Nieves on August 1. And on Staten Island, local NYC collective M.A.K.U. SoundSystem will share their "immigrant beat" alongside Los Angeles based Chicano band Las Cafeteras and Brooklyn DJ duo iBomba, in Corporal Thompson Park.
For the 26th year, the Charlie Parker Jazz Festival, New York City's annual salute to the eponymous late saxophonist will return for three days of live jazz in the Manhattan parks near where Parker worked and lived: uptown in Harlem's historic Marcus Garvey Parkand downtown in Tompkins Square Park. Running August 24 through 26, the festival will feature performances from Monty Alexander – Harlem Kingston Express, Buster Williams with a surprise guest, Jack DeJohnette, Catherine Russell, Amina Claudine Myers, the Gary Bartz Quartet and many others.
SummerStage's pre-show workshop offerings will expand this year through two new season-long collaborations with Alvin Ailey American Dance Theater and VOICES. In celebration of the iconic dance company's 60th anniversary this year, Ailey instructors will be hosting free and open to all levels dance workshops prior to five select SummerStage shows citywide that will teach choreography from the company's signature work, Revelations. SummerStage is also excited to collaborate with VOICES, a non-profit arts, education and social justice organization originally founded by Howard Zinn and Anthony Arnove, who together edited the book Voices of a People's History of the United States, which brings to life the extraordinary history of ordinary people who built the movements that made the United States what it is today, ending slavery, protesting war, creating unions, advancing women's rights and LGBTQ liberation, and struggling to right wrongs of the day. Five SummerStage VOICES programs will feature contemporary artists and authors who will use events and words from our nation's history as inspiration for new discussions. The series will culminate in Central Park on August 28 with a day long showcase of live readings, dialogue, and celebration with very special guests. By giving public expression to rebels, dissenters, and visionaries from our past-and present-SummerStage and VOICES seek to educate and inspire a new generation working for social justice.
The five-month long SummerStage festival will also feature a number of benefit shows in Central Park to help support City Parks Foundation's free programs for all New Yorkers. Former Oasis frontman Liam Gallagher and fellow Brit rocker Richard Ashcroft, psychedelic pop-punk singer Mac DeMarco, New Orleans Jazz sensation Trombone Shorty, jam band juggernaut Dispatch, R&B and electronica artist Blood Orange, California born-and-bred singer-songwriters Jason Mraz and Brett Dennen, YouTube star Jake Paul, and rock band O.A.R. have been confirmed with many more to be announced. All benefit concerts are produced by The Bowery Presents.
"New York is the quintessential global city, and the place SummerStage has been proud to call home for more than three decades," said Heather Lubov, Executive Director of City Parks Foundation. "SummerStage brings the best music from around the world to New York's many and varied communities, using local neighborhood parks as gathering spaces in which to experience world class culture. From iconic performers to the latest up-and-coming artist, we present everything from indie to Afrobeat, Latin trap to soul, reggae to contemporary dance, fado to EDM, and everything in between. We're thrilled to welcome all New Yorkers into their local parks this summer to watch a legendary artist up-close or perhaps discover a new performer they love."
"At City Parks Foundation our mission is to invigorate communities through high-quality, dynamic programming in neighborhoods across the five boroughs, and this year's SummerStage lineup is most certainly that," said Erika Elliott, Executive Artistic Director of City Parks Foundation. "This season's lineup brings together an immensely talented and diverse mix of performers who are representative of the cultural mosaic that is New York City, and whose artistry will turn the city's neighborhood parks into places of community conversation and celebration all summer long."
"Capital One is proud to continue our long-standing support for SummerStage, as the festival once again brings New York City's rich artistic diversity to our local communities," said Michael Slocum, President, Commercial Banking and Northeast Regional President, Capital One.
The complete SummerStage schedule follows below. For the most up-to-date scheduling and lineup for all SummerStage programming, follow SummerStage via the social media handles below and visit www.SummerStage.org for all festival information.
Related Articles
---