---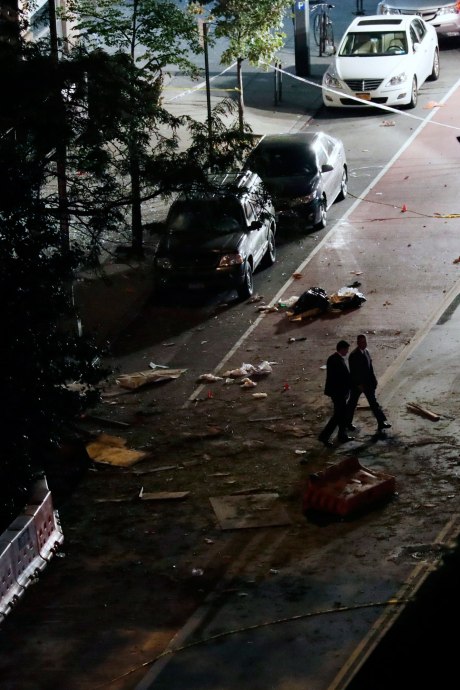 A "deafening'' Chelsea Explosion rocked Saturday night, injuring 29 people, blowing out scores of windows and forcing the evacuation of at least two buildings.
The blast went off in a 4-by-4-by-3-foot construction Dumpster outside the Townhouse Inn of Chelsea at 131 W. 23d St., and was not believed to be an act of terror, officials said late Saturday.
It was so powerful, the Dumpster flew from the north side of the street and landed on the south sidewalk without hitting anyone or anything, police sources told The Post.
One of the injuries "may be considered serious," said Mayor Bill de Blasio. That victim suffered a serious puncture wound.
The vast majority of those injured however suffered scrapes and abrasions from flying debris.
"Thankfully, none of these are life-threatening injuries," said Dan Nigro, FDNY commissioner.
 The cause of the explosion was still under investigation early Sunday.
"We do have video, and we do see the explosion," NYPD commissioner James O'Neill told reporters. The blast happened on O'Neill's first day taking over from Bill Bratton as commissioner.
O'Neill said sidewalk surveillance video from prior to the explosion was under careful review.
"We believe it wasintentional," the mayor told reporters of the blast.
NYPD officers, including members of the Counterterrorism Squad, were on the scene throughout the night, along with FBI agents and police helicopters with searchlights.
Here's the video:
"It was a quiet night and then I heard this deafening boom," said Chelsea resident Jakar Aussin, who works at a Dunkin' Donuts at 23rd Street and Sixth Avenue.
"My first thought was, 'Oh God, a bomb,' so I got down on the floor.
"I looked outside and it's all broken glass, car alarms going off."
A woman working at a nearby Starbucks, who asked to be identified only by her first name, Hannah, said: "It felt like lightning struck the building; everyone ran out. Cops were driving the wrong way up Seventh Avenue. It was nuts.''
Police closed off the block for about two hours and ordered people already there to stay inside. Hundreds of people — including neighbors trying to get to their cars or apartments — milled around outside the barricades.
"Omg that explosion knocked us out of our seats on my friends terrace in #Chelsea #NYC,'' tweeted Kimberly Gantz.
And Liz Mandel tweeted, "Louder than any thunder I've ever heard in my life. Like the sky exploded. Shook the building."
A source told The Post that ­police got an anonymous phone call saying a second device had been placed. The caller did not give a location.
Police dogs were sniffing garbage cans in the area.But about three hours after the blast, cops rushed to 27th Street between Sixth and Seventh avenues after receiving more information.
The building at 135 W. 23rd, run by the Associated Blind, is being renovated and its facade is covered with scaffolding. Construction Dumpsters line the sidewalk in front of it.
Police wearing SWAT gear and holding rifles were guarding Bellevue Hospital, where some victims were taken.
Cops were checking everyone trying to get inside and demanding to see ID from hospital employees.
Police were trying to determine whether the 8:40 p.m. blast was connected to a pipe bomb that went off in a garbage can along the route of a Marine Corps charity run in Seaside Park, NJ, during the day. No one there was injured.
Via source
Related Articles
---