---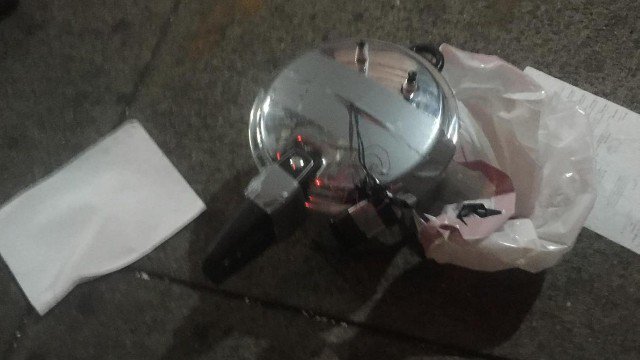 A street-corner Chelsea explosion that law enforcement sources said was caused by an intentionally detonated improvised device in the busy Chelsea neighborhood of Manhattan sent shrapnel flying into pedestrians Saturday night, injuring at least 29 people, including one person believed to be in serious condition. The blast shattered windows, shook buildings, closed subways and blocked buses from their routes.
Police and other emergency workers responded to the scene at 23rd Street and Sixth Avenue at about 8:30 p.m. Dozens of police officers, firefighters and medical technicians quickly carted the wounded into ambulances and ferried them to nearby hospitals.
The Chelsea explosion happened on the street outside of 131 W. 23rd St., a hotel, The Townhouse Inn of Chelsea and residential assisted living center for the blind, Visions at Selis Manor, police said.
"Early indications are this was an intentional act," Mayor Bill de Blasio said at a press conference late Saturday at 23rd Street near Fifth Avenue — about two blocks from the explosion. At the same time he added "there is no evidence of a terror connection, there have been no credible threats against New York City from terrorist organizations."
Police are scheduled to hold a briefing at noon on Sunday to further update the investigation into the explosion.
Chief Harry Wedin, head of the New York Police Department's Special Operations Division, said investigators found a "possible" second device on 27th Street between Sixth and Seventh avenues. That device was safely removed by police at about 2:30 a.m. Sources said the device was taken to the NYPD facility on Rodman's Neck in the Bronx.
Sources said the device on 27th Street was found in a vehicle and it appeared to be a pressure cooker (see above) rigged to explode similar to the devices used in the Boston Marathon bombings. The device had wires protruding and what appeared to to be a cell phone taped to it.
Sources said that a man was stopped about seven blocks away and is being questioned in connection with the incident though they stressed it would be premature to call the person a suspect or person of interest.
O'Neill said that at least one of the surveillance cameras in the area caught the explosion on video. They are still checking other cameras. Sources said that the video shows — before the explosion — a man walking toward where the explosion happened and placing an object in the garbage bin. The explosion happened soon after.
A different video emerged on Instagram, showing the explosion from a security camera across the street from the blast.
The Chelsea neighborhood has long been one of New York's trendier nightspots with its mix of restaurants, clubs, and expensive apartments. It has been the home to musicians, artists, designers, and poets.
New York Police Commissioner James O'Neill — on his first full day on the job — said that officers from the 10th Precinct witnessed the explosion and called for backup.
Fire Commissioner Daniel Nigro said 29 people were injured — 24 of whom have been transported to hospitals. One person has serious injuries. The NYPD said one person "may be critical."
Many of the injured — who mostly suffered scrapes and scratches — were brought to Bellevue Hospital where security was increased, officials say. Officers with automatic weapons could be seen out front.
Officials say that while they were not ready to officially say it was a bomb, a gas explosion was quickly ruled out. In addition to patrol officers, the New York Fire Department, and other first responders, as well as detectives from the police department's counter-terrorism unit and FBI agents and members of the Joint Terrorism Task Force are on scene.
The Bureau of Alcohol, Tobacco, and Firearms also has agents from its arson and explosive task force on scene, officials say. Law enforcement agencies are also sending agents and detectives to sensitive locations across the city as a precaution.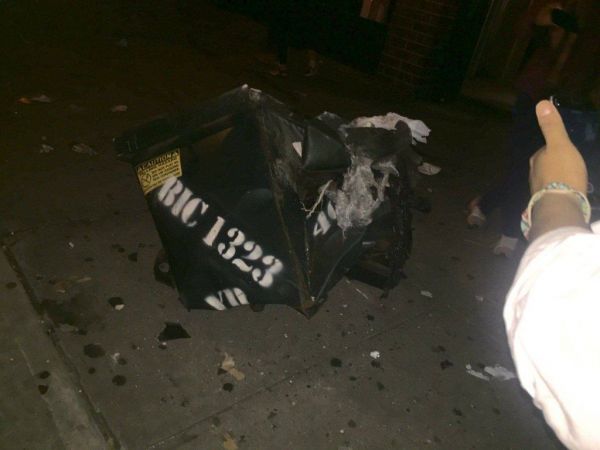 "All hands are on deck," de Blasio said.
Law enforcement officials are on alert with the United Nations General Assembly convening Monday. Another pipe bomb explosion occurred earlier Saturday in New Jersey. NYPD officials said they don't believe the two are connected.
The White House said that President Barack Obama has been briefed on the developing situation.
"We are closely monitoring the situation and urge New Yorkers to, as always, remain calm and vigilant," New York Gov. Andrew Cuomo said in a statement. "Those traveling in or through the area should be advised of closed sidewalks and roadway, and check MTA.info for subway and bus service alerts. As a reminder, the PATH station at 23rd Street is closed for previously-announced weekend closures."
Detectives are scouring the area for clues, looking for any surveillance camera that might have caught the explosion or what led up to it, officials said. The street is filled with stores and restaurants as well as residential buildings. Explosives experts are also examining the scene for clues.
Detectives are looking into whether the blast came from a device placed in a garbage bin, according to officials. The NYPD tweeted a photo of what is believed to be a damaged dumpster (see above). They are also investigating reports of a tool box that was seen near the dumpster.
"Everybody started running," one person tweeted.
The MTA reported extensive disruptions to the 1, 2, E, and F subway lines. All four lines are skipping 23rd Street in both directions. The MTA also reported several bus lines — the M5, M7, and M23 — are being rerouted. Sixth Avenue is closed from 14th Street to 34th Street. Also, 23rd Street is closed between Fifth and Eighth Avenues.
Another reported seeing an SUV window blown out. Several witnesses described that it made them think back to Sept. 11.
An explosive device was detonated in a trash can at a race in Seaside, New Jersey, earlier Saturday morning. No one was injured in that blast and no one was arrested. If it turns out to have been an explosive device that caused the blast, officials say, they will examine it for similarities to the devices that were recovered in New Jersey.
"Whatever the cause, whatever the intentions here, New Yorkers will not be intimidated," de Blasio said.
The New York Police Department asks that anyone with information call 800-577-TIPS.
This is a breaking news story and will be updated as information becomes available.
Via source.
No related posts found...
---