---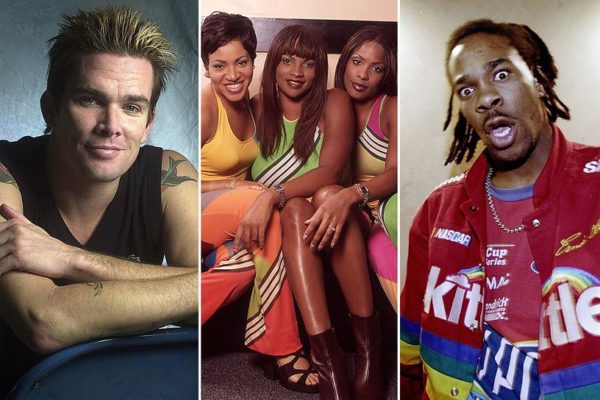 Remember the Crystal Pepsi that briefly ruled the early '90s? Well it's officially making a comeback, with Pepsi celebrating the mysteriously clear drink with a fun tour. Aptly titled the Crystal Pepsi Throwback Tour, it will feature artists Busta Rhymes, Sugar Ray's Mark McGrath and Salt-N-Pepa.
The three-date trek aims to bring a love for baseball and nostalgic music together, with the free shows taking place at stadiums across the U.S. during the 2017 baseball season. The first will be at Billy's Sports Bar near Yankee Stadium on Tuesday, August 1, 2017, with a performance from Busta Rhymes. Angie Martinez is set to host. After that, Mark McGrath will host a street party in Phoenix, Ariz. on Friday, August 11, 2017. On Sunday, August 13, 2017, Salt-N-Pepa plan to take over the field in Miami, Fla. After the ladies throw the ceremonial first pitch of the game, they will head to Ballpark's West Plaza for a postgame performance.
"Crystal Pepsi has always been a fan favorite and fans continue to ask for it time after time," said Chad Stubbs, Vice President, Marketing, Pepsi Trademark in a press release. "From the 90s through today Pepsi has been a brand very much connected to music and baseball. We're excited to see this special tour come to life and to celebrate Crystal Pepsi's last return." If you're interested in winning free tickets, tune-in to WHTZ, WKTU, WWPR in New York, KESZ, KMXP, KYOT in Phoenix and WHYI, WMIA, WMIB in Miami which began on July 19, 2017. Head over to iHeartRadio's official website for more details.
The Crystal Pepsi will make a comeback for one last limited time (it has't seen a store shelf in 23 years!) across retail locations in the U.S. beginning August 14, 2017. Check out the full Throwback Tour dates below:
8/1 — Busta Rhymes and Angie Martinez @ Billy's Sports Bar outside Yankee Stadium in Bronx, NY
8/11 — Sugar Ray's Mark McGrath @ Chase Field in Phoenix, AZ
8/13 — Salt-N-Pepa @ Marlins Park in Miami, FL
---