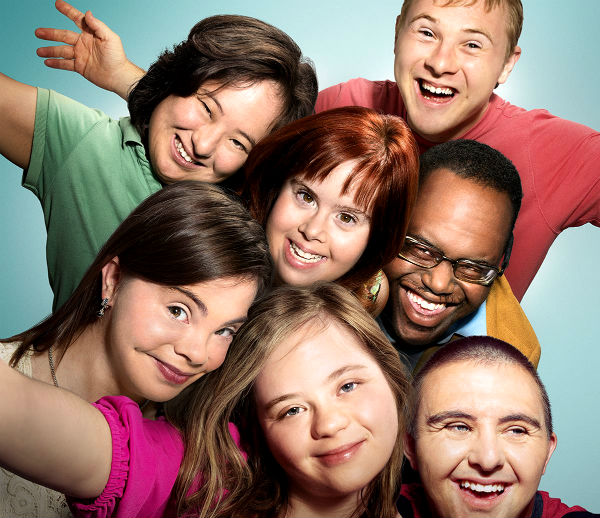 A&E Network's critically acclaimed and award-winning original docuseries Born This Way's honors keep adding up – showing that disability is a winning theme.
Born This Way was nominated for an Emmy this morning for Outstanding Unstructured Reality Program. In addition, two episodes were nominated for Outstanding Picture Editing for an Unstructured Reality Program.
Produced by Bunim/Murray Productions, the series follows a group of seven young adults with Down syndrome along with their family and friends in Southern California. During its first season, Born This Way grew across all demographics each episode, with adults 25-54 up 84 percent, adults 18-49 up 64 percent and total viewership up 67 percent by the end of the season. Recently, the series was chosen as one of six honorees for the 2016 Television Academy Honors, an award that recognizes television programming that inspires, informs and motivates.
RespectAbility has been honored to have been consulted during the creation and production of Born This Way and congratulates the entire team for its hard work in achieving this nomination.
"As detailed in the just-released Ruderman White Paper on Disability in Television, disability often is absent from mainstream film and television – both the depiction of and, even when a character has a disability, the actor often does not," RespectAbility President Jennifer Laszlo Mizrahi said. "But programs like Born This Way that feature people with disabilities, or that tackle disability issues, in a positive light can be successful both critically and financially. Audiences want to see strong, capable role models with disabilities. By focusing on showing these young individuals' everyday life choices regarding employment, living independently and dating, Born this Way breaks down stigmas surrounding disability."
According to the U.S. Census, one-in-five Americans has a disability. Currently 70 percent of working-age people with disabilities are not working – even though most of them want jobs and independence. The numbers are even worse for people with Down syndrome. There are many studies that show that people with disabilities, including those with Down syndrome, can work successfully and live relatively independently. The individuals on Born this Way prove that as several are productive employees and one starts her own company.
"By honoring and embracing diversity on television, Born his Way is uniquely redefining the art of honest storytelling and altering the way society views individuals with differences," Elaine Fontain Bryant, EVP and Head of Programming for A&E said.
The show will be returning for its second season featuring 10 brand-new episodes on Tuesday, July 26 at 10 PM ET/PT. The first season was launched during an event on Capitol Hill hosted by RespectAbility featuring Rep. Brad Sherman (D-CA) and Rep. Cathy McMorris Rodgers (R-WA).
This season, the young adults and their families continue to live with a fresh and honest perspective as the series dives deeper into their personal independence and relationships, including new friends within the community who also will be featured on the show.
Born This Way features:
Rachel is still enjoying her job working for an insurance company but is looking forward to being the "best person" at her brother's upcoming wedding. She is open to new experiences, but after an eye-opening visit with the doctor, Rachel is forced to take action and start adopting a healthier lifestyle.
Sean takes a big leap toward independence when he and buddy Steven move into their own apartment. Sean claims he's no longer a ladies man and wants a girlfriend, so after a few blind dates, he gives one lucky woman a promise ring, hopefully putting an end to his tendency towards romantic entanglements.
John continues to pursue his music career, but his parents tell him that the clock is running out on how much longer they'll financially support him. This motivates John to work harder than ever to achieve his dreams before having to look into other career options.
Steven is hoping to find a girlfriend in the near future, but struggles with the idea of dating someone else with a disability. He's hoping that since his new roomie, Sean, has a lot of dating experience, he'll be able to pick up some helpful tips from his "babe magnet" friend.
Cristina and her fiancée Angel continue to look forward to their wedding, but have a lot of life skills to master before they are ready to live on their own. Their relationship is put to the test when Cristina starts taking ballroom dance lessons and spending time away from Angel.
Megan's line of clothing, "Megology," exploded with orders and she is working hard, alongside her mom, to keep up with her successful business. Currently living in Colorado, she is determined to move back to Los Angeles alone but her struggle for independence causes conflict with her closest ally; her mom.
Elena struggles to find her place in life and within the group. After a fight with her mom that shocks her friends, Elena is forced to take responsibility for her actions and learn alternative ways to express her feelings.
RespectAbility, a nonprofit organization working to empower people with disabilities to achieve the American dream, is on the front lines in the battle to reduce stigmas, failed government policies and other obstacles that deny people with disabilities the opportunity to achieve the American Dream.

Born This Way will be returning for its second season on July 26, 2016. Don't forget to watch live and tweet using #BornThisWay!
No related posts found...
---
---
VIDEO
---
Harlem Cultural Archives is a donor and foundation-supported Historical Society, Its mission is to create, maintain and grow a remotely accessible, online, interactive repository of audio-visual materials documenting Harlem's remarkable and varied multicultural legacies, including its storied past as well as its continuing contributions to the City and State of New York, the nation, and the world.
Support Harlem Cultural Archives
and
click here to get more Harlem History
, Thank you.