---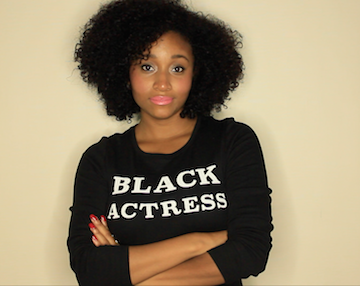 Actress Andrea Lewis' hit web series Black Actress has been selected to compete in the 2015 Web Originals Competition at the 19th Annual American Black Film Festival (ABFF). Black Actress Season 2will be in competition against nine other web series on June 12th at 9:25 PM at the AMC Empire 25.
On Saturday June 13th, Andrea Lewis will be a guest panelist on the ABFF talk series panel, "How To Create And Monetize A Successful Web Series" along with Issa Rae (The Misadventures of Awkward Black Girl), Numa Perrier and Dennis Dortch (Blackandsexy.tv) at 4:15 PM at the NY Hilton: Grand Ballroom East. She will share tips on producing and writing, and how to take your web show to the next level.
Andrea Lewis, an actress, singer and multi-media content creator, founded her own production company, Jungle Wild Productions, to produce more quality and entertaining content that showcases women and people of color in a positive light.  Her hit web series, Black Actress, is a daring and witty scripted show inspired by Andrea's own personal experiences as well as real life experiences from fellow black actresses in Hollywood such as Tatyana Ali, Garcelle Beauvais, Naturi Naughton, Amber Riley, Vanessa Bell Calloway,Keesha Sharp and more. Each episode begins with an interview with a Hollywood actress and then transitions into a scripted interpretation of their experience. Andrea Lewis explains her show by saying, "Black Actress isa story of a woman pursuing her career and the ups and downs of that, as well as her difficulties with love, confidence, and life — the types of things that everyone can relate to."
While many remember her as Hazel from six seasons of the hit show Degrassi: The Next Generationalongside fellow Canadian native and music artist Drake, Andrea Lewis has been in the television and film industry since the age of six years old. She acted alongside Hollywood heavyweights such as Diahann Carroll in The Natalie Cole Story, Dr. Maya Angelou and Wesley Snipes in Dr. Angelou's directorial debut, the critically acclaimed Down In The Delta and the Disney film Cadet Kelly with Hilary Duff.
Andrea Lewis is currently developing two new shows — a relationship web series titledBeyond Complicated and a television pilot titled, Fuel.
To purchase tickets to the ABFF web originals screening of Black Actress, please visit:
http://www.abff.com/film-screenings/web-originals/#
To purchase tickets to the ABFF talk series panel, please visit:
http://www.abff.com/individual-event-tickets-saturday/
For more information on Andrea Lewis and Black Actress, please visit:
Official website: www.MissAndreaLewis.com.
Related Articles
---