---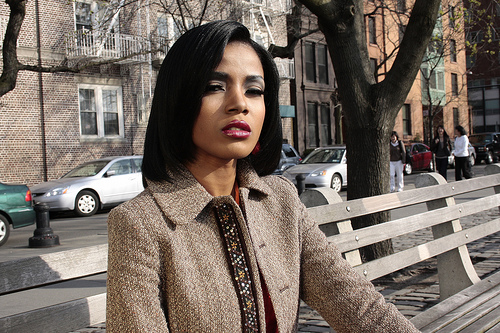 Silka Sosa
The hard working manager is a focused over achiever who has a knack for finding some of the best talent from fashion to music in and out of Harlem. Here, her Harlem swag, success secrets, and working with Project Runway, Life Time TV, Olivia, French Montana.
Harlem World Magazine: How do you describe yourself?
Silka Sosa: I describe myself as an independent over achiever. I love the self desire of landing jobs for models I represent. I am very passionate about SG and I work very hard to stay a float, so I would say my best quality is my "networking."
HW: What is Sharlet Grier?
SS: Sharlet Grier Model management is the name of my Booking Agency. I decided on this name from loving both the name "Sharlet" and "Grier."
HW: What has been the secret to your success?
SS: The Secret is no secret. I believe in the heavenly father and his son and with prayer I have been doing very good in business. I research companies and I study what's new and what's hot, and I balance that with being very traditional.
HW: Where were you born?
SS: I was actually born in Brooklyn, I grew up in Harlem, 115th Street and 7th Avenue is home. I get a lot of love in Harlem and it is the reason for my swag!
HW: When is that "Chart Topper" with Olivia featuring French Montana going to drop?
SS: Olivia and French Montana's song " I do " has been released already! Undecided on the video shoot date, but, yes Olivia has another track out now "Where do I go from Here," check it out at www.myturfmyterms.net.
HW: Why do you feel you have to be an over achiever?
SS: It's stressful sometimes, but if I am not detailed who will be? If I don't put my best foot forward in life who will? If I do not love what I created who will?
HW: In your bio you give Rich Dollaz a shout out, is he your mentor (who reps Erica Mena and Olivia)?
SS: Rich is more than a mentor, he's a great friend. He helps make my dreams come to pass and he also is hands on and guides me, helping shape my agency and making decisions for the future. I have to pay respect to Dollaz unlimited for holding my hand and seeing things my way. Every woman needs a guy like Rich in their corner.
HW: What advice would you give to someone who wants to start her own business?
SS: Know your craft, get your legal paper work together before you start marketing your business and do find a full-time PR group that will make sure your get your business gets noticed. Being persistent helps allot too.
HW: Your business is a booking agency, what kind of bookings do you do?
SS: Yes manage both models and musicians. I own and operate an editorial /commercial model management group. I am not an agency I am simply a manager. I have placed models with other great agencies world-wide, my most recent placements are RED NYC, TOPCO Model Management Cape Town. As we speak I have Justine and Bianca on Project Runway season 11, Thursday nights on Life Time TV. Project runway being one of the best jobs I am very proud of, Sharlet grier Model Management stands strong as a new company. As far as musicians, I managed Harlem Rapper Max Biggaveli and started Pardon the wave in which was targeted to get him a fair trail after being convicted in 2009 for a murder. With-in that time I dropped a mix tape for Max B titled "American Wave." I am now apart of Hip Hop in a major way with hosting mixtape tours for artist such as Cory Gunz, Chipz da General and Styles P. I enjoy management as a whole.
HW: What do you see your business doing in 5 years?
SS: 5 years is a very short time, and within reason I would love to have a Miami location and NY Location. That would spread my business along the east coast and having a few offices wont hurt a thing!
HW: If a model and/or musician want to use your booking services how do they get in contact with you?
SS: Please feel free to contact me models and musicians. I plan to work hard and execute to the best of my ability musicians can visit www.myturfmyterms.net and models can contact www.sharletgrier.com.
HW: Any final words?
SS: Yes! absolutely. I want to thank Harlem World Magazine for supporting me as I grow stronger in this business. I am only human like we all are and I tell people to never expect to much or be disappointed. You are your first manager, and fan. With that never mix business with pleasure and take your good days and bad days to the Lord. At the end of the day, treat people fair.
HW: Thank you.
---