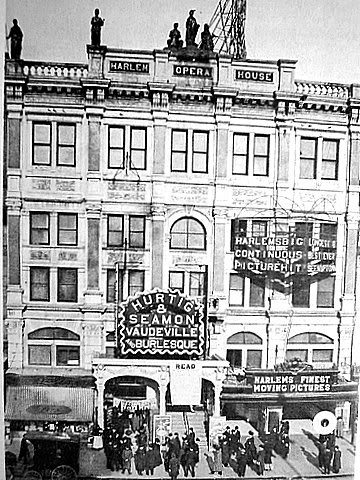 In 1913 or 1914,a new building, designed by the architect George Keister, who also patterned the First Baptist Church in the City of New York, opened at 253 West 125th Street as Hurtig and Seamon's New (Burlesque) Theater, operated by noted burlesque producers Jules Hurtig and Harry Seamon, who obtained a 30-year lease. It remained in operation until 1928, when Bill Minsky took over.
The song "I May Be Wrong (But I Think You're Wonderful)" by Harry Sullivan and Harry Ruskin, written in 1929, became the theme song of the theater. Sidney S. Cohen, president of the Motion Picture Theater Owners of America, purchased the Apollo in 1932 upon Minsky's death. Sources vary as to the next transfer. According to the Apollo Theater Foundation, Cohen sold it in 1934 to Frank Schiffman and Leo Brecher, who renamed the hall the 125 Street Apollo and reopened it on January 26, 1934,with an advertisement in the New York Age that referred to the Apollo as "the finest theater in Harlem".After Cohen's death, business partner Morris Sussman teamed with Schiffman, who ran the Harlem Opera House, and a merger between the two theaters was formed this was in the early 20th century.
Related Articles
---
VIDEO
---
"Dr. Harry Delany is a renowned Harlem born and raised surgeon, the son of the great jurist and civil rights leader, Hubert Delany...." This monthly post is made in partnership with Harlem Cultural Archives.