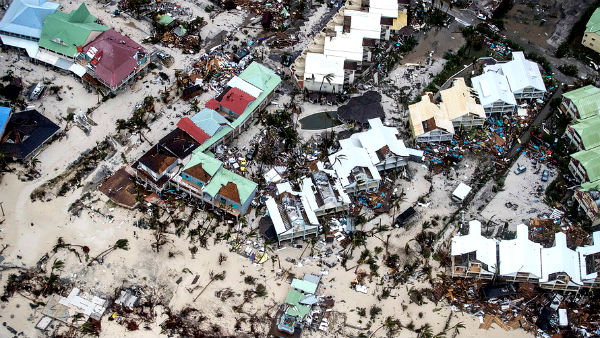 NY Curbed reports that Puerto Rico is facing a humanitarian crisis after Hurricane Maria ripped through the island last week.
Humanitarian aid isn't reaching the island quickly enough, and 3.4 million residents are running low on essentials like food, clean water, and fuel.
Because of the hurricane, the entire island has lost power; many people, along with the Puerto Rico's hospitals, are relying on generators, but even those are at risk of failure. It remains unknown how long it will take for power to get back up and running, but some estimates put the timeline at as long as six months.
Immediately after Hurricane Maria struck Puerto Rico and the U.S. Virgin Islands, Mayor Bill de Blasio announced that the city would be making efforts to provide support to the island's citizens. Other local officials have arranged to provide desperately needed aid. Here is what's being done and how you can help:
Puerto Rico and Mexico Relief Funds
El Museo del Barrio New York is encouraging to New Yorkers to donate supplies to one of the three locations listed below. Accepted items haven't been specified but we assume that non-perishables, water, infant care items, batteries, and flashlights rank high among the list. You can also call ahead to see what items are being requested.
Casabe Senior Houses: 150 East 121 Street, New York, NY
Phone: (212) 410-5467
Monday through Friday 9 a.m. to 5 p.m.
Donation Drive for Puerto Rico and Mexico
There is 1 firehouse and EMS station throughout Harlem that will be accepting donations of diapers, baby food, batteries, first aid supplies, and feminine hygiene products. to provide relief to the people of Puerto Rico. At the moment, only these five items are being accepted. Liquids of any kind as well as second-hand items and perishables will not be accepted. Below is a participating location:
Manhattan
There have been many other natural disasters happening almost back-to-back lately, across various regions, including Texas and many Caribbean islands. The New York Times has crafted a thorough list of other ways in which you can help. Check it out here.
If we missed some locations in Harlem that is helping in the relief effort please add them in the comments section below.
---
---
Related Articles