---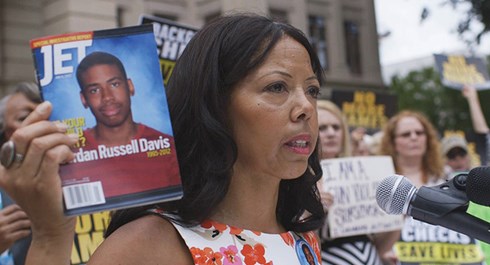 The Human Rights Watch Film Festival promises to be a great event with films by Stanley Nelson, Ayat Najafi, Gini Reticker and Hajooj Kuka.
The event takes place at Lincoln Center is Co-presented by the Film Society of Lincoln Center and IFC Center from June 11 to 21, 2015.
Here's list of the series and the dates:
Wednesday, May 27
10:00 am – 3½ MINUTES, TEN BULLETS, dir. Marc Silver (98 min.)
Opening Night (Participant Media, Opens June 19)
This riveting Sundance award-winner centers on the 2012 shooting death of a black teenager, Jordan Davis, at a Florida gas station and the trial of his killer, Michael Dunn. The film examines the implications of the "Stand Your Ground" self-defense law and the racial prejudices that ensued.
11:45 am – THE WANTED 18, dirs. Amer Shomali and Paul Cowan (75 min.)
(Kino Lorber, Opens June 19)
Through a mix of stop motion animation and interviews, this unique documentary recreates an astonishing true story: the Israeli army's pursuit of 18 cows, whose independent milk production on a Palestinian collective farm was declared "a threat to the national security of the state of Israel."
Thursday, May 28
10:00 am – NO LAND'S SONG, dir. Ayat Najafi (93 min.)
US Premiere – Iranian filmmaker Ayat Najafi's musical journey follows his composer sister Sara's courageous attempts to organize a concert in Tehran despite restrictions prohibiting female solo singers from performing before a mixed audience. Winner of the festival's 2015 Nestor Almendros Award for courage in filmmaking.
11:45 am – THIS IS MY LAND, dir. Tamara Erde (93 min.)
Director Tamara Erde takes viewers inside six independently run schools in Israel and the occupied West Bank in a provocative investigation of how the Palestinian and Israeli (Arab and Jewish) education systems teach the history of their nations.
Monday, June 1
10:00 am – THE BLACK PANTHERS: VANGUARD OF THE REVOLUTION, dir. Stanley Nelson (116 min.)
Closing Night
Renowned documentarian Stanley Nelson's festival favorite is a clarifying and vibrant history of the Black Panther Party in the US, featuring rare archival footage, from the Party's beginnings to its ultimate dissolution.
Tuesday, June 2
10:00 am – THE TRIALS OF SPRING, dir. Gini Reticker (76 min.)
World Premiere – Oscar-nominated filmmaker Gini Reticker tells the stories of three remarkable Egyptian women who risk everything to fight for change in their country. This feature documentary anchors a larger multimedia project at the festival about women activists from the Middle East and North Africa.
11:30 am – BEATS OF THE ANTONOV, dir. Hajooj Kuka (68 min.)
This winner of the Toronto Film Festival's audience award for documentary immerses viewers in the world of the Sudanese farmers, herders and rebels of the Blue Nile and Nuba Mountain regions, who defiantly continue to tend their lands and celebrate their musical heritage in the face of a government bombing campaign.
Wednesday, June 3
10:00 am – LIFE IS SACRED, dir. Andreas Dalsgaard (104 min.)
Danish filmmaker Andreas Dalsgaard's inspiring documentary reveals how the unorthodox Green Party presidential candidate Antanas Mockus and his enthusiastic young activist supporters attempt to reverse the vicious cycle of violence that is part of everyday life in Colombia.

For complete program and film descriptions and ticket info:
http://ff.hrw.org/
Related Articles
---