---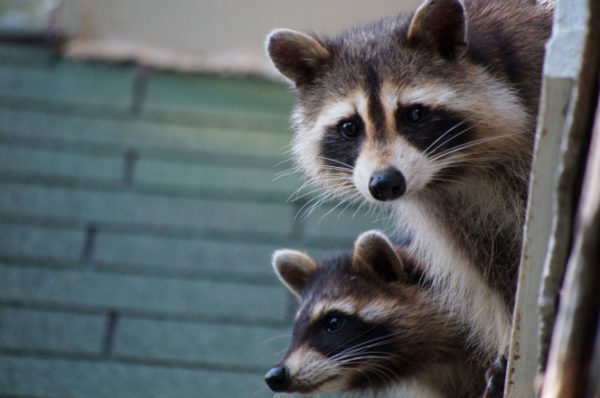 By Bretton Love
The raccoon has a reputation of being a suburban pest that is an adaptable, hardy, and intelligent creature. They can survive and even thrive in a variety of environments from woodlands, to parks, to suburban neighborhoods. One place that one may not expect to find a raccoon, however, is in New York City. In recent years reports of raccoons 'taking over the city' have become more and more common. The blog site Street Easy even claims that raccoons are real New Yorkers—in some ways even more so than the city's human residents [1], as they inhabited the area before NYC had even been conceived of [2]. As the city grew, raccoon numbers dropped, but in recent years these numbers have been climbing [3]. So how, and why, are raccoons taking over New York?
With a population of over 8 million [4], a range of green spaces, and a large amount of trash, New York City has become a sort of haven for these nimble mammals. In fact, raccoons "live in all five boroughs of New York City. They can easily adapt to live wherever food and shelter are available." [5] Therefore, despite their reputation as suburban residents, the city actually provides them with everything—and more—that they could possibly need. As omnivores—and the antithesis of picky eaters—raccoons have an abundance of options when it comes to food in the city, "whether it is diving into people's garbage cans, the dumpsters at restaurants, or eating the food that people simply dropped along the road, there is what seems like an endless supply of food available for the raccoon." [6] New York also offers a vast number of environments in which raccoons can find shelter. They may gravitate towards trees in parks and green spaces, trash cans, fire escapes, or empty attics [7]. These factors make the city a near-perfect place for raccoons to live.
Though NYC has become a hub for local raccoons, this also poses a danger to its other residents. Raccoons can contract and carry rabies, canine distemper, and roundworm [8], all of which can be deadly to dogs, though raccoon rabies also poses a threat to people. An Independent article reports that over 176 'zombie' raccoons died in Central Park due to canine distemper in 2018 [9]. The New York Post also discusses the prevalence of rabid raccoons in the city, who "are holding New York hostage." [10] So, if you live in NYC, be cautious of these resourceful little vectors of disease. If you see one that you think may be sick, contact wildlife control or a local pest control service. The zombie apocalypse is coming, and it's being led by NYC raccoons.
[1] Gellis, Ryan. "Raccoons in NYC…They're Just Like Us!" Streeteasy.com, streeteasy.com/blog/raccoons-in-nyc/.
[2] Ibid
[3] Ibid
[4] "New York, New York Population 2020." New York, New York Population 2020 (Demographics, Maps, Graphs), worldpopulationreview.com/us-cities/new-york-city-population/.
[5] "Racoons in New York City." NYC Health, www1.nyc.gov/assets/doh/downloads/pdf/vet/raccoon1.pdf.
[6] "All About Racoons in New York City." All About Raccoons in New York City, www.aaanimalcontrol.com/Professional-Trapper/raccoonnyc.html.
[7] Gellis, Ryan. "Raccoons in NYC…They're Just Like Us!" Streeteasy.com, streeteasy.com/blog/raccoons-in-nyc/.
[8] "Raccoon." Raccoon – NYS Dept. of Environmental Conservation, www.dec.ny.gov/animals/9358.html
[9] Mindock, Clark. "Nearly 200 'Zombie' Raccoons Die in New York City." The Independent, Independent Digital News and Media, 1 Oct. 2018, www.independent.co.uk/news/world/americas/zombie-raccoons-new-york-central-park-virus-dead-die-canine-distemper-a8563666.html.
[10] Bowden, Ebony, and Ruth Weissmann. "Rabid Raccoons Are Taking over New York City." New York Post, New York Post, 14 Mar. 2019, nypost.com/2019/03/13/rabid-raccoons-are-taking-over-new-york-city/.
---