---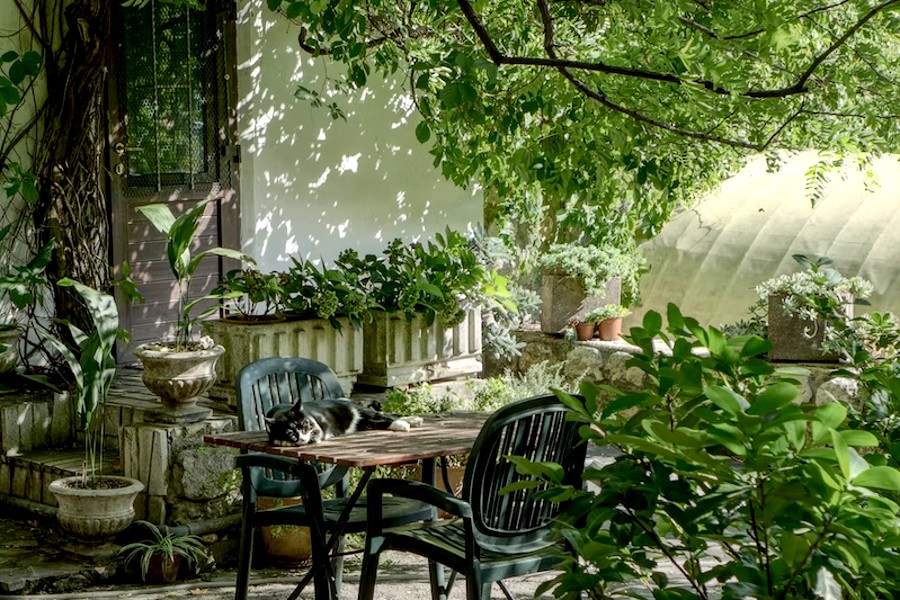 Your garden should be your own personal oasis – a place where you can relax and enjoy the outdoors.
With a few simple tips, you can transform your garden into the perfect hangout spot for you and your friends. Whether you want to create a cozy seating area, set up a game zone, or add some fun lighting, we've got you covered. Read on to learn how to make your garden the envy of the neighborhood.
Install a pergola
Installing a pergola in your garden can be a great way to create an outdoor living area. It offers you the perfect place to enjoy a cup of coffee or a meal with friends and family while admiring the beauty of nature. If you buy a pergola, it will come pre-cut and ready for assembly, so you won't spend endless hours piecing it together yourself. With minimal effort and quick installation, you can make your backyard the inviting oasis of your dreams
Add some comfortable seating
Adding comfortable seating to your garden is sure to be a great investment. Not only will it transform the garden into an inviting outdoor space, but it will also provide a perfect spot for family members and friends to enjoy time outdoors together. Comfortable garden seating provides ample opportunities for relaxation, conversation and connection with nature. You can place garden furniture in nearly any spot of your garden, from isolated spots where you can take time out to busy areas that will encourage people to congregate. Whatever style or material you choose, garden seating adds a welcoming touch and brings a touch of luxury to outdoor gatherings.
Create a focal point with a fire pit or water feature
Installing a fire pit or water feature is a great way to create a stunning focal point in your garden or backyard. Fire pits, whether gas or wood burning, provide warmth and light for backyard gatherings and relaxing nights under the stars. Maximizing the beauty of these features with the right landscaping can take an already eye-catching aesthetic to a whole new level. Water features bring a sense of wonder as they create soothing sounds and sights, attracting birds and other wildlife to the area. Regardless of which feature you choose, taking care of it properly will ensure its beauty for years to come.
Add some greenery for privacy and shade
Adding greenery to your garden can be both aesthetically pleasing and practical. Lush, leafy tree and plant species can provide a natural privacy barrier for outdoor living areas, or even along the garden walkway. Adding a few tall trees to an outdoor space will also provide much needed shade on especially hot days. Plus, the wide variety of color, shape, and texture from plants makes it easy to create stunning garden displays that truly elevate any outdoor area. Adding greenery for privacy and shade is the perfect way to bring life and charm to any garden – try it out!
Install lighting for evening use
Lighting is a great way to add ambience to your garden in the evenings. Not only do brighter lights allow for outdoor activities after dark, but they also create drama and romance when used strategically. Installing garden lighting can be done in several ways. If you want more permanent solutions, you can run hard-wired garden lighting from your main electrical panel or consider adding solar lights which will require less maintenance over time. Strategic placement of garden lighting is key for aesthetically enhancing a garden, so experiment with different angles, colors, and placements of lights until you find what works best for your garden. Whatever option you choose, garden lighting will surely bring beauty to your evening garden escapes!
Add some finishing touches like cushions and rugs
It's amazing how adding a few small touches can give your garden an instant boost. A few splashes of color from throws, cushions, and rugs can transform your garden from an ordinary space to a garden you're proud of. Let the vibrancy instantly resonate with visitors, whether it's gentle hues to brighten up a corner or introducing some beautiful patterned prints for a high-quality designer garden finish. Plus, soft furnishings can double as extra seating for when friends and family come around during those balmy summer evenings – so be sure to add some finishing touches like cushions and rugs to make the most of everything your garden has to offer.
By following the tips in this article, you will be well on your way to creating a stunning and inviting garden that is perfect for entertaining friends and family. With a little bit of planning and effort, you can transform your outdoor space into a beautiful oasis. Do you have any other tips for creating an inviting garden? Share them with us in the comments below!
---