---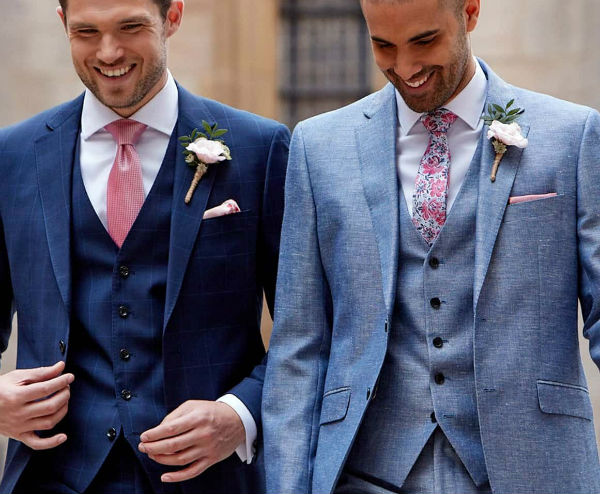 There are some men's fashion garments that go in and out of fashion, and some that are timeless.
We like to see the waistcoat as one of those timeless items: stylish, elegant and can be worn with a full formal ensemble or as part of a smart-casual outfit, the waistcoat has never gone away and is perhaps more popular now than it has been for a while.
How do you style a waistcoat? That depends upon what you are wearing it with, what occasion you are wearing it for, and how you want to appear. There are, however, some essential things you need to do whatever the occasion when wearing a waistcoat, so let's have a look at those before we move on.
What You Must Do When Wearing a Waistcoat
The most important point to make here is that a waistcoat must always be buttoned. Try it: put a waistcoat on and leave it unbuttoned – it just doesn't look or feel right! The number of buttons on your waistcoat may differ, usually, it's three and less often four. Now, there's another simple and strict rule here: while the waistcoat must be buttoned, the bottom button should always be left undone.
You're probably thinking that we're being too specific here, but that's the way it is. And, there is a reason for this. A waistcoat – especially one worn with a 3-piece suit – can be a tight-fitting garment, much more so than the jacket. So, as you move, you will put strain on the garment. Leaving the bottom button undone is not just traditional, its practical too, as it allows for some necessary movement without damage.
Many men will go full-traditional and wear a waistcoat with a pocket watch or a chain. There are occasions when this may work – at a wedding, for example – and it can look great in smart-casual situations, but it's very much a personal choice. If you have a nice watch and chain and want to show it off, why not? Remember, however, that the waistcoat is already accessorizing your outfit, formal or otherwise.
A Waistcoat with a Suit
Let's say you're going to a wedding, where a suit is expected but not over-the-top formal. Do you wear a waistcoat? We say yes, as long as it's done correctly. The three-piece suit remains among the most elegant example of men's attire, and it's the waistcoat that makes it happen!
There are two ways to wear a waistcoat as part of a three-piece: the first is to wear all-matching, with all three pieces the same color and pattern – if there is a pattern. The other is to wear a plain jacket and trousers, and a waistcoat that is patterned. Many gentleman's outfitters will see the latter option as vulgar, but we see it as fun, and also an effective way of looking great in a suit.
Another suit-style that is very much in fashion is the tweed suit. If you want to see some great examples, check this site and you will see why. Tweed gives a very warm, very stylish and very 'British' look to your outfit, and is equally at home in a formal, semi-formal or smart-casual setting. It's worth looking into tweed as there are some wonderful patterns around.
A Waistcoat Without a Suit
Is there any occasion where you would choose to wear a waistcoat without a suit? Of course there is, as it can be a great addition to a smart-casual look, and one that gets you noticed. Experiment with a waistcoat with a pair of jeans and a shirt, here for example. Make sure you get the colors right and perhaps use a contrasting waistcoat. It's a great look, and one that is very elegant indeed.
Remember, even when wearing your waistcoat in this way, it needs to be done up as we explained. There is no point in wearing a waistcoat open, it never looks good.
That's waistcoats for you: sophisticated, elegant, stylish and never out of fashion, and versatile too! Have a look around for waistcoats that you like the look of, check out different patterns and colours, and buy yourself a garment that will always be in style, no matter where you go.
---